Your portfolio is an important part of your career as an artist; it showcases your best work and really highlights your creativity to potential employers, collaborators, and peers who can appreciate your approach. As you begin to put yours together, you might find yourself stuck on going with an online portfolio or a print portfolio for your work, a common conundrum. Both options offer different benefits and drawbacks, and choosing between the two can be a bit overwhelming.
Whether you're creating a portfolio for visual art, photography, illustration or graphic design, you'll want to be sure your work comes across polished, professional, and stunning, highlighting your talent and unique point of view.
To help you settle the online portfolio vs printed portfolio debate one and for all, let's look more closely at what each type brings to the table so you decide which is the best fit for your professional needs and goals.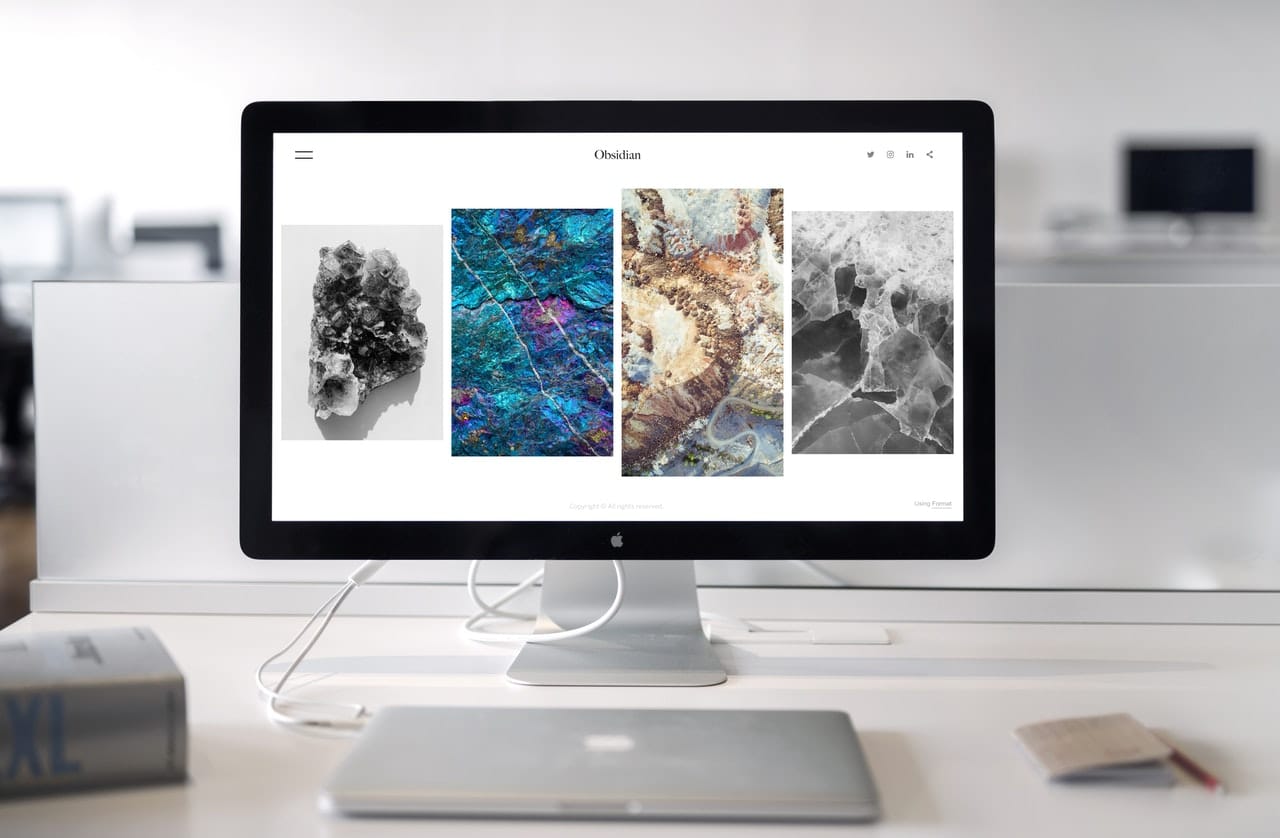 Benefits of a Digital Portfolio
Leaning towards a digital option? Having an online portfolio can be an attractive option for a variety of reasons, including:
Access to Portfolio Templates
One of the major pros to a digital portfolio is that when you go with a web-builder, such as Format, you get access to hundreds of design-specific website templates that make it easy for you to create your online portfolio site. These templates are a great resource, particularly if you're short on time or aren't web design-savvy, and they can take the stress out of building a professional website. From laying out your work to creating an About Me Page, these website templates take the guesswork out of designing your digital portfolio.
Easy to Update
Another benefit of a digital portfolio is your ability to make changes from the comfort of your desktop or laptop. As a working creative professional, you will likely be working a lot of photoshoots or completing multiple projects, so having a digital portfolio will make it easy for you to keep your work current and up to date.
Have a recent photo series you're proud of? Upload it to your site so potential employers can see it. Create an illustration you think is your best work thus far? Throw it up onto your site and watch the likes come in. Web-builders like Format even have an iOS option so you can edit and update your website on your iPhone, when you're at a shoot or traveling between jobs.
Save Money on Printing
Though print images of your work can be beautiful to look at, they can also cost quite a bundle, especially for high quality prints. With web-builders charging $200 CAD or less a year for a professional-looking portfolio, you will definitely save money by going digital. This is especially true if you find yourself printing your portfolio from scratch every year, as those costs can add up.
Quick to Share or Send
Have a recruiter on LinkedIn asking for your portfolio, or get an email from a potential client requesting examples of your work? Send them a link to your professional website and share your work with them in a few clicks. Having a website portfolio makes it easy to share or send it to complement your resume and help you land your next job.
Access to Website Add-Ons
When you go for a professional website with a web-builder, such as Format, you often get access to add-ons that can help boost your site, including a photo proofing corner, a blog, and an online store option.
Drawbacks of a Digital Portfolio
Though there are a lot of positives to an online portfolio, there are a few potential challenges to consider as well, including:
Required to Purchase a Website and a Domain
To create a digital portfolio, you will need to spend a few hundred dollars a year on a website and a domain name. If you'd rather not deal with this cost, a printed portfolio may be best for you. However, keep in mind many web-builders make it affordable and easy to set up a professional design portfolio online as a complete package, where you can buy the domain when you sign up for their services.
Potential Technical Issues
A print portfolio will never have a technical glitch or depend on an interest connection to work. If you are concerned about having to deal with technology, particularly in a high stakes interview, you may decide print is right for you. Though the risk of a technical issue during an interview or a bid for a job is fairly low, you may decide you prefer the glitch-free option of print.
Need to Protect Your Work
Another benefit of print portfolios is that you do not need to worry about who is accessing your work or what they might be doing with it, as you are the only one who holds your printed work. You can control what an employer sees during an interview or show only the work you feel might help you land a job with a client. Though you can always watermark your online work to protect it, you may decide you don't want to take this extra step and prefer the security of print only.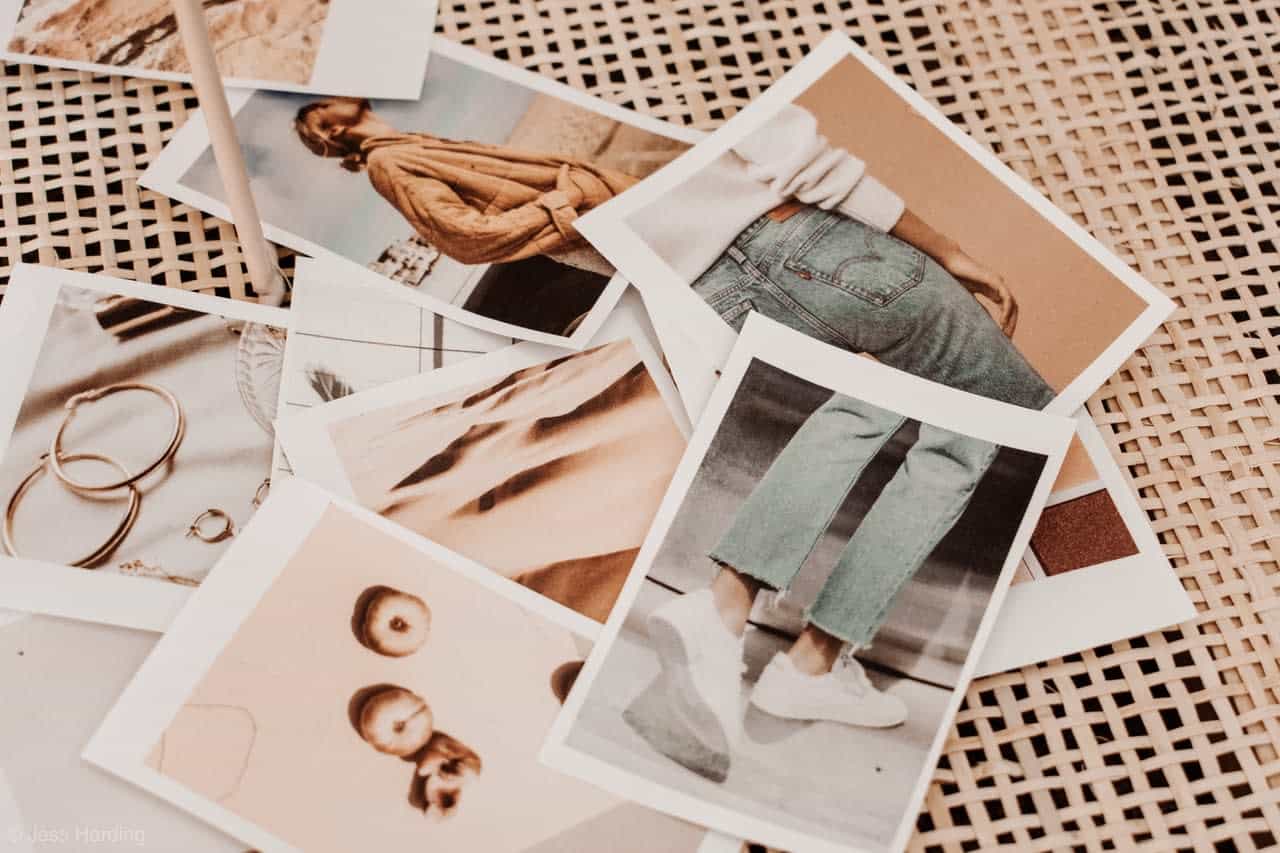 Benefits of a Print Portfolio
Having a paper portfolio is the old-school way of doing things, and was considered the gold standard for a long time. Some professionals still prefer print over digital for several reasons, including:
The Tactile Quality of Print
As a designer and an art lover, you may find yourself drawn to the physical quality of paper, from the paper stock to the ink to the gloss on the page. Often a design portfolio that's printed can also feel more substantial than one that exists solely online, where you can turn the pages and showcase your work in a nice binder or book. Having printed work can also help to demonstrate the quality and detail of your images, viewed physically on the page.
Control What Employers and Clients See
Print portfolios are also a good option if you prefer to have complete control over what interviewers see when you show them your work. With a printed portfolio, you can swap out any work you don't feel fits the job description or complements an opportunity you're going for. You can decide what an employer or client sees during an interview, and walk them through a journey using printed images to support your concept or idea.
No Potential Technical Issues
The beauty of paper is that you never have to deal with an internet connection or worry about getting an email address right to share your work with interviewers. Unlike portfolio websites, a traditional paper portfolio is dependable in its tactility; it will always be accessible in person, or as a scanned PDF that you send to employers and clients. Though keep in mind, a PDF version of your portfolio may be a large file that can be difficult to share through email, clogging up people's inboxes in a decidedly not appealing way.
Drawbacks of a Traditional Paper Portfolio
Though there are some benefits to a printed portfolio, there are also a few disadvantages to consider, including:
The High Cost of Printing
Printing your work can add up, especially if you go for a high quality option and need to make several copies to share with interviewers or customers. With the cost of paper, ink, and binding factored in, you may end up spending much more per year than the cost of a professional website. You will also need to budget for printing additional or new pages for your portfolio, as new projects or work comes up.
Unable to Access if You Lose It
With the tactile quality of paper comes the risk of losing it all in one fell swoop; misplacing it on the way to an interview or between jobs. If you are prone to losing track of paper, a physical portfolio may be a risky choice. With paper portfolios, you will need to ensure you keep tabs on it, as you cannot simply type in your domain name and access your portfolio website online in a few clicks.
Cumbersome and Awkward to Carry Around
A professional paper portfolio should be printed on high quality paper and kept in a hardcover binder, ideally with each image in individual plastic sleeves. Though this portfolio set up can help you come across polished and prepared, it can also be a bit awkward or annoying to carry around from interview to interview. You risk spilling something on the pages or losing the whole portfolio altogether, especially if you're often hustling for design jobs around the city or have to travel a lot for work.
No Access to Website Templates or Design
Another drawback of printed portfolios is you do not get to use website templates through a web-builder, such as Format. These templates make designing portfolio websites simple and easy and give you a base to work from so you aren't creating a portfolio from scratch.
Print vs Digital: Which One is Right for You?
Now that you have a good sense of the pros and cons of both types of portfolios, you're in a better position to decide which one is the best fit for your budget, needs, and goals. Some creative professionals decide to invest in an online website and a printed version so they get the best of both worlds. Others see more value in portfolio websites for their accessibility and their variety, with so many website templates to choose from, all made to fit your field and your work.
In the fast-paced world of design, you may find the convenience and intuitive approach of an online portfolio is a better fit for your needs, with a platform that can keep up with the hustle of working job to job. Make sure you go for a web-builder like Format, which offers website templates created especially for illustrators, graphic designers, photographers, and visual artists, as well as add-ons like a blog to share your artistic journey with others and an online store to sell prints of your work.
Want to create your own online portfolio? Get started here:
10 Steps to Building Your Perfect Online Portfolio
How to Build a Photography Website