It's so easy for stolen images to make their way around the internet—so, as a photographer, you know how important it is to protect the work you've created. If you have an online portfolio website website, anyone can right-click and download any images you put up there, and there's no guarantee that they'll credit you when they decide to repost or repurpose that image. A watermark on a photo can help you ensure that anyone who sees the image can easily see who created it, and find you and the rest of your work.
If you're wondering how to make a watermark to protect your photos and brand your work, you've come to the right place! Luckily, there are tons of different programs and tools available to help you add a watermark to your photos—and you definitely don't have to be a graphic design master to do it.
We'll walk you through what a photography watermark is exactly, why you might want to watermark your photos (and what some of the drawbacks might be), the basics of watermark design, and how to create a watermark with watermark software, free watermark apps, or programs you might already have.
What is a Watermark, and Why Should I Use It?
A watermark is a kind of stamp, usually low opacity, that is placed on top of digital images. The stamp usually consists of a name, logo, or signature that identifies who created the watermark image, but sometimes it's intentionally big and obstructive. There are times when each kind of watermark is appropriate; it all depends on why you're choosing to watermark pictures in the first place! Watermarks on photos can deter people from using your images without permission in the first place. (Psst: it never hurts to brush up on your photography copyright law.)
There are a few different reasons why a professional photographer might want to put a watermark on a photo, including:
To add a signature to a photo, the same way a painter would sign their work to indicate who created it.
As a branding exercise, giving you another opportunity to use your logo and brand colors, keeping the branding of your photographs in line with your artist business card and any other marketing materials you have.
To allow your client to review the image and provide feedback if necessary, without actually sending them a photo they can use without payment.
All of these are totally justified reasons to add a watermark, but whether or not you use one is totally up to you. How you choose to design your watermark might vary a little depending on which of these three purposes you have in mind, so let's get into those photography watermark design considerations!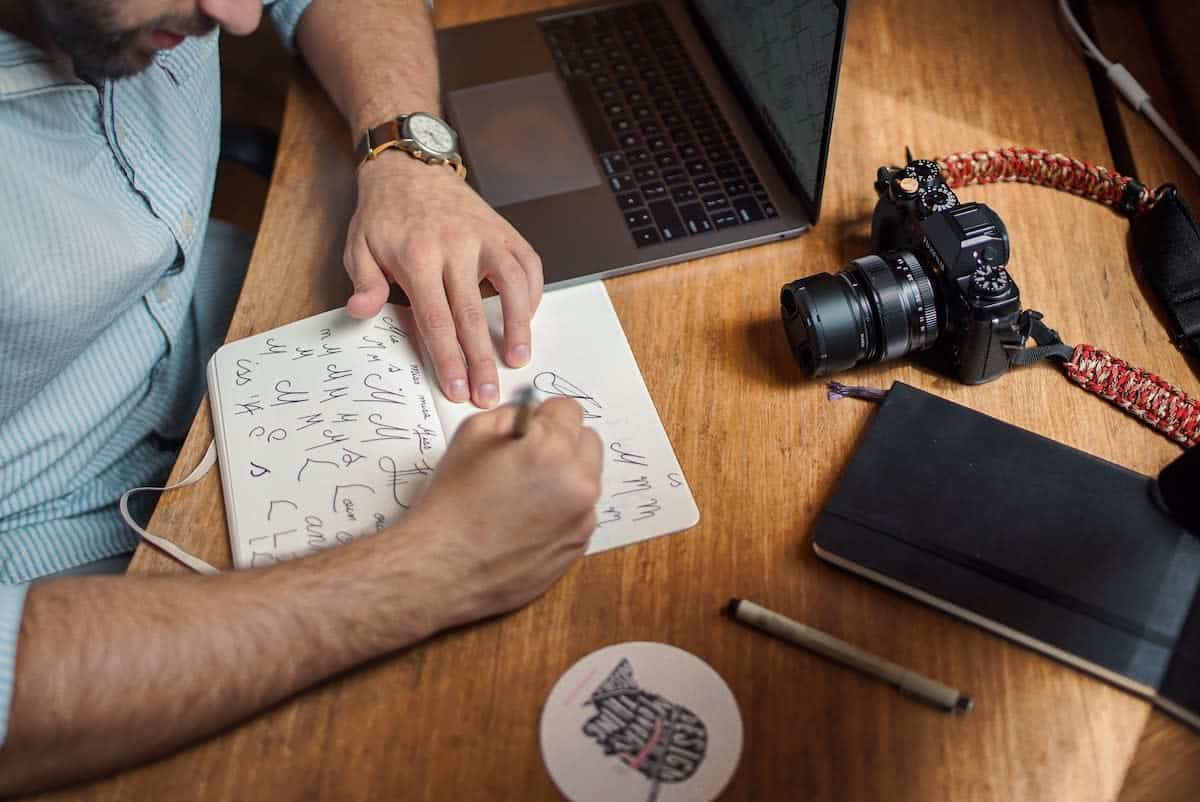 Watermark Design Basics
While you might not consider adding a watermark as an exercise in branding, it's something that your existing and potential clients are likely to see over and over again, so it's a good idea to make sure those watermark images do, in fact, reflect your brand. When you're working on your watermark design ask yourself if it's something you'll be happy with for a long time since changing it again and again might actually be confusing for your clients. How to make a watermark will vary slightly based on the three different reasons for putting a watermark on a photo that we listed above.
Designing a Signature Watermark
If you want to know how to make a watermark as a signature for your photos, the key thing you should keep in mind is an identifiable signature. You'll probably want to have your watermark design include either your name, your brand or company name, or your website address. That way, when people see the signature, they can easily look you up and find more of your work.
Choose a clear, simple font, and a color that won't distract too much from the rest of the photo. You could even have the same watermark design in two different colors, a light and a dark one, for use on different types of photos. You also don't want to make this watermark too large, so it can easily fit into any image without being a distraction.
Designing a Branded Watermark
If you're more interested in how to watermark photos for branding purposes, it's extra-important that you return to those brand identity guidelines of yours and make sure your watermark design is in line with the colors, fonts, and logo designs that you're currently using in other places to represent your brand.
When designing this type of watermark, you'll definitely want to stick to using the assets you've already chosen in your brand guidelines. Again, the key is to make sure your watermark is legible and not too opaque. It's usually best to stick to grey or white tones, but if you have a different brand color you want to use, you can do so as long as you add some transparency so that it blends in a bit with your image.
Designing a Proof Watermark
If the purpose of putting a watermark on your photo is more about letting a client see a proof before sending them the final image, branding and signature info are a little less important. In that case, the design should just be very opaque so that they can still see the image well and provide feedback, but visible enough that the image wouldn't really be usable if they wanted to post it online or throw it in a frame.
Usually, when designing a watermark to identify a proof, you can just use the word "proof" in large text, in a clear font. Unlike signature or branding watermarks, a proof watermark is meant to make the photo unusable as-is. Here, the key is to turn up the transparency quite a bit. You don't want to make it hard for your client to see the details of the image.
Digital Watermarking
Create a Watermark in Photoshop
If you already have Photoshop and want to know how to make a watermark, it's pretty straightforward to do. When it comes to Lightroom vs. Photoshop, Photoshop is the most useful for adding a watermark. Since Photoshop is such a versatile program, there are a ton of different ways you can go about this. We'll focus on the easiest, most popular method, which is to create a custom Photoshop brush. That way, you only have to do the work once, and you can just reuse the brush every time you want to add a watermark.
To watermark images in Photoshop:
Open up a new file, and set the dimensions to the same size as your web image. 72 DPI is usually a sufficient resolution for web purposes. Either select the font you want to use or paste your existing logo into the document. Err on the side of making it larger, since it's easy to scale it down, but, if you start too small, you could end up with a pixelated watermark if you end up using it in a larger file in the future. Draw a rectangle around your watermark with the marquee tool. Open up the Edit menu and select "Define Brush Preset." Give your brush a name that you'll easily recognize in the future.
That's it! Now your brush will be available in the brush catalog the next time you need to watermark an image. You can always play around with the opacity and color of the brush to work with the image you're adding a watermark to.
Create a Watermark in Lightroom
If you're wondering how to watermark photos in Lightroom, there is a little less flexibility than Photoshop but you can still add a watermark easily to images as long as they are JPEGs, PSDs or TIFFs. Although there are tons of benefits to shooting RAW, you'll have to convert those files before watermarking your images. Here's how you do it:
With the photo open, open the export window. Make all of your usual export selections, and then look for the watermark checkbox at the bottom of the dialogue box. You'll see a drop-down menu, on which you can select "Edit Watermarks." In the new window, look for "Watermark Style." Here you can either choose "Text" or "Graphic." If you chose "Text," choose the font you want to display your watermark in and type either your name, your website, or whatever text you are using to watermark your image. If you chose "Graphic," select the file that contains your logo or watermark. You'll see some effects options that let you adjust the opacity, size, and position of your watermark. Note that, if you choose the Graphic option, there's no way to add additional text, so any text you want to be included needs to be part of the file you're using as your watermark.
There are tons of useful Lightroom plugins out there that can help you, including ones that will help you add a watermark in bulk.
Watermark Photo Apps
Even if you don't use Photoshop or Lightroom, there are tons of free watermark makers and watermark photo apps that make it easy to watermark images online even if you're on the go.
Watermark Apps for iPhone
Shortcuts: This is an awesome watermark app for iOS users. It's ideal for batch watermarking because it allows you to automate a single function across a whole bunch of photos. So once you've created the shortcut, it's easy to apply to a whole album of photos—a wonderful time-saver!

Photomarks: Here's another great watermark maker you might want to look into. If you don't know how to make a watermark and don't want to spend much time learning, this app will do a lot of the heavy lifting for you and is a great way to create a watermark online. You can save a whole bunch of different marks, which is great if you want one for proofs and another one as a signature. It's also non-destructive, so your files won't be compromised by running them through the watermark creator.
Watermark Apps for Android
Salt: Android users will love this free watermark software—you can insert your own logo, which is great if you are using your watermark for branding purposes, and you can also easily add text marks using the built-in fonts. You can also share images right from the app to a bunch of different social media channels, which is a real time-saver, making this one of the best watermark apps available…

Photo Watermark: Another way to create your own watermark online for free on an Android device is this handy app; you can use different types of text, date, and time and logo stamps right from the app, and it's super-easy to adjust the location and opacity of the watermark, too.
Set Up a Great Proofing Process
Now that you have tons of photography watermark ideas to help you protect those images, you should also put a good client proofing process in place as well. Look for an online photography portfolio builder that has built-in client proofing, so that your clients can easily check out those watermark images, provide feedback, and make their selections. If you're not sure which client proofing workflow is going to work best for you, look for a website builder that offers a free trial so that you can make sure it's going to check all the boxes for your client needs.
If you're selling prints of your photos online, it's also a good idea to look for a website builder that has an online store built right in. That way, you don't have to worry about trying to integrate some third-party e-commerce platform with your portfolio. You'll be able to set up a gallery of watermark images that are for sale, so your clients and fans can support you right from your own website!
Ready to build an online photography portfolio that will kickstart your photography career? We've got you covered. Start your free trial with Format today!
Now that you know how to watermark photos, you can take the extra step to protect your work and make sure that you're fairly compensated for it by anyone who wants to use it. That's a super-important step for any photographer who wants to make a living from their work, so you can pat yourself on the back and get back to shooting those awesome photos!
Want more on how to protect your work?
The Artist's Guide to Avoiding Copyright Infringement
How To Write A Contract: Freelancer Guide to Protecting Your Rights
How to License an Image: A Beginner's Guide