Part of the fun of working as a family photographer is the fact that each new photoshoot is an opportunity to get creative and play around with different ways of conveying what your subject is all about.
Some families will want to convey their goofiness while others may be all about capturing their dreamy, intimate moments of togetherness.
Here, we'll provide you with tons of ideas and examples that you can use the next time you have a family photography client.
There are no hard and fast rules for family photoshoots, so you can really tailor each shoot to your client's vision. When planning your family photo sessions you may also take into account the time of year, hobbies and interests of the family you're shooting, and any inspirational images they share with you.
Forest locations can make for beautiful and natural backdrops for family photoshoots. The diverse lighting and scenery options, as well as the calming atmosphere, can contribute to a successful and enjoyable shoot for all involved. Don't forget to take advantage of the natural elements, such as trees and foliage, as props and visual elements in your compositions.
Photo credit: Erich Camping
Joining a family on an outing or activity they enjoy can make for a unique and personal family photoshoot. This can be a great opportunity to capture candid, natural moments as the family engages in an activity they love. Not only will the resulting images be meaningful to the family, but the shoot itself can also be a fun and bonding experience for everyone involved.
Photo credit: David Handley
Part of being a great family photographer is understanding your client so that you can deliver images that feel truly authentic to them. If you're working with an active, outdoorsy, or athletic family, incorporating these elements into your family photoshoot will not only make for images that feel true to the family, it also makes your job easier because you don't have to worry about getting everyone to pose just right.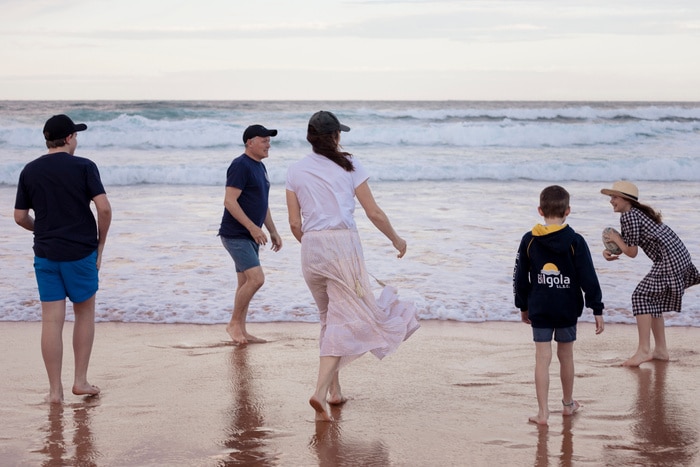 Photo credit: Georgie Lowe
No matter what the concept of your family photoshoot is, getting a few shots where the subjects are all looking away from the camera is a very effective way to create the sense of an intimate, private, and loving moment that people love to see when looking through their family photographs. Most people are conditioned to look into the camera and smile, so plan to gently remind your subjects they can look away or at each other throughout the shoot.
Photo credit: Emmalaine Berry
While the focus of your family photo sessions will, of course, be the members of the family, incorporating some unexpected detail shots can really delight your clients. Whether it's a couple's hands clasped together, or a stack of folded newborn clothes, these little glimpses into a family's life are special and they tend to be things people forget to capture on their own.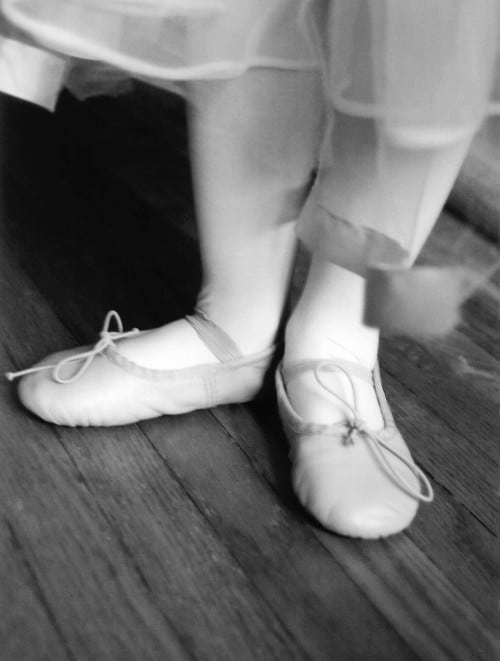 Photo credit: Jennifer Cotman
Black and white photoshoots will always have a timeless quality that just about everyone loves. You don't have to make the whole shoot black and white, but delivering a few black-and-white images is a good way to delight your clients. If you shoot film, bringing some black and white film along to your shoots is a good idea, because there's something about that real black-and-white film look that can't quite be replicated on digital.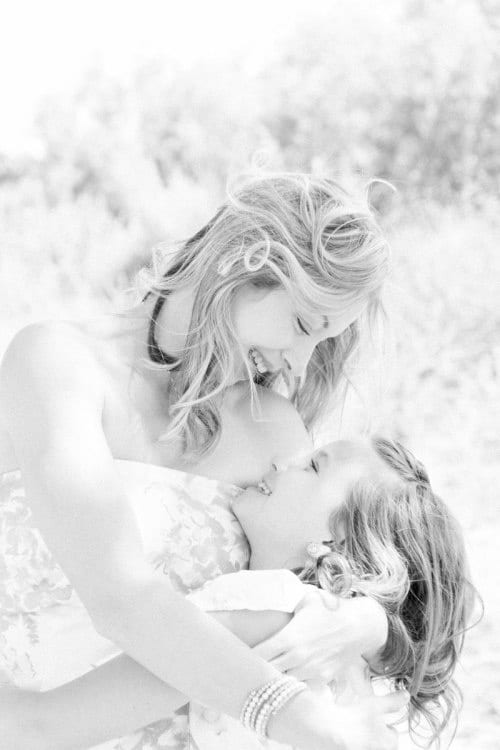 Photo credit: Emily Vanderbeek
Whether you have access to a studio or you have a portable studio setup that you can bring to clients' homes, studio family photo shoots can be an unexpected twist because this type of photography is often done outdoors or in the home. By shooting in the studio you can create artful, editorial-style family photos that look completely different from what most people have on the pages of their family albums.
Photo credit: Dace Bluma
While each family photographer will develop their own look and style, and there's lots of great inspiration out there involving props and creative setups, remember that some of the best family photoshoots are those that keep it simple. Have your subjects wear comfortable clothes that aren't too distracting, head to a nice, public location, and go with simple, tried-and-true poses that flatter everyone and feel natural.
Photo credit: Jason Cowell
There are lots of variables you can play with to change the final product of your family photographs. Whether you try different locations, shooting candids or directing your subjects, incorporating props, or keeping it simple, playing around with different family photography ideas will enable you to create a wide variety of images within the category of family photography
If your family photoshoot clients have chosen a location that's particularly special to them for their shoot, make sure to capture some shots that feature key elements of the location prominently. That way, when they're selecting images from your shoot, they'll be able to include one or two that remind them of why they chose their special location in the first place.
Photo credit: Bellatrix Photography
Sometimes your family photoshoot will only involve two subjects, but if you're shooting a larger group of people, consider taking some pictures with various combinations of people. This will allow you to tell different stories about your subjects. For example, you can take a photo with all the women in the family of different generations, or one of just the grandparents with their grandchildren. These different combinations will help emphasize different bonds, and your clients will love the variety.
Photo credit: Sita Koning
While you'll often be posing your subjects in family shoots, it's also a good idea to leave some time for candid captures. This is especially true if the family you're documenting includes children because their playfulness will make for some amazing images. For the best chance at capturing memorable candid family photos, spend a bit of time before the shoot chatting and building rapport with your clients. When they're at ease, you'll have a much easier time capturing pose-free shots.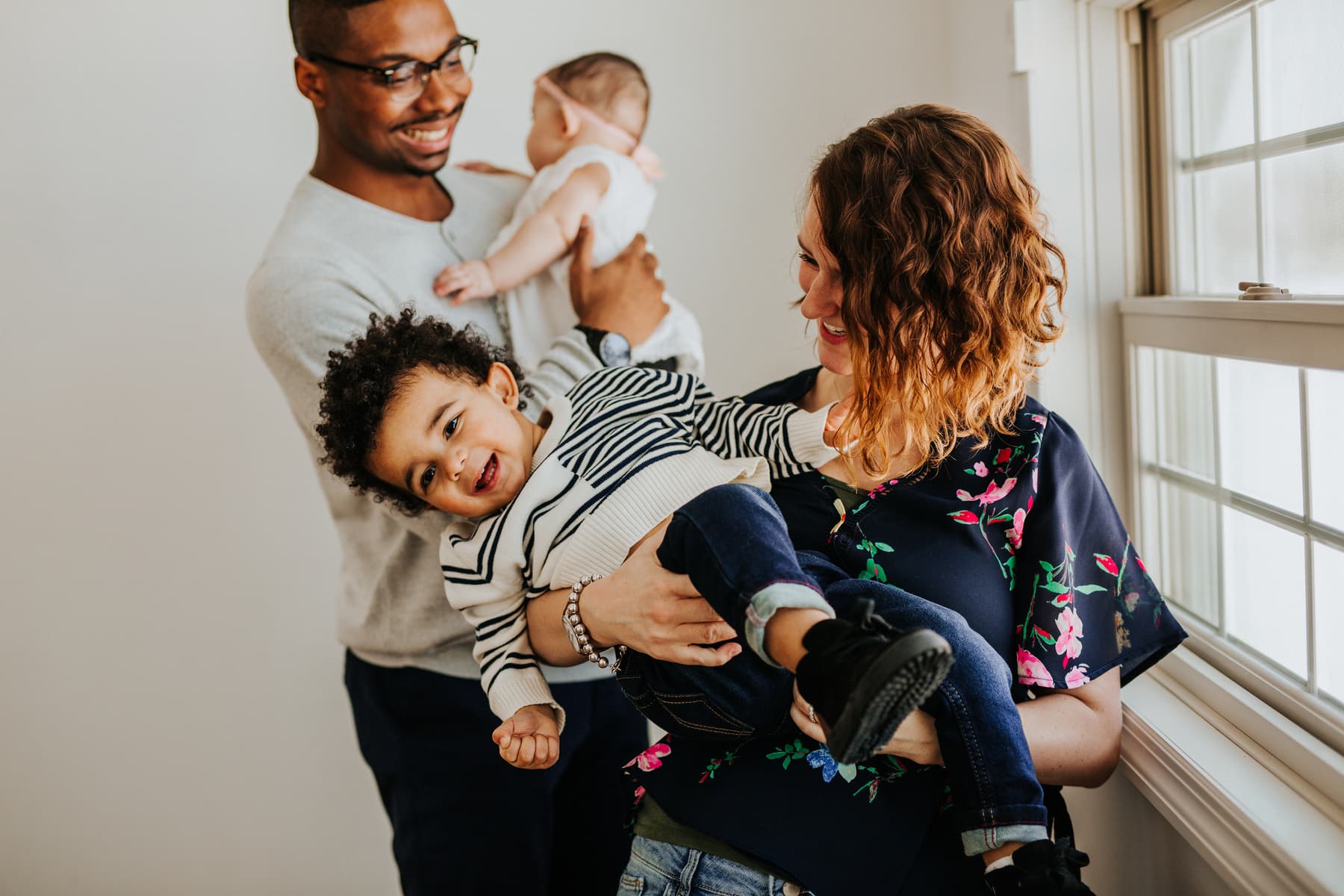 Photo credit: Kelly Ferguson
Sometimes you'll have clients who are total naturals in front of the camera, and other times they'll need a little support. One of the best ways to capture interesting family photos while making your subjects forget there's a camera pointed at them is simply taking some walking shots. When they're walking, they'll be less preoccupied with how they look and everyone is more likely to come off as natural and at ease. This is a great way to begin a family photoshoot.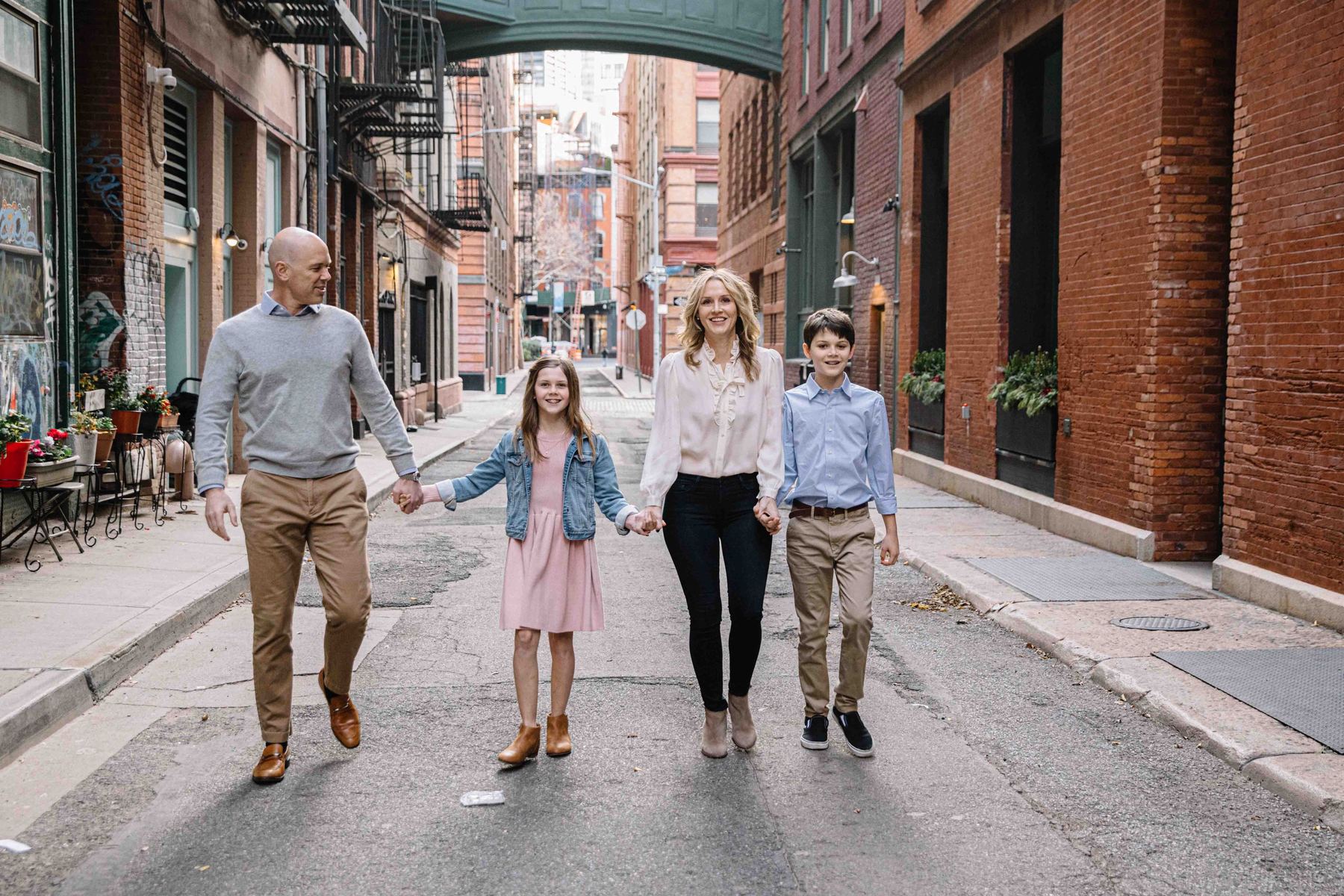 Photo credit: Susie Mann
If your clients aren't sure about what location they want to use for their family photoshoot, remember that some of the best, most treasured family photos are around the home. Most people only have phone photographs of their at-home moments, so seeing their daily life captured with professional equipment can be really special. As a bonus, most people have an easier time looking natural and comfortable when they're being shot in a familiar setting.
Photo credit: Emi Kakizaki
Profile shots are great because they give the viewer the sense that they're seeing a glimpse of an authentic moment as it happens. Even if your subject is aware they're being photographed, there's something about them gazing beyond the frame of the image that creates a feeling of candidness. By mixing some of these shots into your family photoshoot, you'll create some variety in the imagery you deliver.
Photo credit: Chloe Ellul
Outdoor family photoshoots don't have to be limited to bright, sunny days. For example, you can lean into the cozy atmosphere created by fall overcast conditions by encouraging your subjects to wear autumnal outfits and choosing a location where you might get some nice fall colors in your shot. By coming up with shoot locations and concepts that can work outdoors throughout the year, you can book more shoots year-round.
Photo credit: Lauren Sutton
Whether you're shooting outdoors, in a studio, or in home, look for ways to change up the perspective of your images. Doing this will bring some variety to the images you deliver to your client, and can also change up the feeling that your image evokes. For example, a more closely-cropped, head-on portrait of this family may create a feeling of intimacy, while this perspective creates a feeling of loving home life.
Photo credit: Irma Arrowsmith
These 8 maternity family photo ideas will give you lots to think about before your next maternity shoot. There is so much room for creativity and exploration when it comes to maternity photography, making it an excellent field for creative photographers who love the challenge and joy of capturing family moments.
The trend for celebrity maternity photoshoots that are bold and highly influenced by fashion photography has made its way to the broader world of maternity photography, with more women opting to get non-traditional maternity photos taken. For this type of client, encourage them to go bold with their outfit and styling. Not only is it a great way to record the special time in their lives, but it also makes for a colorful, exciting photography portfolio for you.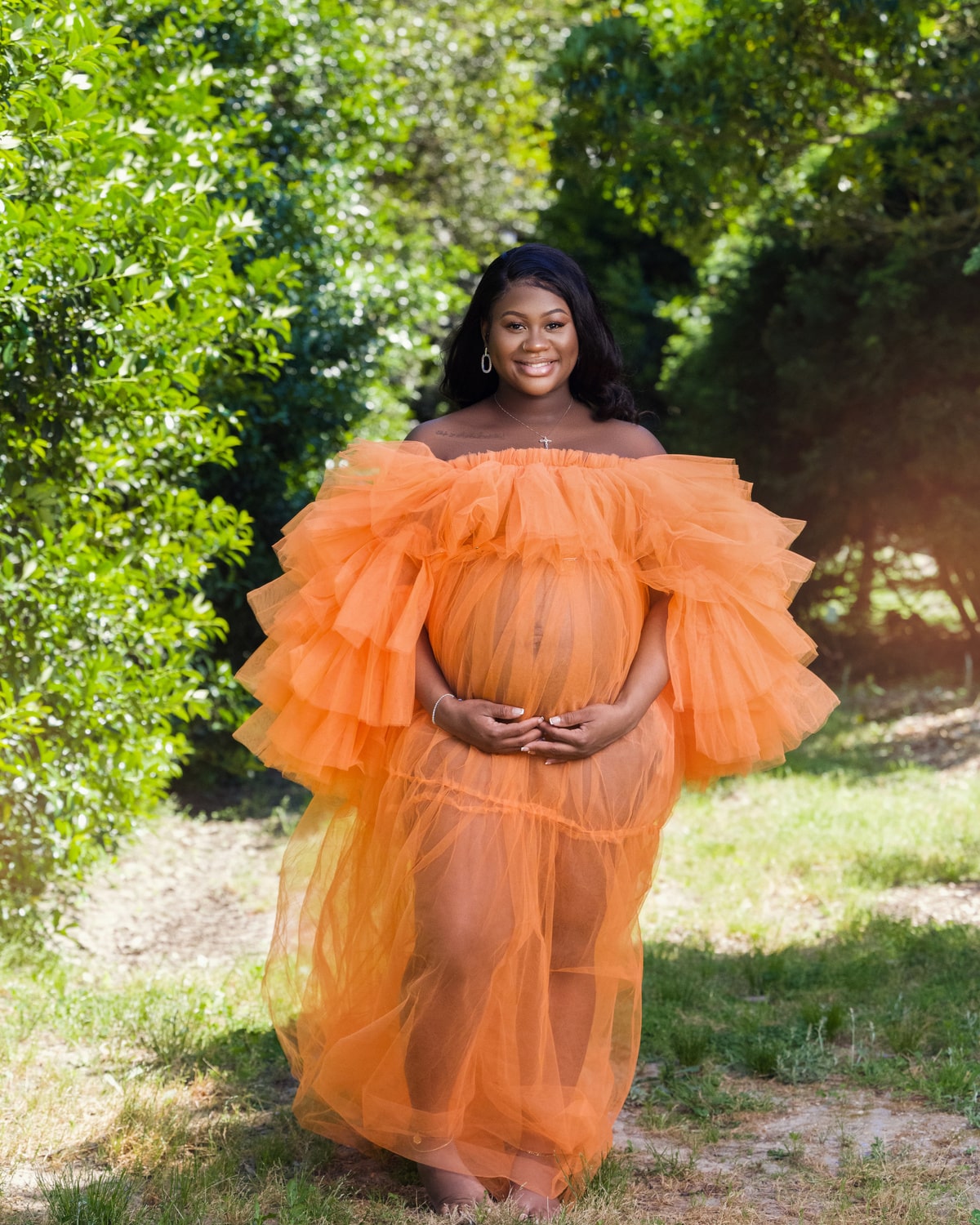 Photo credit: Nigel King
If the baby-to-be has siblings, including them in the maternity photoshoot is an idea most parents will love. It helps the kids feel involved in the change that is about to come to their family, and it makes for memories that the parents love to look back on. There are lots of ways you can go about this type of shot. Kissing the bump or cradling it are both popular options.
Photo credit: Sarah Smith
Maternity photography often evokes lightness and joyfulness, symbolizing the new life that is about to be brought into the world. One way to tap into those themes is by experimenting with overexposing your shots a little bit. This can give a dreamy quality to your maternity portraits, which any mom-to-be is going to love. Underexposing would create a more moody atmosphere, which is less common in maternity photoshoots but could still be done effectively.
Photo credit: Kerry Jayne
The framing of this maternity photo shows how effective the use of white space can be. Placing the subjects to the right of the frame and having a significant portion of the photo be an open field, not only makes the couple and baby bump stand out even more, but also creates a feeling of openness and possibility. These themes are perfect for a maternity shoot.
Photo credit: Sita Koning
Since maternity photography is so often about the expectant partner and the bump, it can be refreshing to see shots that play up the playfulness and love between the couple. Having the couple do something they would normally do when they're expressing their affection for one another, such as this couple dancing, emphasizes the bond of love that will be supporting the baby once it arrives.
Photo credit: Katelyn Ferguson
Maternity shots that feature the bare, pregnant belly emphasize the amazing physical transformation that takes place to bring new life into the world. In maternity shots where the belly is covered up, this effect is not quite as strong. Having your clients bring some outfit changes so that you can take a few belly shots during your session is a great way to round out—no pun intended—your maternity photography portfolio.
Photo credit: Susie Mann
There's a reason this type of shot is popular for couples' photography sessions. It creates intimacy between the partners and makes for a beautiful, affectionate photograph. This is a slightly unconventional approach to maternity photography, which tends to feature the pregnant belly head-on. Instead, this photo emphasizes the journey of parenthood that the couple is about to embark on together.
Photo credit: Lauren Sutton
By having the expectant couple look down at the bump, it draws the eye of the viewer to the bump as well. This is a simple, classic approach to the maternity photoshoot. It's foolproof and one that any couple will be excited to see. By shooting it from a bit of a distance, it also creates the sense that the couple is sharing a private moment together that the viewer is catching a little glimpse of.
Photo credit: Georgie Lowe
Gone are the days of family photoshoots consisting of everyone sitting awkwardly in front of a generic department store photo backdrop. As fun as it is to look back on those types of photos, family photography today has become much more creative. Here are 8 creative family photoshoot ideas to add to your portfolio.
Just because family photos tend to have a more naturalistic look than other types of photography, doesn't mean there's no room for stylistic creativity in your photo sessions. The light and smoky effect in this image make it look like a still from a movie, and most clients will be delighted to see their daily lives recorded in such an artistic style.
Photo credit: Emmalaine Berry
Incorporating some of the rules of composition in interesting ways can make for surprising, creative, and fun family photoshoots. In this example, photographer Jason Cowell uses the composition principle of leading lines to create a line from the little girl looking back at her parents. The fact that she's in focus in the foreground while looking away is also a creative twist.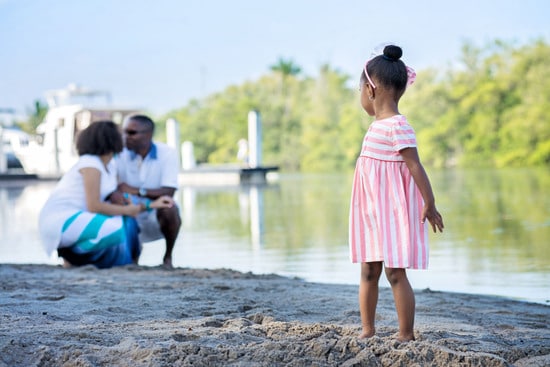 Photo credit: Jason Cowell
When shooting family sessions that involve kids, invite the children to bring their favorite toys to the location or, if you're shooting at home, ask them to show you their favorite toys. This will not only help them feel comfortable with you, but it will also make for photos that are guaranteed to make the whole family smile for years to come as they remember how much those toys were treasured once upon a time.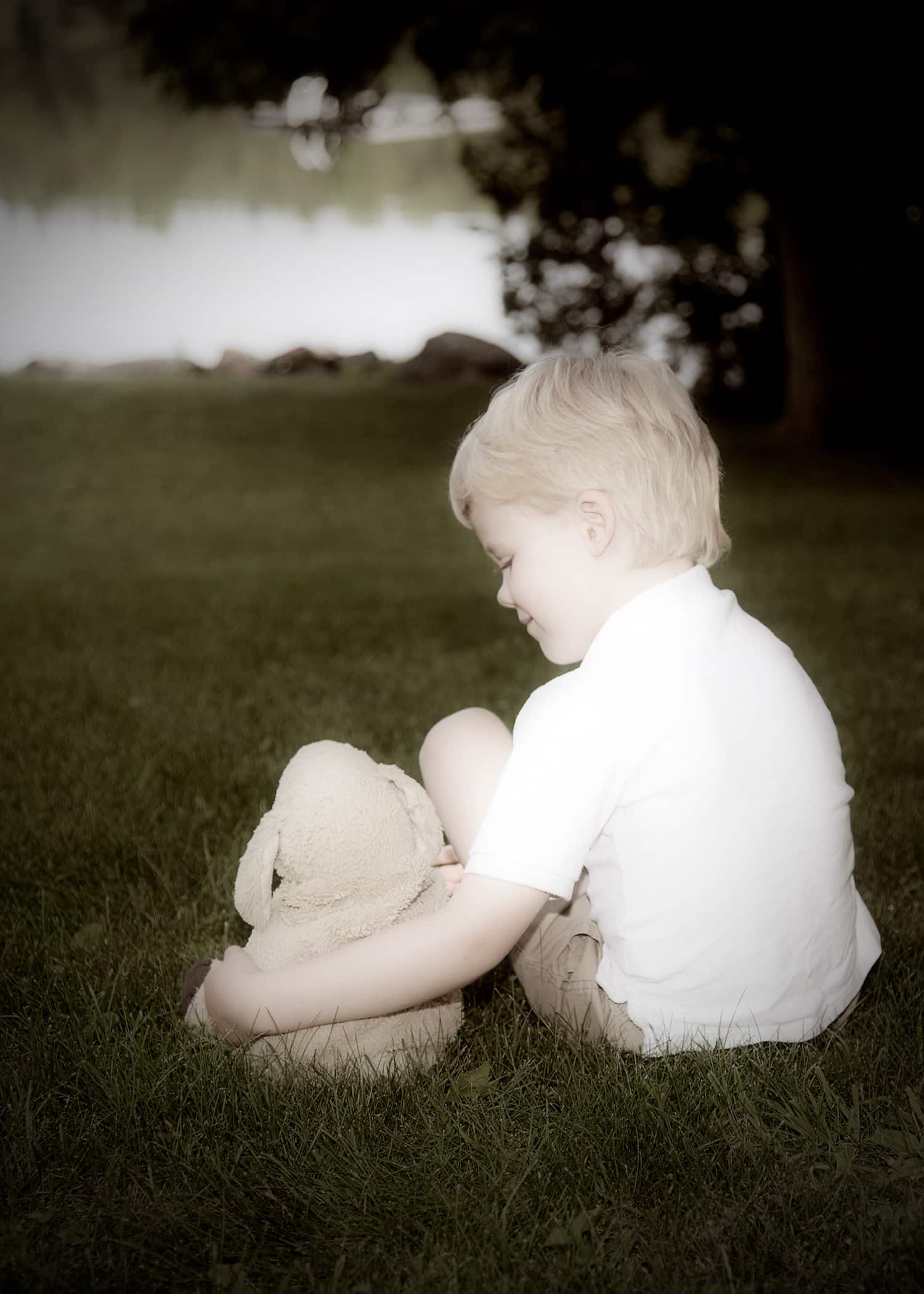 Photo credit: Jennifer Cottman
If the family you're capturing has a shared passion or interest that bonds them together, don't hesitate to lean into it for your family photo session. If they're all huge soccer fans, invite them to wear matching jerseys for the shoot. This may go against the general advice of wearing neutral clothing in portraits, but it's an example of rules being broken to great effect because it allows for the family's personality to come through.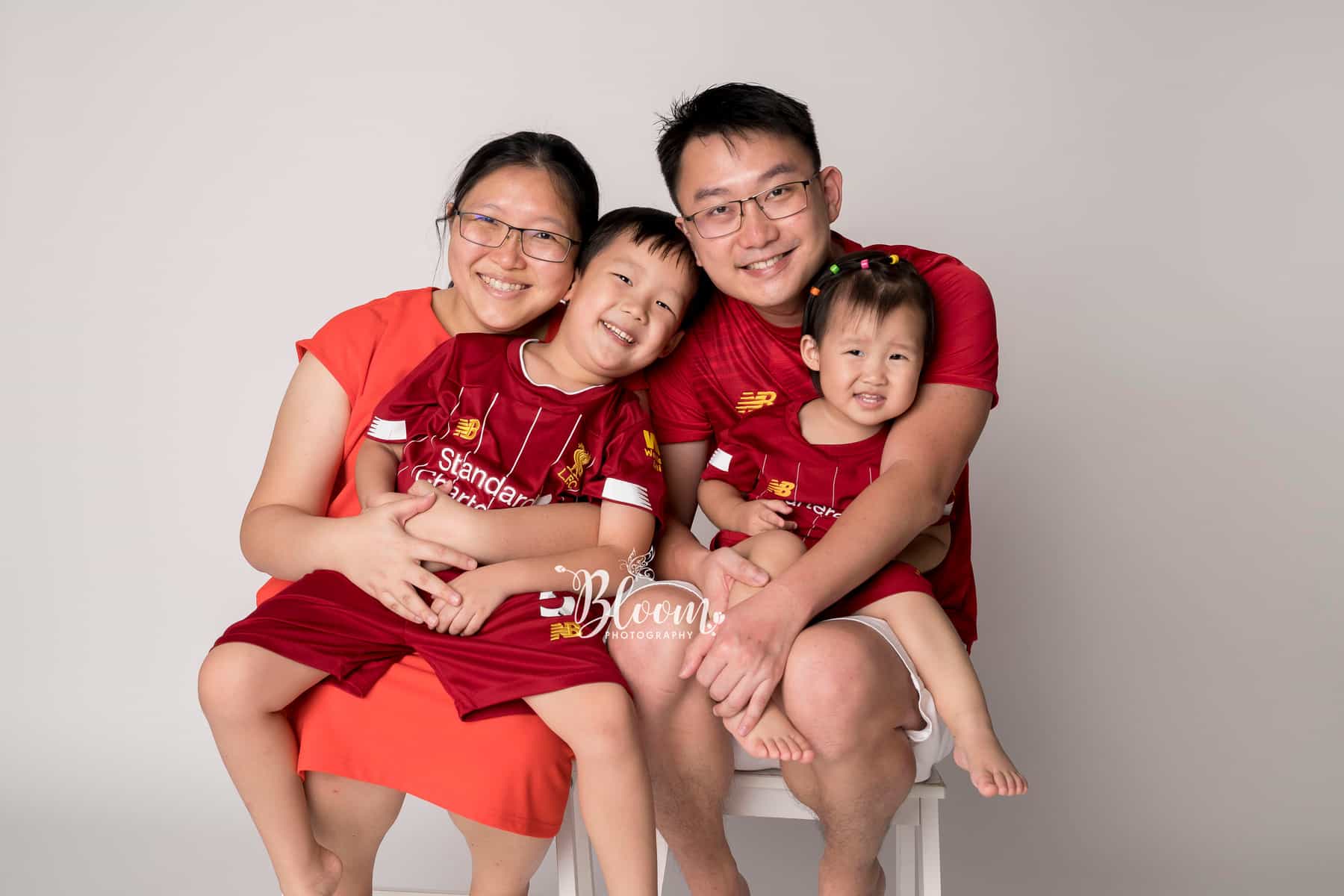 Photo credit: Bloom Photography
Everyone who's had a dog knows they are absolutely part of the family. Your clients may want you to include the family pet in a few photos, and if they don't, you might find that they're really excited if you suggest pet portraits yourself. These shots tend to be playful, full of love, and guaranteed to earn a spot in the family album.
Photo credit: Emily Vanderbeek
As a family photographer, building up a stash of backdrops you can use again and again will give people one more reason to work with you over other photographers. They allow you to create the look your clients are going for no matter where you are, whether that's in a client's home, a studio, or even outdoors. If you really want to get creative, you can even get your own custom designs printed on backdrops.
Photo credit: Dace Bluma
Shooting family portraits at night creates a whole different look than the usual daytime approach. It may not make sense to have a night photography session if small children are involved, since they may be fussy or tired when it's dark enough to create this effect, but for couples or families with older children, it's an opportunity to get a style of photography that is trickier for non-professionals to replicate.
Photo credit: Snaps by Enya
Another way to get creative with light in your family photo sessions is to create some fun images with shadows. If you happen to be shooting in the evening when the shadows are nice and long, you can capture something like this example. Another way to experiment with shadows creatively is to have them cast over part of your image, in order to emphasize the illuminated part.
Photo credit: Valentina Barreto
If you're a family photographer, getting into maternity shoots is a great idea because, unlike other types of family photography, there is no seasonality. People have babies all year round, meaning you can be behind the camera throughout the year. Try one of these 8 maternity family photo ideas at your next shoot.
This photo of a couple of soon-to-be parents is a reminder that while serious or ethereal maternity photos are definitely special, there is also room for humor during this time. Whether the dad is posing with a ball in place of a pregnant belly or the couple has some other funny prop that's meaningful to them that they want to incorporate, maternity shoots are a great time to have some fun and laugh.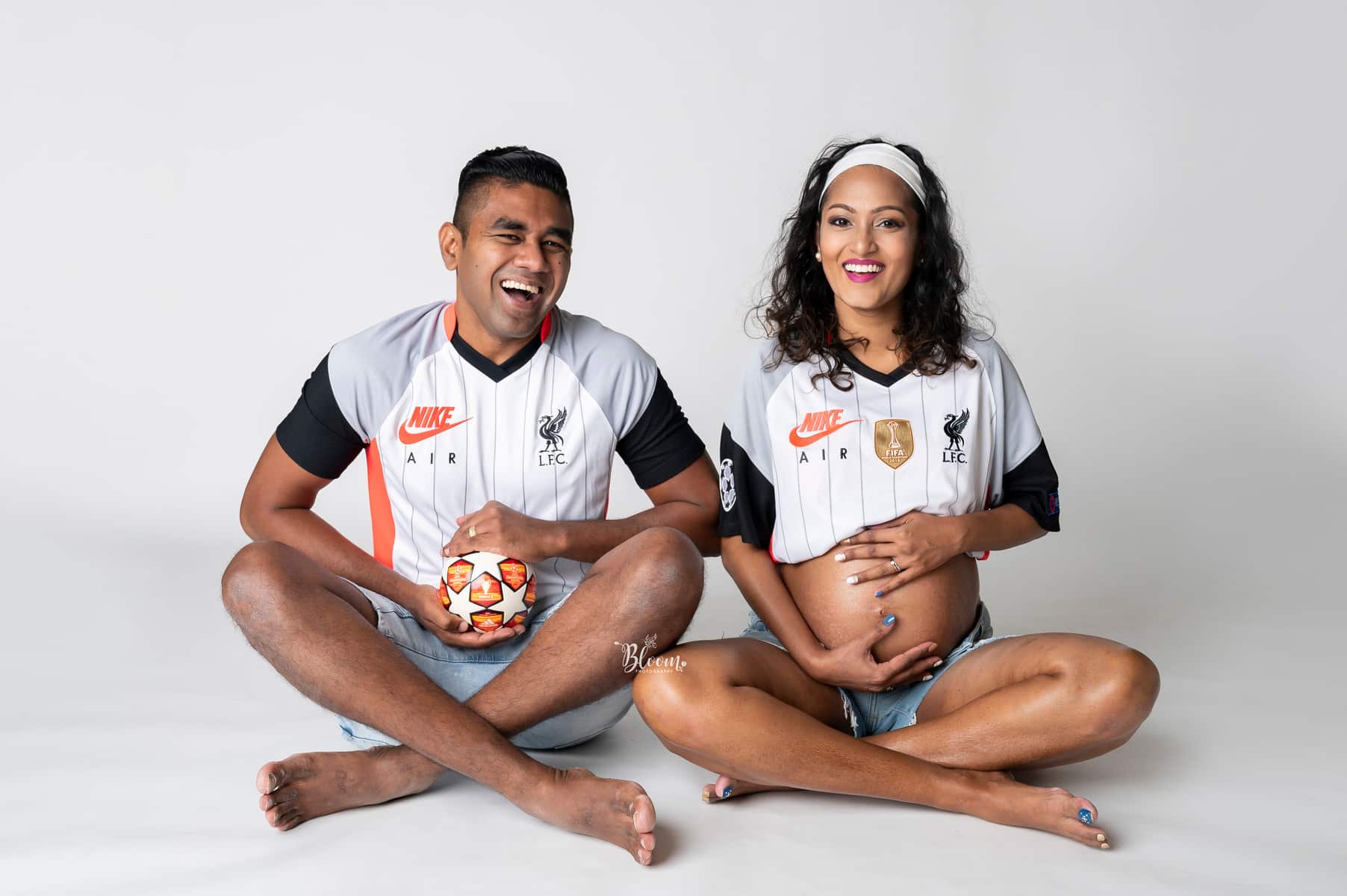 Photo credit: Bloom Photography
There is something magical about pregnancy, so going for a dreamy, atmospheric look and capturing your subject in nature just feels right when it comes to maternity family photos. Black and white works well for this type of image, but soft colors that aren't too contrasty are also appropriate. Either way, your subject is sure to feel like a goddess.
Photo credit: Kerry Jayne
Another approach to the type of family maternity shot that includes siblings is to capture a conversation between a mom and her little one. In this image, it looks like the subject is talking to her son about how he will have a little sibling soon. It feels candid and authentic in a way that you don't often see in maternity photography, which tends to be a bit more posed.
Photo credit: Camila Mendes
This gorgeous maternity shot features an incredible wicker bed and a huge dried floral arrangement. You could recreate it by collaborating with a florist, or there may already be a studio in your area that has a similar setup. Having a catalog of studios in mind that you can rent out in your area is a good way to offer your clients a range of settings and backdrops without necessarily having to invest in them all yourself.
Photo credit: Katelyn Ferguson
There's something undeniably adorable about tiny newborn shoes. That's why they're such a popular prop for maternity photo shoots. Your clients almost certainly have a little pair of shoes ready to go for when their bundle of joy arrives, so a picture of them with the bump is always a perfectly sweet shot.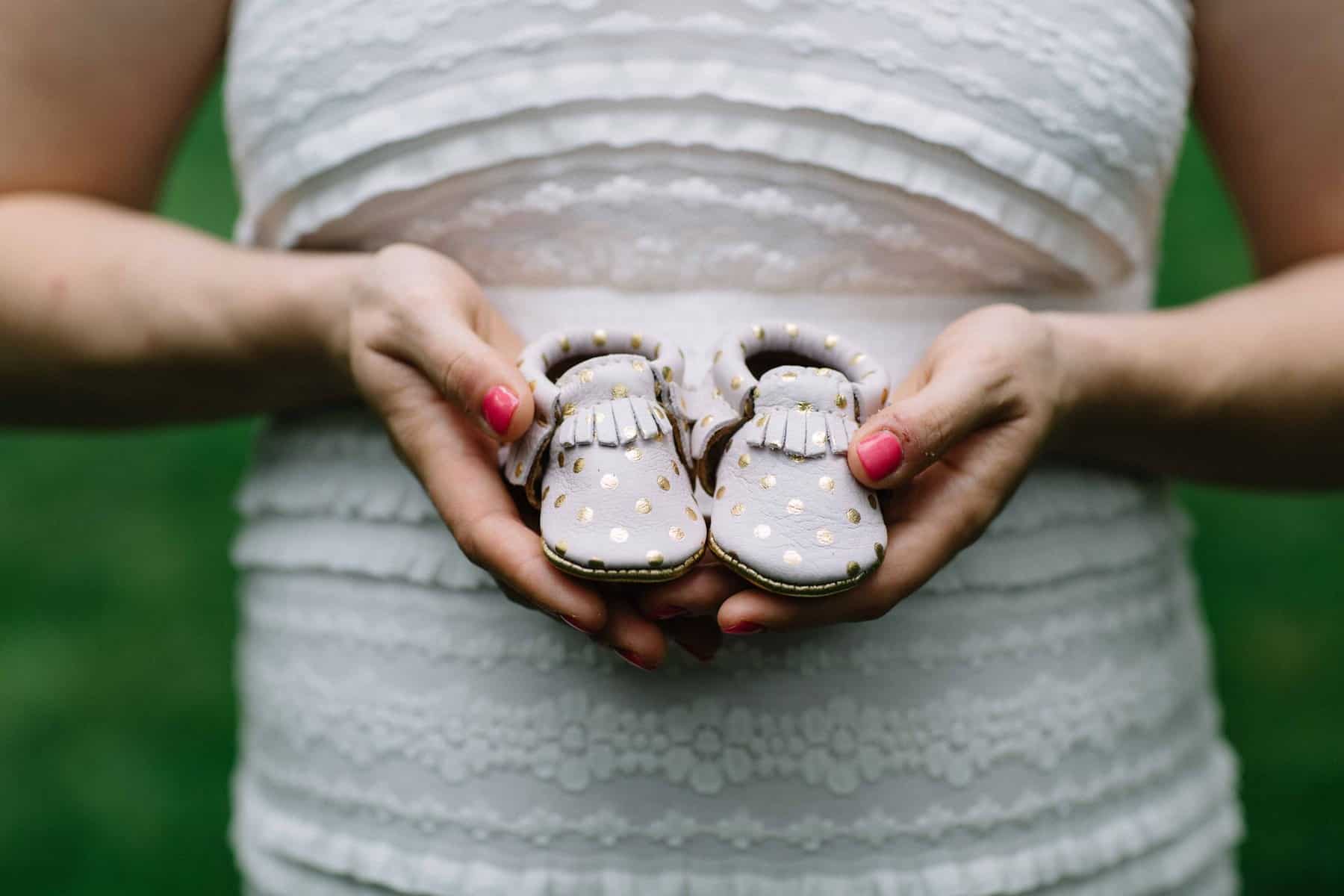 Photo credit: Susie Mann
Golden hour is always a flattering time of day to shoot, but the way this image makes use of the remaining golden light to perfectly illuminate the subject is gorgeous. If you're doing an outdoor maternity shoot, you really can't go wrong if you book it during golden hour. Stick around a little longer, and you can get some romantic blue hour, or nighttime shots as well.
Photo credit: Lauren Sutton
Pregnancy can be a time when women feel powerful and beautiful. Their bodies are doing something amazing, and they're learning just how much change and strength they are capable of. What better way to commemorate this time in their lives than with a maternity shoot done in a glamor or boudoir style? Black and white is a great choice for this type of photo, and shots focusing on the silhouette and the bump are very effective.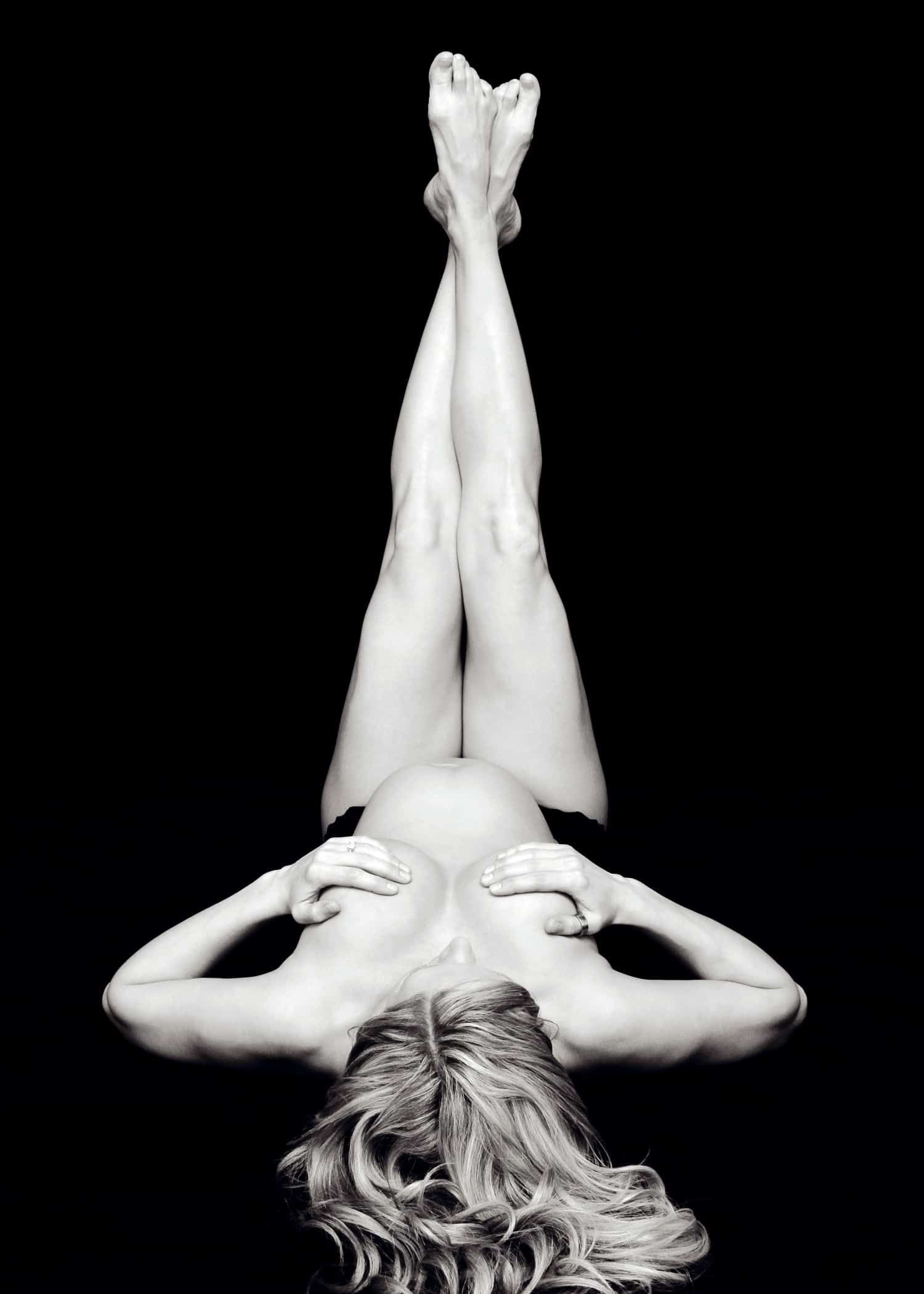 family-ideas-33Photo credit: Jennifer Cotman
Lens flare gives images a dreamy, almost nostalgic quality that is particularly well suited to special, emotional moments such as pregnancy. Strategically trying to capture some lens flare in your maternity photo shoots will make them look anything but basic. It doesn't have to be dramatic, since even a little bit can give your photo a general feeling of light, airiness, and optimism.
Photo credit: Emily Vanderbeek
Tips: There's no better way to develop a go-to list of ideas that you can use in your own family photoshoots than to look through examples of family photographers' portfolios and take cues from their family shoots!