A DSLR camera is a great tool for a beginner photographer, with a variety of great settings and options to take your images to the next level. DSLR cameras are also designed to be user-friendly and relatively light to carry around, so you can shoot landscapes, portraits, and street photography with ease. Plus, DSLRs can store a lot more images than a film roll, so you don't have to worry about swapping out old film or being short on image storage. With a good entry-level DSLR in your hands, you can really improve your online photography portfolio—and land more paying clients.
Buying the best DSLR for beginners can feel a bit overwhelming, especially with the high number of affordable cameras on the market targeted to new shooters. We've rounded up the best entry-level DSLR cameras for a variety of needs, and budgets, including quality options from major brands like Canon and Nikon.
But first, let's start with a quick overview on what you should be looking for when you shop around for a starter DSLR, so you can invest in quality gear that fits your needs.
What Makes a Good Entry-Level DSLR?
You want a DSLR camera that can keep up with you on shoots and give you some fun features to play with, such as autofocus, built-in image sensors, and high megapixels. Most good entry-level DSLRs will have basic specs like continuous shooting, allowing you to take a lot of images in succession; a battery life of at least 400 to 500 photos; and an LCD screen that can tilt and flip easily.
The best starter DSLRs will range in price from a few hundred dollars to $1000. But, you can get a quality DSLR for around $600 to $700—a decent price for a quality piece of gear that you will likely use day in and day out.
Some brands will sell entry-level DSLRs as part of a bundle package, where you also get camera accessories like a camera bag, a filter kit, a remote shutter release, a flash, and additional memory cards. Though these bundles may seem like a good deal, and can save you time as a new photographer, they tend to be fairly overpriced and you can end up paying more than you should for the DSLR and the accessories. Our advice is to invest the best entry-level DSLR you can afford first, and then buy a flash or a camera lens filter kit later down the line. This way, you don't end up paying too much for gear and you can purchase accessories that best suit your needs as a budding photographer.
Now that you have a good sense of what to look for in a quality starter DSLR, let's dive into our top picks for the best DSLR camera for beginners:
The Best Canon Entry-Level DSLRs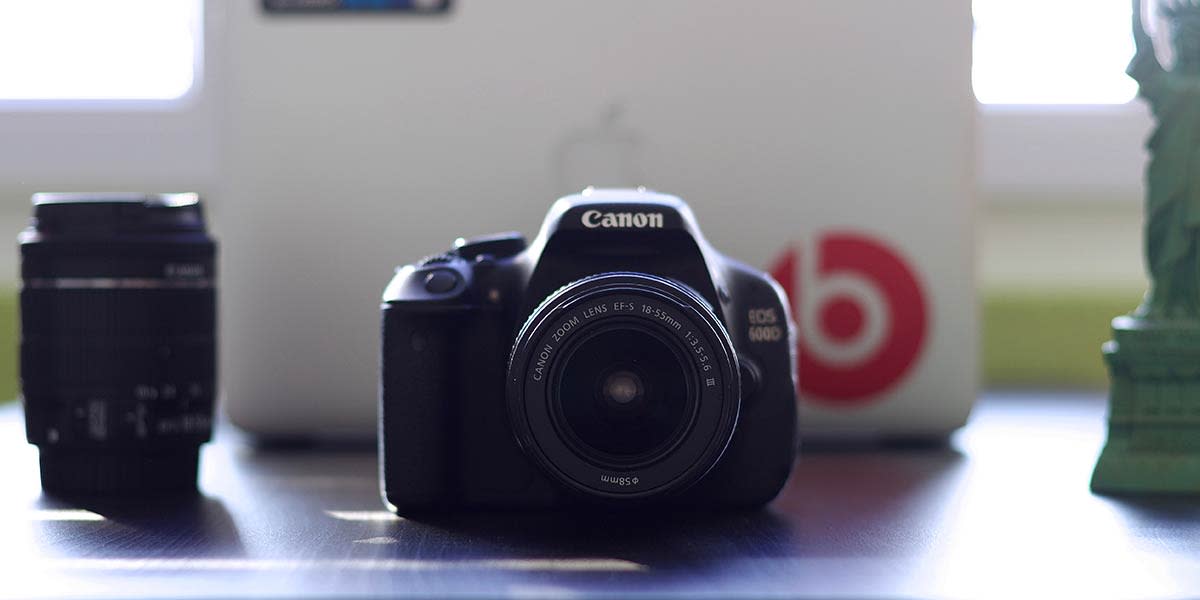 This Canon entry-level DSLR is a great option for a beginner, as it's easy to hold and has excellent features. With it's small, lightweight design and comfortable grip, the Canon Rebel SL2/200D is ideal for long photoshoots, such as an intense portrait session or landscape photography in a remote location. It also boasts some of the most advanced specs possible on a DSLR, with a reactive touchscreen LCD that tilts and flips so you can find the perfect composition when you shoot, and a 24MP sensor, so you get superior image quality in every shot, even in low light.
If you plan to use your entry-level DSLR to shoot video, this camera includes dual-pixel autofocus for excellent video quality. It also has high battery life (capturing 650 photos per charge), and a price point of around $600—a steal for a quality starter DSLR.
This entry-level DSLR includes a lot of awesome features like a 24-megapixel sensor, dual pixel AF, and the ability to autofocus on 45 points in an image. This camera is great for landscape shots, fast-moving sports, and even live performances. It also features quality video settings and can be used to shoot quality videos in a pinch.
Like the SL2, the Canon T7i has a lot of impressive specs and is comfortable to carry around for in the moment shots. That said, it does have a higher price point of $700, and is not quite at the same level as the SL2.
If you're looking to spend a bit less on a Canon entry-level DSLR, the Rebel T6 is a good option. Though not as new as the Canon SL2 or T7i, this starter DSLR still has decent specs and a solid build. With an 18MP sensor, it may not have super-high pixel counts, and it doesn't have a ton of fancy features. But it will give you good practice at shooting with a DSLR, at a cheaper price than newer models.
The Best Nikon Entry-Level DSLRs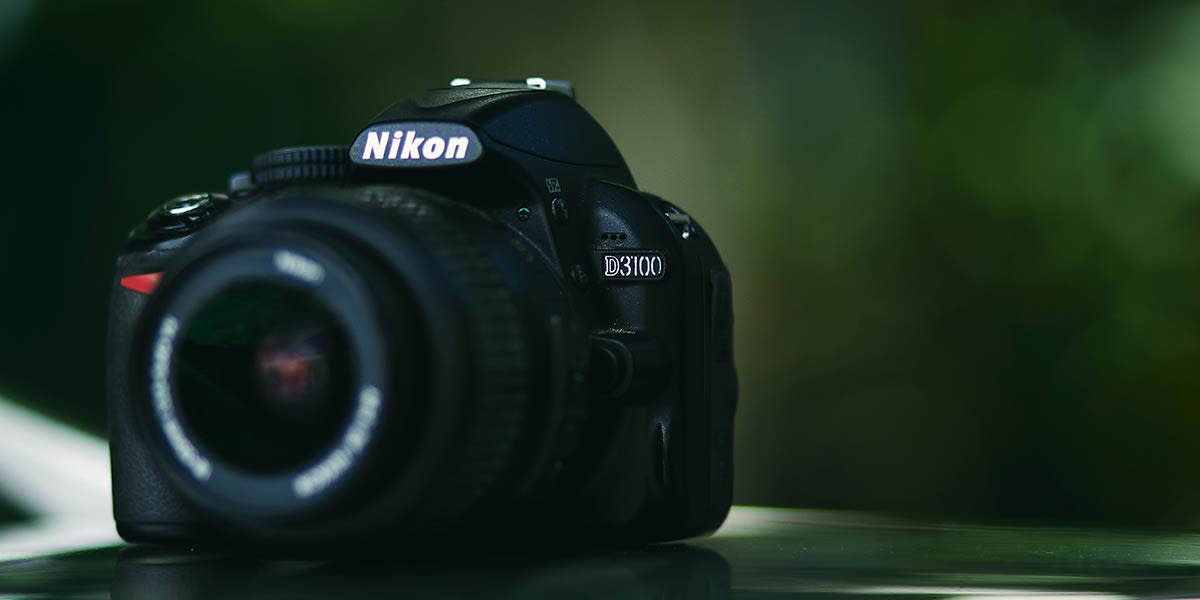 This is perhaps the best DSLR for beginners who are loyal to Nikon, and even photographers who have never owned a Nikon, but are searching for quality. Considered one of the top starter DSLRs on the market, the D5600 features the best camera sensor available for DSLRs. It also includes a tilt-flip touchscreen, a quality 18-55mm kit lens, and a lightweight design.
Though this entry-level DSLR does not have the extensive control layout as other options, or advanced weather sealing, it will produce quality images during long shoots and outdoors. Retailing at around $650, it's a killer starter DSLR at an affordable price and won't let you down as a new photographer. Because it has a high build quality, it also holds its value fairly well and is a DSLR worth investing in.
Though the D3500 is ranked second best on our list of Nikon entry-level DSLR, it is considered one of the best cameras on the market today, and is wonderful for a beginner. At a selling price of $400 to $500, this starter DSLR is a good buy for a new shooter. It has a 24MP camera sensor, which is one of the best sensors on the market, allowing you to take sharp, clean images.
Still, the D3500 is listed a bit lower on our list of best DSLRs for beginners because it does lack a few features that other cameras have. The camera's LCD screen does not tilt or flip, and it's not touchscreen, so you are limited in terms of ease of use. This beginner DSLR also does not have super-high specs when it comes to autofocus, with 11 autofocus points in the viewfinder, which won't allow you to track a subject around the entire frame. So, if you plan to take action shots for sports or live performances with your entry-level DSLR, you may want to opt for a different camera.
But, if you're looking for an affordable Nikon entry-level DSLR, the D3500 is a solid choice.
This starter DSLR is an amazing option for the loyal Nikon user on a budget, as it's an older model that has been priced down. Retailing at around $400, this entry-level DSLR has a lot of the same specs as the newer Nikon D3400, but is often sold for a bit cheaper. It has a range of good features for a new shooter, including single shot autofocus and long battery life. You can take sharp images with this entry-level DSLR—and still have some money left over for accessories.
Perhaps the only downside to this DSLR for beginners is its lack of connectivity. To transfer images to your smartphone or computer—and then upload to your online portfolio website—you will need to buy a Nikon plug-in Wi-Fi adapter. However, these adapters are on the cheaper side and this extra step won't seem like much with the amount you will be saving on this quality starter DSLR.
The Best Pentax Entry-Level DSLRs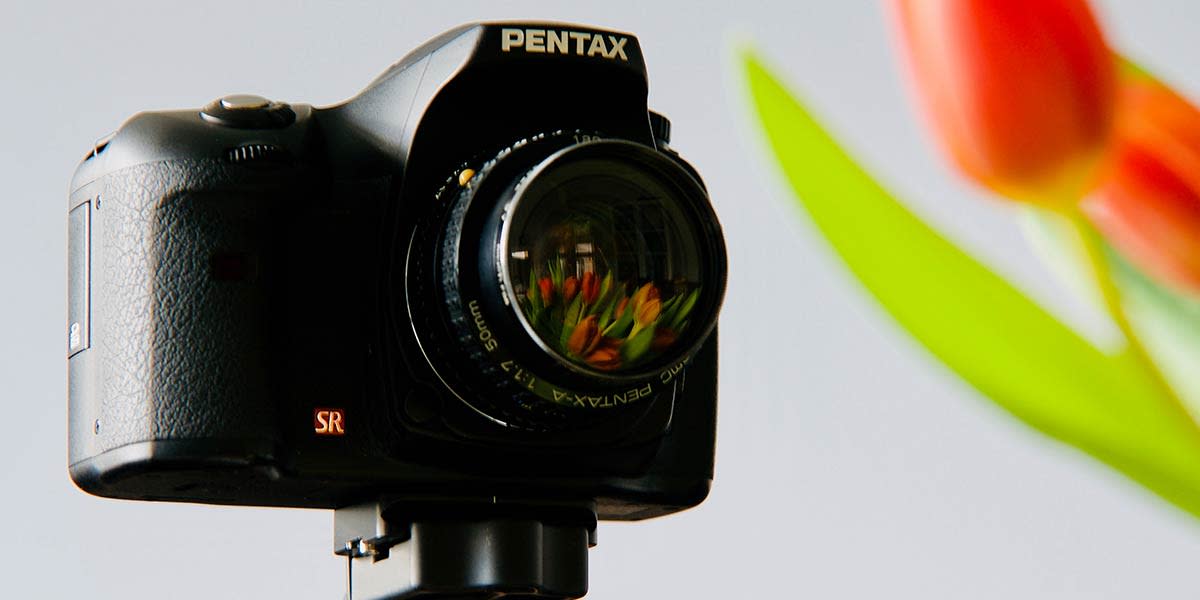 When it comes to finding a DSLR for beginners, the Pentax K-70 offers photographers a lot of quality, and features, at a reasonable price. With a 24MP sensor, 6 FPS shooting, and a viewfinder that can autofocus 11 points in an image, this DSLR is worth the investment. It also features hybrid auto-focus, so you can also shoot good video with the camera.
Though Pentax may not have the same brand prestige as established manufacturers like Nikon or Canon, they offer smaller DSLR cameras with great options for photographers. With full-frame cameras like the K-1 and K-1 Mark II in the Pentax line up, it's easy to upgrade from the K-70 to a more advanced Pentax DSLR in the future.
With a price point of around $680, this entry-level DSLR has sturdy build quality, an advanced control layout, and an advanced weather sealing, making it ideal for landscape photographers who tend to shoot in rough weather.
At $980, this starter DSLR is a bit more expensive than the other cameras on this list, but it boasts some remarkable specs. With three separate dials to adjust the camera settings, it has one of the fanciest control layouts available under $1000. Having high-end control layouts can make shooting on a fast-paced set or in rough conditions much easier.
This camera also has an 18-55mm lens, 24-megapixels, and high build quality. Along with high-end control layouts, the Pentax KP could be a good entry-level DSLR camera for a loyal Pentax shooter with some cash to spend.
The Best Budget Entry-Level DSLRs
If you're looking to just dip your toes in digital photography—and make a lighter dent in your wallet—this starter DSLR is for you. This Canon entry-level DSLR retails for just around $400 and is well-suited to beginner shooters on a budget. This beginner DSLR comes with an intuitive quick menu, scene modes, and advanced shooting modes. It also has an 18MP image sensor and a basic LCD screen; it isn't touchscreen, but that's to be expected at such a low price point. The one potential downside? This entry-level DSLR doesn't have a dioptre adjustment, so you will need to have good eyesight to get your subject in focus and frame.
Still, at such a budget price, this Canon entry-level DSLR is a good buy for a new photographer not looking to spend too much on a camera.
The Best Mirrorless Entry-Level Camera
We know you're shopping for a starter DSLR, but we couldn't resist including this mirrorless camera that acts a lot like a DSLR for beginners. This entry-level mirrorless camera is a good alternative if you want the sharpness of a DSLR in a compact size. With a viewfinder located on top of the camera, it has a Micro Four Thirds sensor that's a little smaller than the APS-C sensor found in DSLRs. It also shoots with 16MP, rather than the DSLR standard 24MP, but you might not mind using a smaller sensor with the smaller lens.
This camera has a solid build and is great for quick snaps, plus it has advanced photo mode, and you can buy a range of lenses to swap out when you are shooting in different settings. That said, if you plan to blow up your photos and print them out in large format, this mirrorless camera may not be as ideal as an entry-level DSLR.
Create a Portfolio With Your Starter DSLR
Now that you've parsed through our guide and found the perfect beginner DSLR for you, you'll be out shooting portraits, landscapes, street shots, and everything in between. You may also invest in camera accessories like a remote shutter control, a flash, filters, and a quality camera bag to take your images to the next level.
Once you've created some amazing shots with your beginner DSLR, don't let them sit idle on your camera, or on a memory card. Instead, show them off in your online photography portfolio.
Don't have one yet? Building an online portfolio is easy with the right website builder. Pick an online portfolio with fresh, modern templates, to show off all the awesome images you've taken with your starter DSLR camera, and a built-in online store, in case you want to sell prints of your shots.
A good website builder will make it easy for you to adjust features on your site with just a few clicks, no coding required, so you can upload beautiful images taken by your entry-level DSLR to your portfolio with ease.
Ready to build an online photography portfolio with your amazing DSLR snaps? We've got you covered. Start your free trial with Format today!
Now that you've found the right entry-level DSLR with the help of our handy guide, get out there and start shooting!
Want more photography reads?
The 12 Best Website Templates for Photographers
Here Are The Best Camera Phones For 2019
What Are The Best Monitors For Photo Editing?