Are you on the lookout for the best website templates for photographers? When you're just starting to plan out your portfolio website, all of the cool photography themes out there can be a little overwhelming. There are so many photography web templates to choose from that it can be tough to zero in on the one that meets your specific needs.
We've pulled together a list of some of Format's best photographer website templates. There's a theme here for every type of photographer, so read on and find the 15 best photography templates for your business!
1. Photo Collage Template For the Instagram-First Photographer: Order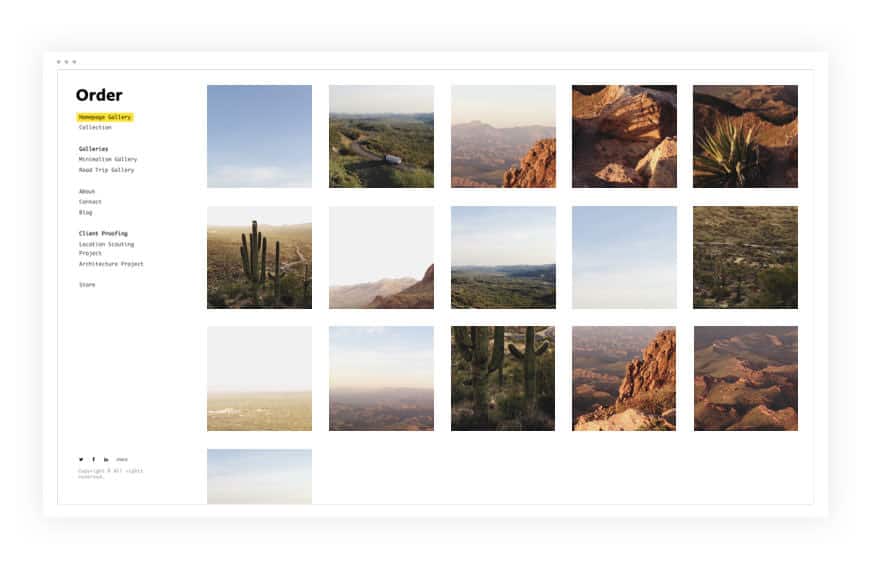 There are lots of photography layout templates that use grids, but what makes the Order theme special is that the homepage grid is laid out in squares, a la the popular photo-sharing app we all know and love. This is a very visually appealing layout for visitors, no matter what kind of photography you do, but it's especially handy if the work you create for your customers is primarily intended for Instagram use.
For example, if you're a product photographer and most of your clients use your images on social media, visiting your website gives them an instant impression of how your work looks in an Instagram layout. It's fully responsive and features a clean, intuitive interface, so you won't need to search for an HTML photo grid template if you're using Order.
To try Order, click here.
2. Unique Slideshow Template For the Art Photographer: Fabric
If you're an art photographer, you've probably checked out photo album website templates that allow you to show your work in an album format, creating a sense of cohesion for each project on your site. With its focus on galleries, Fabric is a stunning fine art photography website template. Think of it as a photography exhibition theme. You can set your favorite gallery to the homepage of your website, and then create other galleries in the menu.
This photo slideshow website template guides your visitors to click through your homepage gallery as soon as they land on the site, creating a really unique stacked image effect as they go. The disappearing menu feature of this professional photography website template means that all the attention is on your awesome photographs until your visitor is ready to navigate to other pages such as client proofing galleries, your online store (make sure you put some art prints up for sale: it's a great way to make extra money as an art photographer!), and your about page.
To try Fabric, click here.
3. Full-Screen Gallery, Wedding Photographer Website Template: Sun
This full-screen image gallery is a great way to attract more clients to your wedding photography business (or any photography business, for that matter!) than to show off your best work in a beautiful fullscreen slideshow on the homepage of your site? If you've had enough of the same old themes from Themeforest and Dreamweaver, check out Sun, a stunning wedding photography website template.
Sun is truly one of the best photography website themes, thanks to its great menu design at the bottom of the theme, which is both easy to navigate and unobtrusive. With the built-in presets, you can easily choose a more subtle or more prominent menu design to tailor this wedding photography theme to fit the look you're going for.
Your clients are never more than one click away from your client proofing galleries, where you can upload watermarked or low-res images from your shoot and have them offer feedback and make comments right from your website. Give this template a try—it could be the perfect fit for your business. It's a beautiful, unique alternative to the more common free photography website templates like the core photography themes, PhotoShelter templates, and ProPhoto blog templates.
You'll also want to make sure you create a pricing page for your wedding photography website. If you want to book clients, adding a price page is essential. Lucky for you, it's super-easy to add custom pages in Format themes like Sun.
To try Sun, click here.
4. Side-Scrolling Template For the Landscape Photographer: Panorama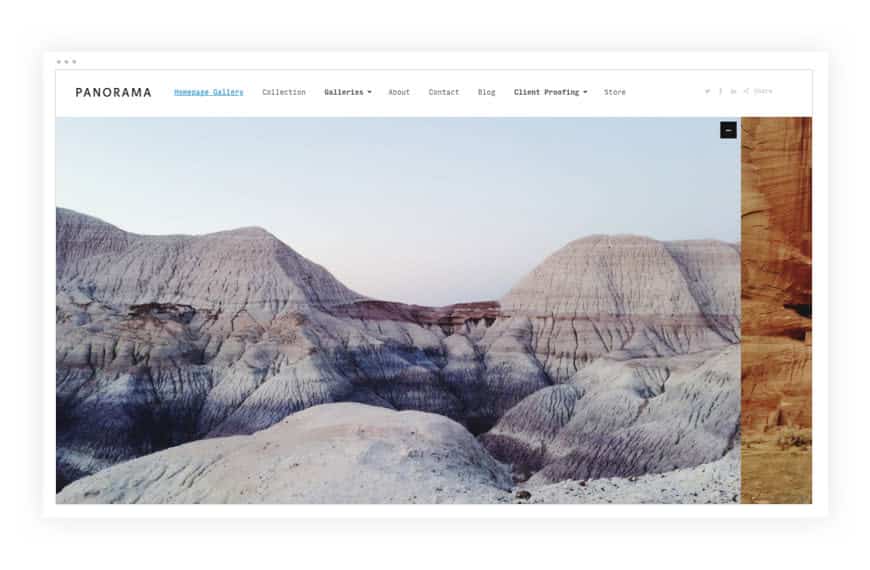 As the name suggests, Panorama is an excellent photography website template for photographers who want to showcase landscapes or panoramas on their website. This theme features a horizontal scrolling gallery right on the home page, making it easy to see a whole series of work at a glance. It's a stunning option for travel photographers or anyone else shooting landscapes.
If you've been looking for nature photography themes, Panorama could be the perfect option for you. Wide images look particularly good in this template, so no matter what field you're in, if you tend to shoot in landscape, you'll definitely want to test out Panorama. The best part? You can try it (and any other Format theme!) totally free, so this is your chance to take a few themes for a test ride and see which photo theme ends up working best with your portfolio.
To try Panorama, click here.
5.Display More Images For an Amazing Mobile Experience: Amazon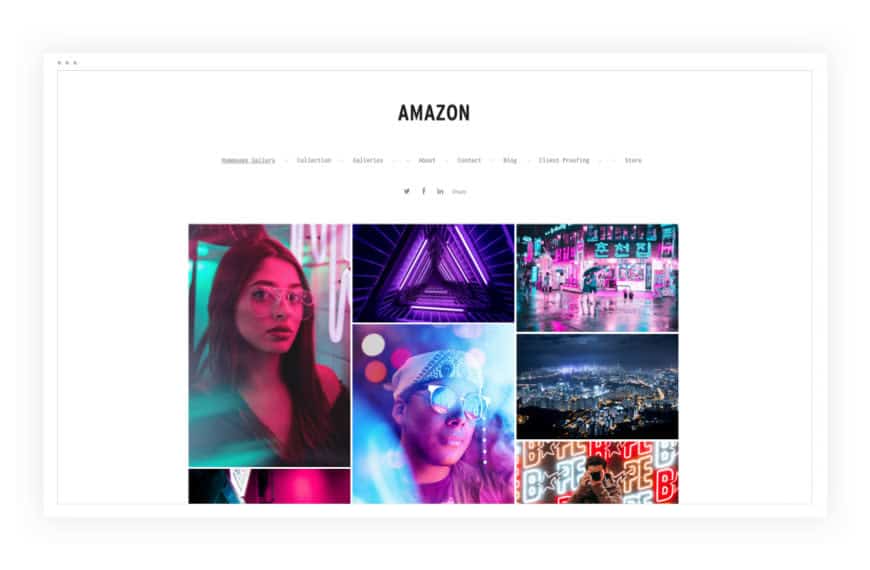 All of the responsive photography themes you're reading about here offer a fully responsive design so that you don't have to worry about how your site will look on different browsers and mobile devices. But Amazon, a grid layout theme with fullscreen image display, truly shines on mobile.
The masonry-style professional photography website template looks great across devices and enables you to add as many images as you like to the homepage since the UX design encourages visitors to keep scrolling until they reach the bottom. This blog-style home page is a great way to make sure your website visitors see as much of your work as you like since they don't have to click through a bunch of galleries to get there (although you can, of course, create galleries in Amazon, too). If you're looking for a responsive photo gallery template in HTML5 that people are sure to notice, look no further than Amazon.
To try Amazon, click here.
6. Editorial-Style Templates For the Travel Photographer: Mica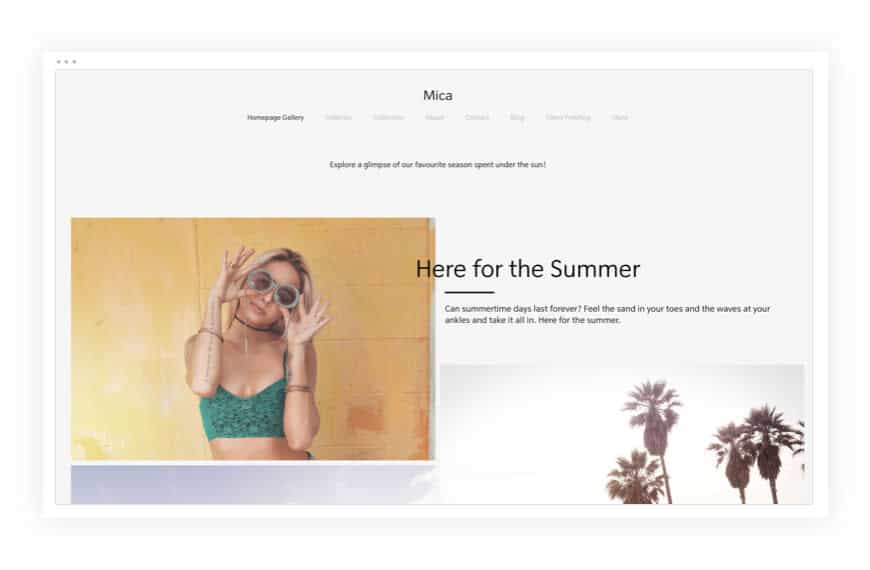 If you've been looking through photojournalism themes trying to find one that will allow you to seamlessly share both images and text, Mica allows you to do just that.
An awesome option for travel photographers who might want to add copy to create immersive storytelling experiences, or photojournalists who want to add context to their images, Mica makes it simple to incorporate text blocks right into your homepage gallery, making it an amazing photo journal template.
Another great way to incorporate storytelling into your website is to add a blog. Make sure to look for a photography site template with a built-in blog, like Mica, which allows you to supplement your galleries with content that your visitors can read to better understand your brand and business.
To try Mica, click here.
7. Bold Design Templates For the Portrait Photographer: Post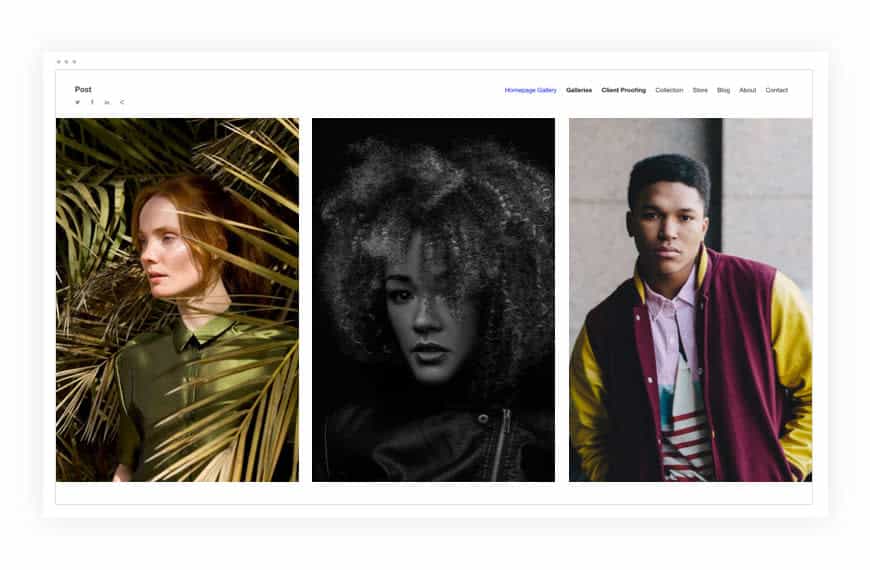 Post, a brand-new HTML5 photo template from Format, is a beautiful grid-style photography catalog template that is perfect for portrait photographers, including family photographers and anyone else who shoots primarily in portrait mode. It would make a great baby photography theme! The photo website template features a grid of nine portrait tiles right on the homepage.
If you've looked for clean, fresh themes in the past, you're going to love the bold but uncluttered design of this portrait photography website theme.
Another great feature of this template? The easy-to-navigate sticky header that makes it super-easy for your visitors to access other galleries, including client proofing galleries, as well as any other pages you create.
It is a good idea to choose a website builder that lets you easily add new pages, so you can customize the content of your site to suit your needs. One thing that every photography website should have is an about page. Look for a good photographer About Me template, or check out our complete step-by-step guide to writing the perfect About Me page.
To try Post, click here.
8. Clean Template Designs For the Indecisive Photographer: Industry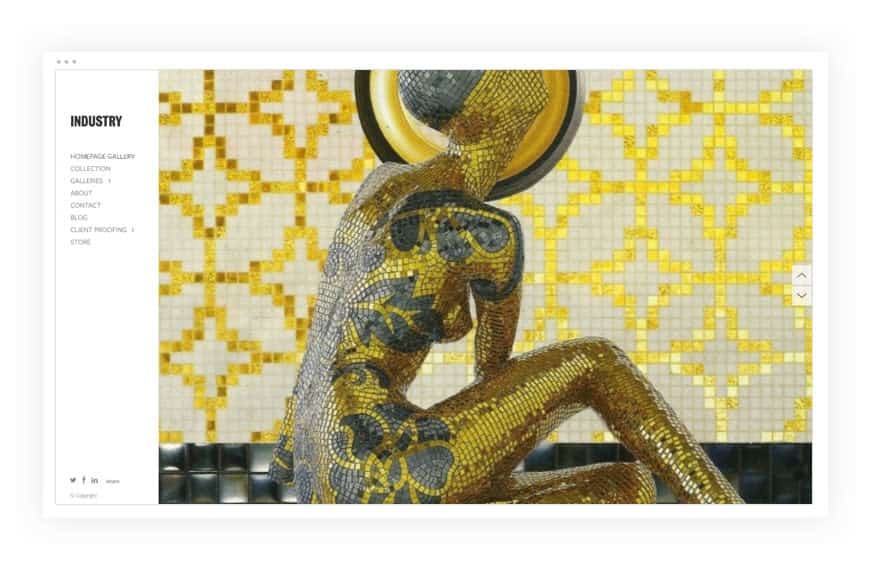 Industry is one of the best photography templates out there if you want to make a bold statement with a large homepage image.
A cool feature of this theme is the super-engaging parallax scroll effect of the homepage image, which allows you to add a number of homepage images that your visitors can scroll through if you can't choose just one (if you're having real trouble choosing portfolio images, we've got you covered with this guide).
This theme incorporates the same scrolling effect into the galleries. It really lets you make the most of your photography by filling the screen with your images. It's also a great digital template for photographers because of the super-navigable sticky header. Industry is definitely a top theme worth testing out!
To try Industry, click here.
9. Simplified Grid For the Gallerist: Peak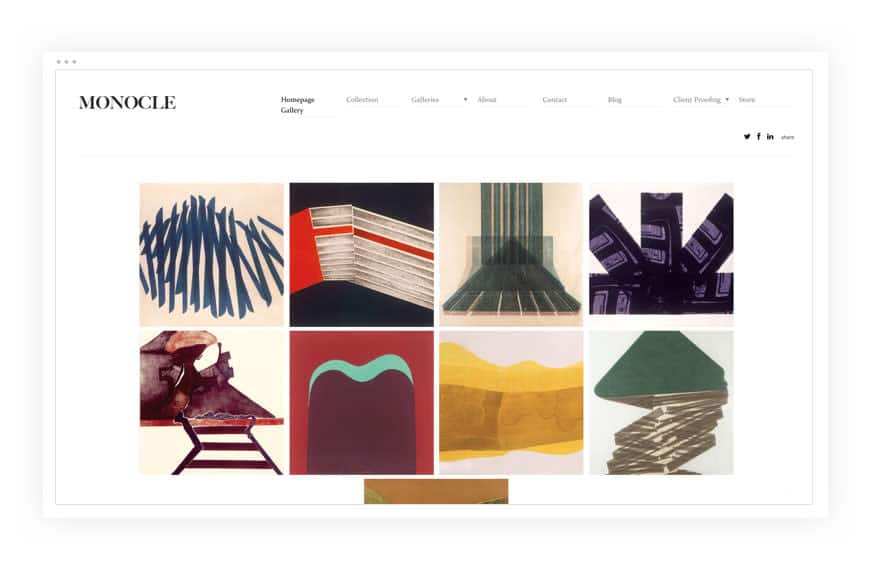 If you've been looking for themes that offer a gallery-type user experience, you'll love Peak. It's a great theme because the experience of scrolling through it is like the digital version of walking through an art gallery. Peak allows visitors to explore the collections you're most proud of all on one page.
This template lets you add a tidy caption under each imag to provide a small description of the photograph or, perhaps, snippets of your artist statement.
To try Peak, click here.
10. Horizontal Scroll For the Minimalist Photographer: Obsidian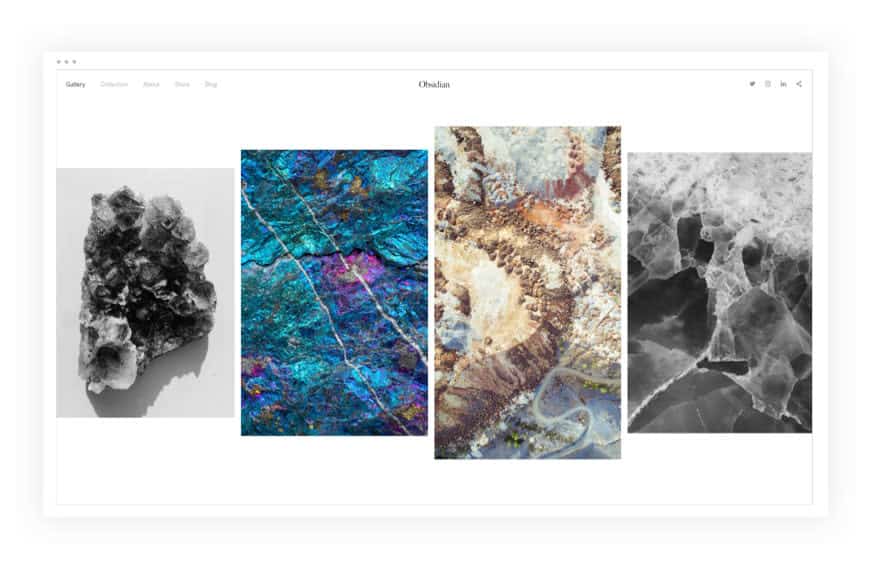 The minimalist design of this photography web template feels really contemporary. Obsidian lets your photos do the talking through a beautiful horizontal scroll display. You'll also find some built-in interactions that make your portfolio website feel truly professional, such as color changes when you hover over different collections tabs.
In Obsidian, it's also easy to isolate any image by clicking on it, which will darken the background and really make that image pop up. Click it again to see that image at a larger size. This design makes it easy and intuitive for visitors to pause and take a close look at their favorite images.
To try Obsidian, click here.
11. Magazine-Style Editorials For the Fashion Photographer: Beacon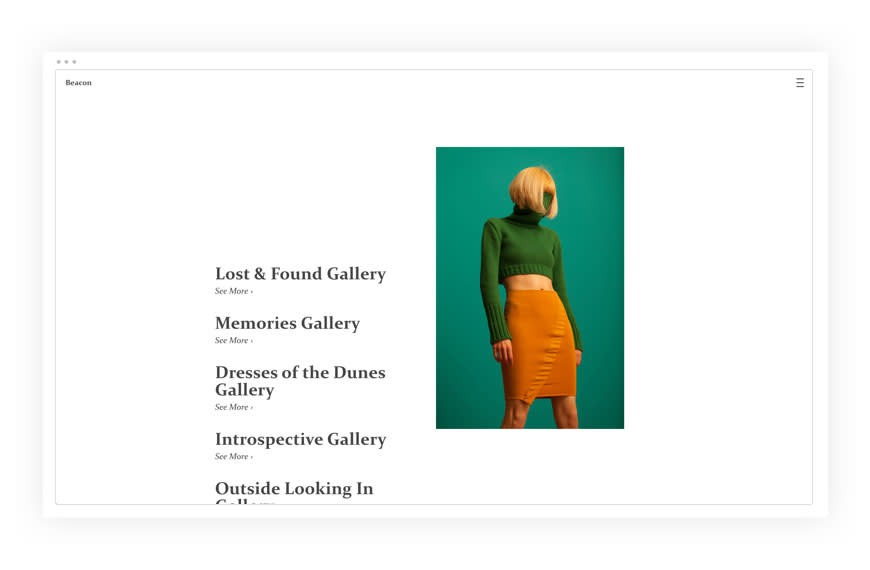 If you've been looking for a fashion photography website template, Beacon is sure to impress with its beautiful design. With so many options for photo templates online, it's easy to get overwhelmed, so when you come across a template like Beacon that looks so polished right out of the box, it's a win!
This is a great theme for any photographer who wants to create very distinct projects on their website. Beacon allows you to create galleries that are all accessible from the home page. Another nice touch is that, for each gallery, you can have a description on the far left that visitors can peruse before scrolling horizontally through the images. Be sure to check out this template if you're a fashion photographer!
To try Beacon, click here.
12. Classic Vertical Scroll Templates For the Architecture Photographer: Ora
Ora is another awesome theme for those drawn to the minimalist look. Ora's sleek design is perfectly suited to an architecture-themed photography website, thanks to its ultra-clean interface.
A great idea for professionals is to incorporate contact forms into the contact page of your website. This way, potential clients can contact you directly through the site. This is easy to do in Ora (and the rest of the Format themes!).
To try Ora, click here.
13. Real Estate Photography Website Template: Spruce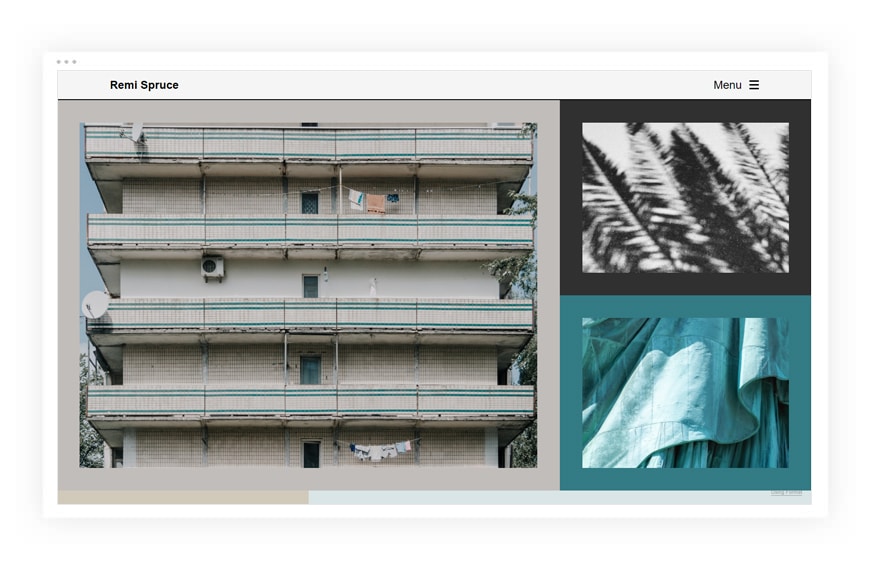 Spruce is an excellent real estate photography template. It features a tiled effect with built-in frames to make your gallery photos pop, based on the colors sampled from the image.
Real estate photographers have to capture the best features in a property, which often requires finding interesting perspectives within architectural spaces. Whether you shoot commercial or residential properties for real estate agents and developers, Spruce can help make your photographs stand out on a clean, and simple design layout.
14. Image Forward + Clean Templates For The Commercial Photographer: Exposure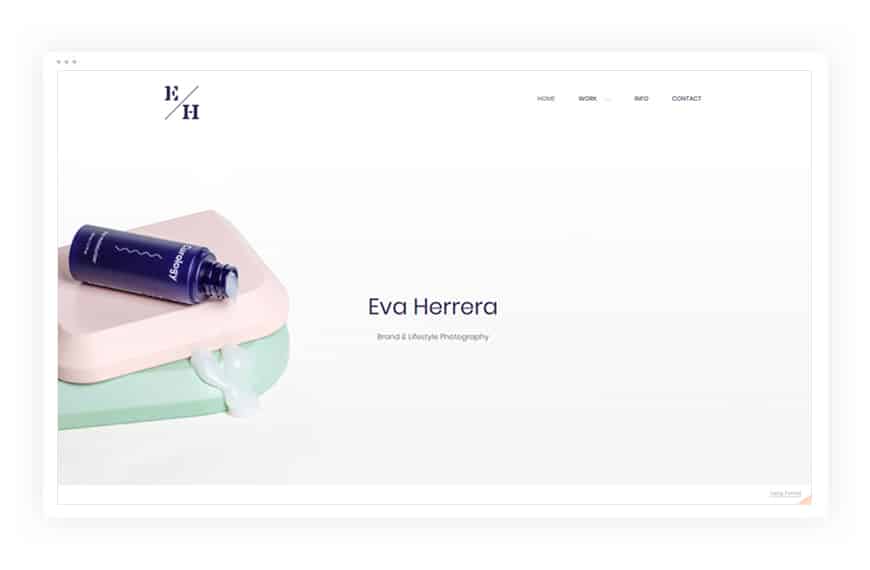 Exposure has a modern and stylish look that puts your product or commercial photography at the forefront of the design.
This web design template for photographers really highlights your banner or hero images product shots, allowing prospecting clients to imagine their product through your displayed work and helps them find exactly what they're looking for.
It makes the best use of every inch of horizontal space for mobile and desktop browsing.
Simple, fun, and image forward, Exposure packs a lot in one beautiful and completely customizable template design. This site is fully responsive for desktop to mobile and tablets, plus it allows you to create a unique design for your email capture right on your homepage.
To try Exposure, click here.
15. Bold And Dynamic Website Template For Food Photography: Still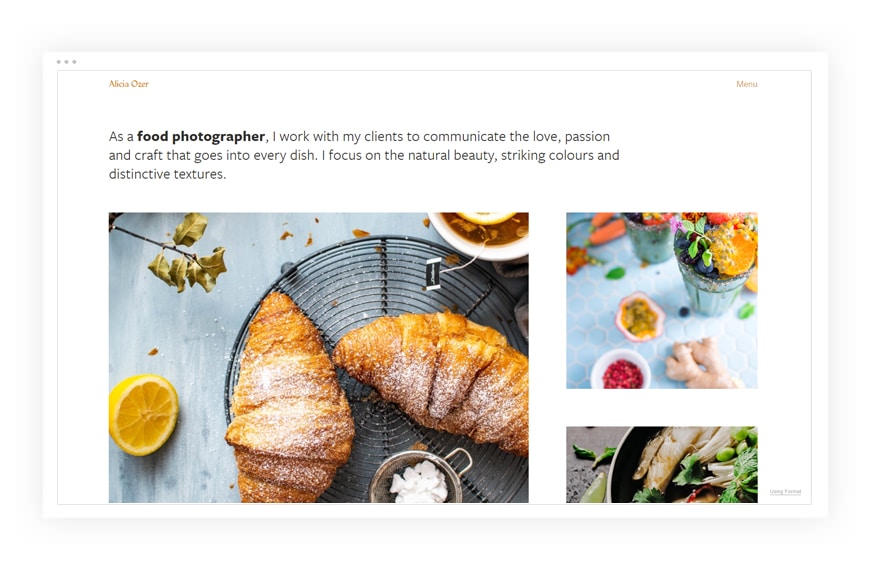 Still is a fun and versatile new photography template that allows for a lot of creativity in showing off your work through the use of uneven blocks. It features locked-in image boxes against colored backdrops that are completely responsive to the visitor. Make your food photos stand out with this stand-out gallery home page, and add extra details in writing about your work.
To try Still, click here.
Format For The Best Website Templates For Photographers
As a Format member, you get access to over 70 professional website templates that are mobile-optimized and completely customizable.
Not only do these templates look great—but they feature powerful, built-in tools to turn your site into a marketing and sales platform for your business. With search engine optimization (SEO) tools,and the ability to create an online print shop to sell your work, a portfolio website built with Format expands your opportunities as a freelance photographer.
We've compiled a list of the top 15 website templates photographers love from the Format collection.
We can't wait to see what you come up with!
Want more ways to make your online photography portfolio stand out?
The Ultimate Guide to Building A Photography Website
Everything You Need To Know About Smoke Bomb Photography
20 Cool Self-Portrait Ideas