When you tell someone you're a photographer, chances are one of the first questions they'll ask you is what kind of photography you specialize in. In other words, they want to know what your photography niche is. For some photographers, this is an easy question to answer. If you've decided to focus on one type of photography, it's easier to describe what you regularly shoot and what your day to day looks like as a photographer.
But what if you don't have a single niche? There might be a few areas that you're equally interested and skilled in, or you may be early in your career and not ready to narrow down your potential clients to those within a single niche. In this case, it can be a little bit trickier to communicate what you do to new people, and most importantly to prospective clients.
Your online portfolio website is one of the most important tools as a photographer of any kind because it allows you to show your community of clients and potential clients exactly the kind of work you're capable of. A high quality portfolio can be the best way to seal the deal on a new gig, convincing a client that you can create the type of work they're looking for.
If you shoot in a single niche, you know that your portfolio site will only feature your best work in that field. If you shoot in multiple niches, your portfolio design should be carefully considered to make sure you're not diluting your work or confusing potential customers, but rather giving them a clear, easy to navigate way to view your different types of creative work.
Having multiple photography niches doesn't mean you can't have an amazing portfolio website that converts clients. In fact, a properly designed online portfolio, or even creating multiple portfolio websites, is a great way to build your photography business and create an effective web presence that draws in customers.
What is a Photography Niche?
Before getting into the best way to make a multiple niche online photography portfolio, you might be wondering what exactly is meant by photography niches. Even within a single niche, some photographers may be generals while others choose to become super-specialized. For example, one wedding photographer may shoot weddings of all sizes and styles in any location, while another may shoot only rustic farm weddings in order to develop a single distinct and in demand look. These photographers both work in one niche, which is wedding photography.
Other niches include food photography, commercial photography, portrait photography, travel photography, photojournalism, event photography, and many more. If you love shooting food photography as well as portraits, these two niches are distinct enough that you might feel a bit stuck when it comes to planning out how you will present your work on a photography portfolio.
Do I Need to Pick a Single Niche?
You definitely don't need to limit yourself to a single photography niche in order to be successful, but taking a moment to think about the argument for specializing will help you avoid common mistakes when making an online portfolio with multiple photography niches.
When photographers suggest that specializing in one niche is better than being a generalist, they have a good point from the client's perspective. Think of it this way: if you were looking to hire a photographer to capture images of your newborn baby, would you be more interested in hiring the one with a beautiful portfolio featuring nothing but baby photography, or the one with photography that includes some baby photos alongside other types of family photography as well as some professional and corporate headshots?
Chances are, you answered the first. We all want to work with professionals who we feel are experts in their field, and who we're confident in. By specializing, you not only get better at your type of photography, but you also show clients that you are dedicated to it and are good enough at it to make a living working in just that niche. You also increase your chances of becoming known for your particular style or specialization and increase your chances of getting new business by word of mouth in your industry.
These are all totally valid arguments for specializing in a single niche. However, there are also great arguments to be made for having multiple niches, and thinking about the arguments for having a single niche that we just looked at will help you make a multi-niche online portfolio that avoids all the common pitfalls. We'll look at these below.
What Are the Benefits of Not Having Multiple Niches?
Taking the same kind of photo gig over and over again can become repetitive and boring for some photographers, and specializing in several niches is a great way to make sure that you get to work on a wide range of different projects.
You might also find that you're just as passionate about two different kinds of photography, and you'd be limiting yourself by forfeiting doing one of them professionally in order to focus on the other. Having multiple photography niches gives you a wider range of potential clients for a greater earning potential, the joy of variety, and the opportunity to indulge a range of different interests. If you're a student, you may feel you want to get more experience in a variety of fields before committing to one.
So, if you know you want to specialize in more than one niche, but you want to make sure you don't sacrifice the quality of your portfolio or your ability to land your dream photo jobs, what should you do?
How to Make a Portfolio for Multiple Photography Niches
The key to making an excellent online portfolio that displays multiple niches is putting yourself in your clients' shoes to make sure the portfolio site is easy to use, clearly organized and can cater to customers who are only interested in one of the niches. Some ways to do this include:
Make Use of Galleries
Create an online portfolio that features different clearly labeled and easy to access galleries within the portfolio site. A web design with a bunch of tiled images and a tucked-away menu may not be the best choice in this case, since it would be difficult to select images from multiple niches in a way that looks cohesive and tells a strong story about your brand, and visitors would have to take a look around the portfolio site until they found the dedicated pages for each niche.
Instead, opt for a template that has a large and legible menu, with clear menu items for each photography niche. For example, if you shoot both travel photography and food photography, have a menu item for each. You can also have sub-menus items for specific projects under each. When users click a link, they're taken to the corresponding online gallery where they'll only see work relevant to that niche.
Tell your Story in a Compelling Way
If there's a good reason why you're into more than one photography niche, or they fit together for you for some interesting reason, let visitors know! Have your website include an about page where you can invite visitors to know more about what brought you to where you are in your career.
Sticking with the example of a photographer who specializes in both food and travel photography, you can tell a story about how food and travel are both ways to experience the world and its many cultures. Through a bit of thoughtful framing, you can make your seemingly disparate niches fit together in a way that makes sense and feels natural.
You can also include a blurb about you on the home page of your website, so portfolio site visitors don't have to go looking through different web pages to learn more about you.
Choose a Template that Accommodates Multiple Niches
Whether you use a website builder, like Format, or work with a web designer to create your portfolio site, you'll likely start with a template and then build it out or customize it as you see fit. A high quality template can ensure you have a beautiful website up and running quickly. However, when choosing one, look for a design that can easily accommodate a website with multiple niches.
Click around a sample portfolio site built with the template you're considering, and think about how your content would fit in. It will save you the work of having to customize the template with code to make it fit your requirements. Make your template accommodates any special file type requirements you may have, such as video for videographers.
Have Separate Social Media Profiles for Each Niche
Whether we like it or not, social media has become an essential tool for photographers, artists, graphic designers, illustrators, models, and creatives of all stripes. While Instagram is certainly not a substitute for online portfolios, it is a great platform for creatives to share content with a wide audience of potential clients. It can be used to establish your particular style within a given niche, to interact with potential customers, and to share a little bit of yourself as well.
If you work in more than one area of photography, it might make sense for you to create and maintain separate social media accounts for each niche.
To figure out if this is a good idea for you, ask yourself if the people who would be interested in hiring you for one niche could also be potential clients for the other. If there is a lot of overlap, you probably don't need distinct social media accounts. On the other hand, if the customers for each niche are completely different, you're better off with distinct accounts that you can use to cater to the different customer bases.
Each account can showcase work in that particular niche, and in your Instagram bio, you can link directly to the corresponding section of your website. This way, interested users will be taken directly to the part of the portfolio site they're interested in.
Offer Personalized Experience with Client Proofing Galleries
Creating a customized experience for clients on your portfolio website is another way to overcome the challenge of multiple niches. Have your web designer create custom galleries within your online portfolio, or better yet, use a portfolio builder that includes them.
Client proofing galleries are essentially a platform that customers can log into where you can upload your work in progress and they can take a look and provide commentary before you submit the final images. This provides a truly custom experience on your portfolio site and will give customers a very positive impression of your business.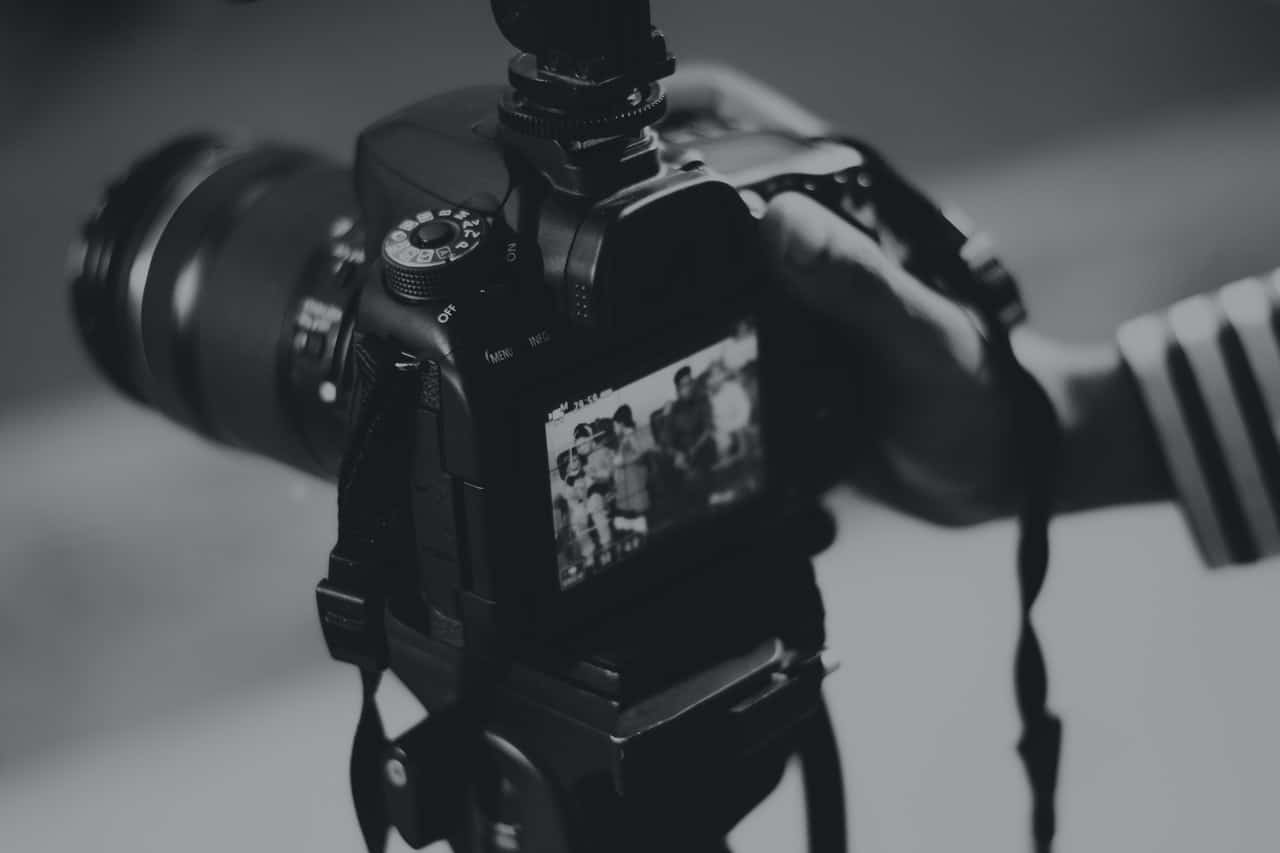 When to Make Separate Online Portfolios for your Photography Businesses
In some cases, having all your work in one place just won't cut it. If your images for the different niches are sufficiently different and really don't go together well, having multiple portfolios on one website might end up being a bit of a UX and design faux pas. While food and travel photography may go together reasonably well, architecture and music photography would make for a pretty confusing website experience.
If you think this might be the case for you, having a distinct site for each online portfolio just might be the way to go. Separating your work will give all of your customers, in every niche, an experience that is tailored to their interests. It allows you to share your best work on a dedicated portfolio site for a specific industry, which may just be better for your business in the long run.
Another important reason to consider creating a distinct portfolio website for each online portfolio is for search engine optimization. Search engines favor websites with cohesive content, and a search engine may rank your website more highly if it's clear that all of the content, such as the types of images and blog posts, are focused on a single subject.
For example, blogs are great for creating SEO content. You can keep a regular blog that uses SEO keywords for your niche, which will drive traffic to your platform. If you're a pet photographer, your SEO efforts will help you show up in search engines when pet lovers make related searches. However, if your SEO efforts are diluted across a number of interest areas, you may not rank as highly and people will have a harder time finding you.
What Happens if I want to Specialize Later On?
You may find that after some time you do want to specialize, after all. If you have an online portfolio for each niche, you can always just remove the online portfolio for the area you no longer wish to work in leaving only one portfolio website for your business. This is probably the easiest solution since your work would be separate enough that you don't have to change much about the remaining website.
If you create an online portfolio that covers multiple niches, you'll just need to spend a bit of time cleaning it up and reorganizing it so that it reflects just the specialization you want to work in moving forward.
When you do this, you might find that some of your old existing customers still want to work with you in the niche you are leaving. If you'd like to keep those gigs, keep in mind that plenty of photographers work beyond the scope of what you see in their online portfolio. There's no reason you can't do the same, just because you're no longer promoting yourself in that area.
Create your Multiple-Niche Portfolio or Multiple Portfolio Websites with a Website Builder
Creating an online portfolio with multiple niches, or a separate website for each may sound like a big undertaking. Building an online portfolio using a website building platform is a foolproof way to go. The right platform will have everything you need in one place, so you can skip hiring a designer and create an eye-catching website with excellent UX on your own.
To get started with your online portfolio, choose a website builder with a range of themes that you like and can see yourself using. The best options will have built-in e-commerce capability, so you can set up an online store to sell prints from your portfolio or anything else that might be appropriate for your business. It's also a good idea to look for one with built-in blogging, so you can boost that SEO performance with regular posts.
Once you have an online portfolio maker you like, it's pretty straightforward to create a couple of accounts so that you can get multiple portfolio sites up easily for each niche. Or, start with one portfolio site and take our tips into account to ensure that you're keeping the niches separate and distinct.
Whatever you choose to do, enjoy the process! Building an online portfolio is an exciting step for any photographer and a major move towards landing your dream clients.
Want more tips for building an online portfolio you can be proud of? Check these out:
Update Your Portfolio: 6 Tips To Spring Clean Your Career And Portfolio
15 Professional Portfolio Website Templates For Photographers
Curate That Site: How To Choose Which Portfolio Images To Use