When couples choose their wedding photographer, they're trusting a stranger to capture one of the most important days of their lives. If you're a wedding photographer, you know how important a gorgeous wedding portfolio website is for landing new clients and gaining that trust! Many of the best wedding photographers in the world choose Format to showcase their images and put their best work forward for clients to see. Check out our roundup of the 15 top wedding photographers of 2019 for some serious inspiration, just in time for wedding season!
Posing for wedding photos can make everyone a little bit nervous. We all know the photos are going to be looked at for years to come—that's a lot of pressure! We love the knack Chelsea Badger of Littlek Photography in Perth, Australia has for capturing her subjects looking breezy, natural, joyful, and totally in the moment. The best wedding photos have this quality, and Littlek Photography definitely delivers. There are even some super-cool double exposure effects in her wedding photography portfolio, resulting in some seriously atmospheric and gorgeous images. With the right wedding photography camera accessories, there are tons of cool effects like this that you can achieve.
Format Theme: Horizon Left
The best wedding photographers in the world are those who take the time to connect with clients and make sure that they're creating images that will really reflect the vision of the couple. Indian-born, Singapore-based wedding photographer Saneesh, who specializes in shooting Indian weddings, takes special care to personally connect with his clients before shooting, and it definitely shows in his work. If you want to be blown away by the gorgeous colors and beautiful customs of traditional Indian weddings, Saneesh's portfolio is definitely worth a visit. By focusing on one kind of wedding, he has carved out a niche for himself that makes his work instantly recognizable and makes him a go-to choice for Indian weddings throughout Southeast Asia.
Format Theme: Panorama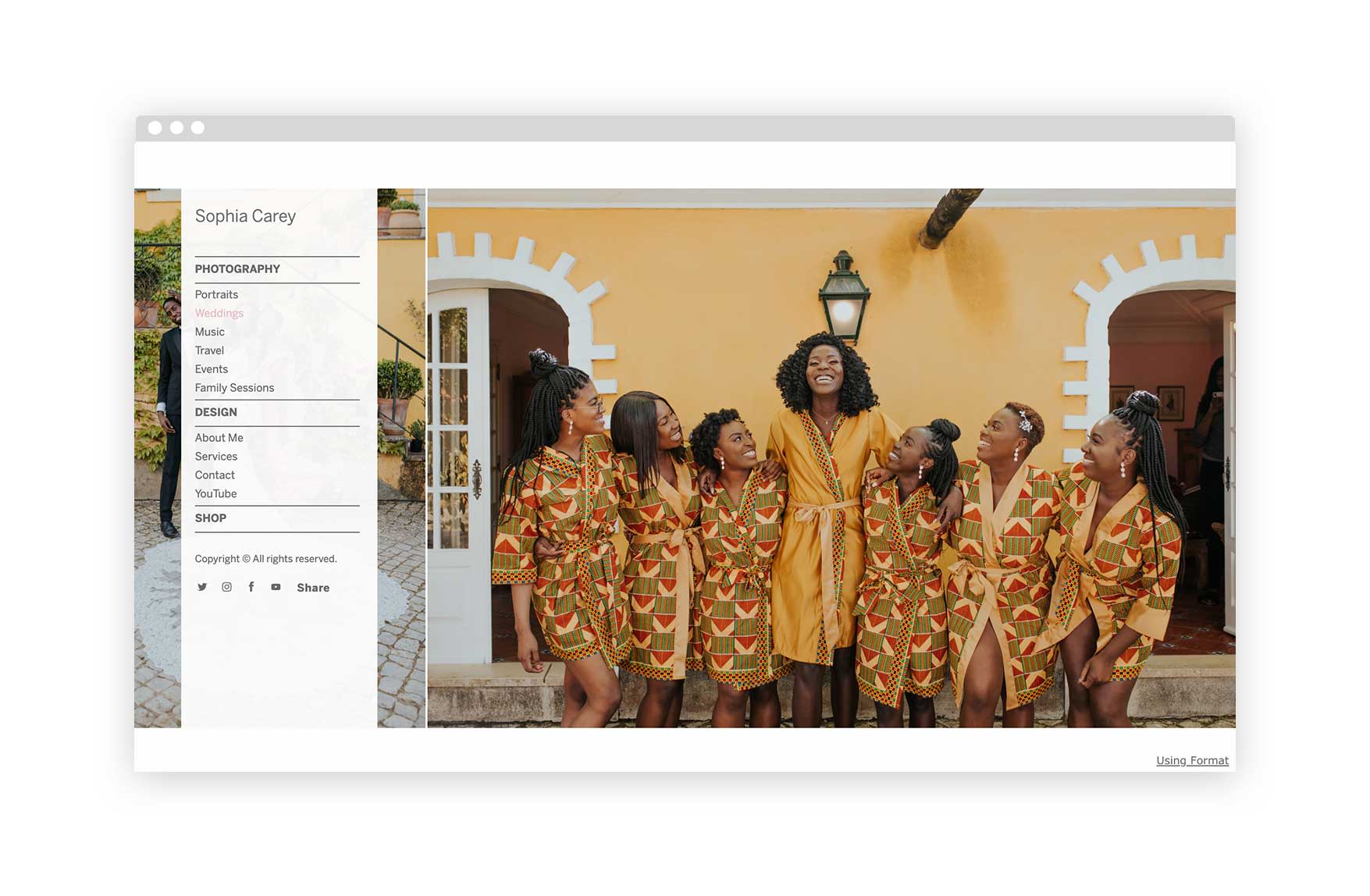 There is definitely no shortage of English charm in the wedding photography portfolio of English photographer Sophia Carey. The best wedding photographers know that it's always a good idea to work with the setting in which the wedding is taking place, and Sophia's wedding photography takes advantage of its British locations by bringing out soft, cool tones and going for an effortless, natural feel. There's a timeless and romantic quality to her images (those charming village churches don't hurt!) that any couple would love to look back on for years to come.
Format Theme: Horizon Left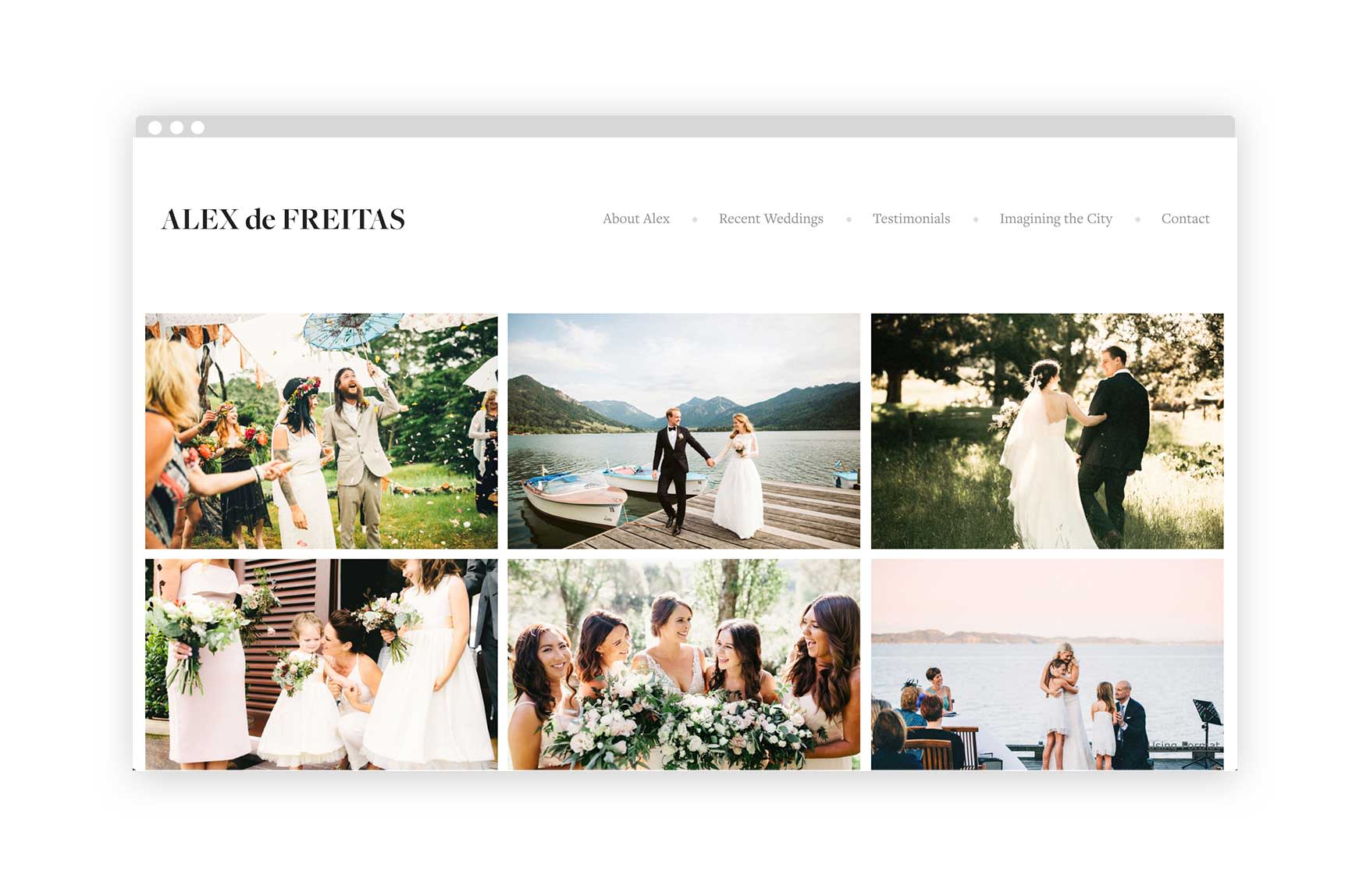 New Zealand-based Alex de Freitas prioritizes capturing all the real emotions of a wedding day, from the silly, fun moments to the moving, teary ones. Top wedding photographers know that, while posed group shots might be a necessary part of your wedding photography checklist, the best wedding photos are usually the candid, unplanned ones. Looking through the many weddings he's shot over the years, this philosophy comes through in each frame. With a clear talent for making his subjects feel comfortable and natural in front of the camera and a true commitment to capturing all of the little details, Alex's wedding photos look like they were shot by a (very talented) wedding guest, not a stranger.
Format Theme: Amazon
If you love color, whimsy, and incredible composition, then you'll love the work of top wedding photographer Sarah D'Oliver. Her North Carolina weddings are full of quintessential Southern charm, beautiful moments, and breathtaking locations. Looking through her portfolio, it's clear she's pushing the boundaries and breaking wedding photography cliches, whether it's shooting from an interesting angle or focusing on the fleeting moments that other photographers might not bother to capture. Those often end up being the best wedding photos! If you love a playful approach to wedding photography, you'll definitely want to check out Sarah's work.
Format Theme: Monocle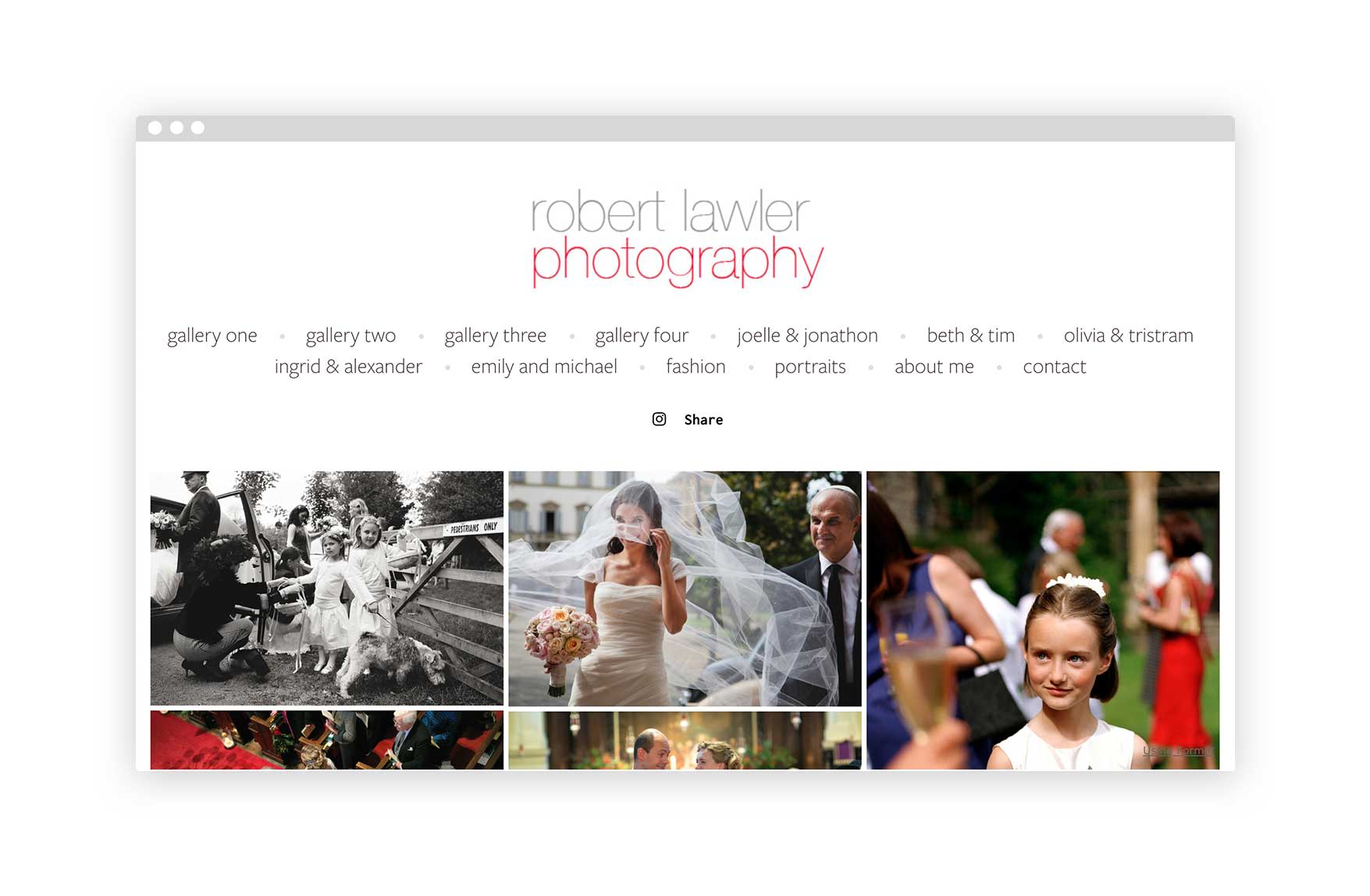 Robert Lawler has a background in the fashion industry—and you can really see how his eye as a top wedding photographer in the UK has been shaped by fashion. From the flawless composition to the excellent use of natural light, no matter the location, weather or time of day, Robert's photos show off his subjects gorgeously. There's an editorial quality that comes through in many of his images. What couple wouldn't be thrilled to have their wedding photos look like they came straight out of a magazine? If you're wondering how to build your own wedding photography portfolio website, Robert's site is a great source of inspiration.
Format Theme: Amazon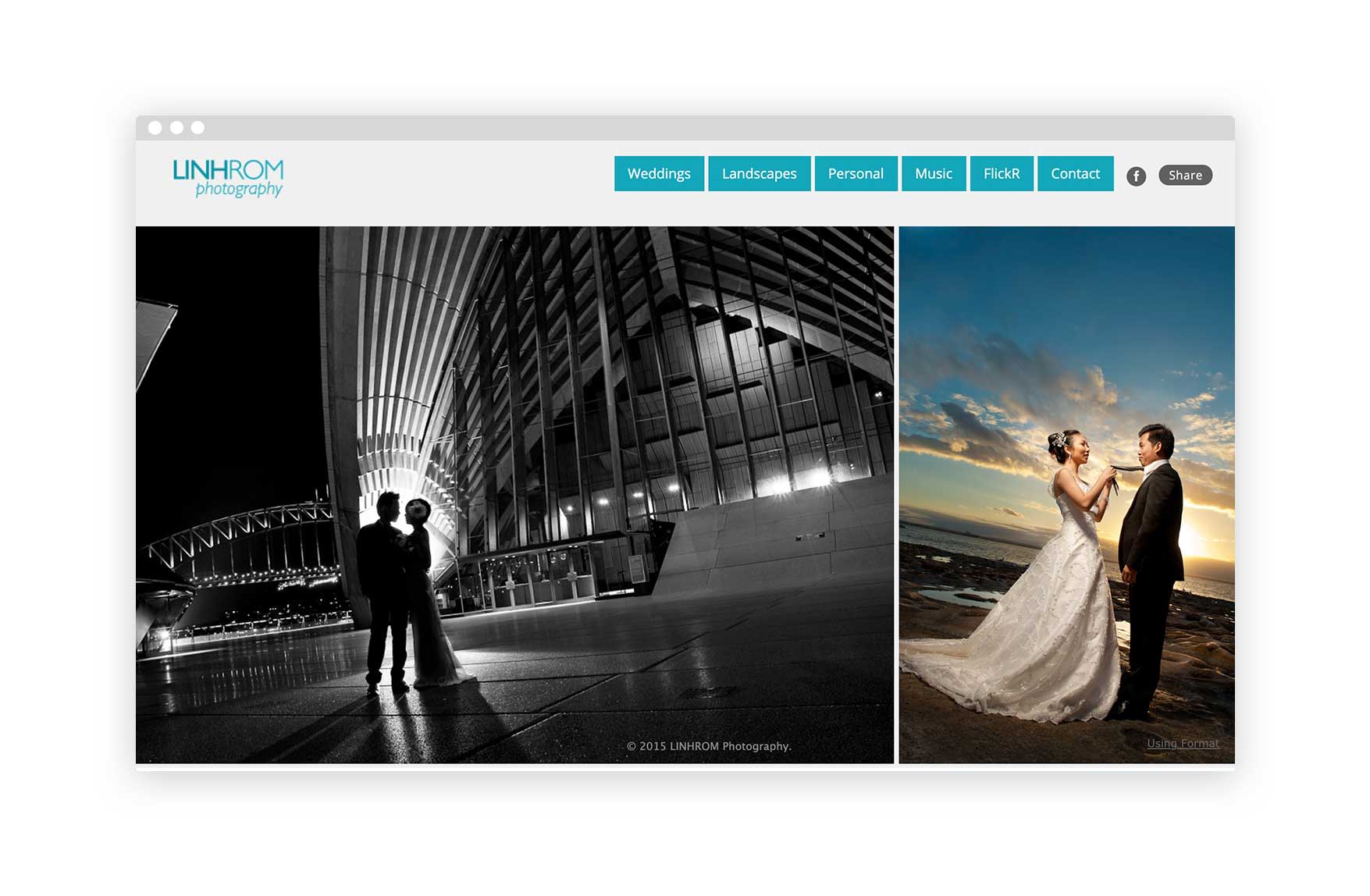 Linh Rom works in both Orange County, California and Sydney, Australia, so her clients are lucky to have some seriously photogenic locations to choose from when it comes to shooting their engagements and weddings (hello, Sydney opera house). Linh Rom's specialty is capturing her subjects in a dramatic, cinematic style. Good wedding photographers develop a signature style and generally stick to it, since clients make their choices based on past work and it's important to deliver something they'll be really happy with. Linh's wedding photography portfolio proves that she's dedicated to delivering gorgeously lit images that will make her clients feel like they just stepped off a movie set.
Format Theme: Horizon
If color is your thing, you'll totally love Mazzer Photographics' approach to wedding photography. One of the top wedding photographers in New South Wales, Australia, her gorgeous, sun-drenched photos really evoke the fun and magic of a wedding day. Her shot list includes a nice mix of traditional poses and composition choices and more artistic choices like playing around with backlighting and silhouettes to capture mood and ambiance. The result is a portfolio that stands out as original and playful, while still delivering those must-have images that no wedding album is complete without.
Format Theme: Horizon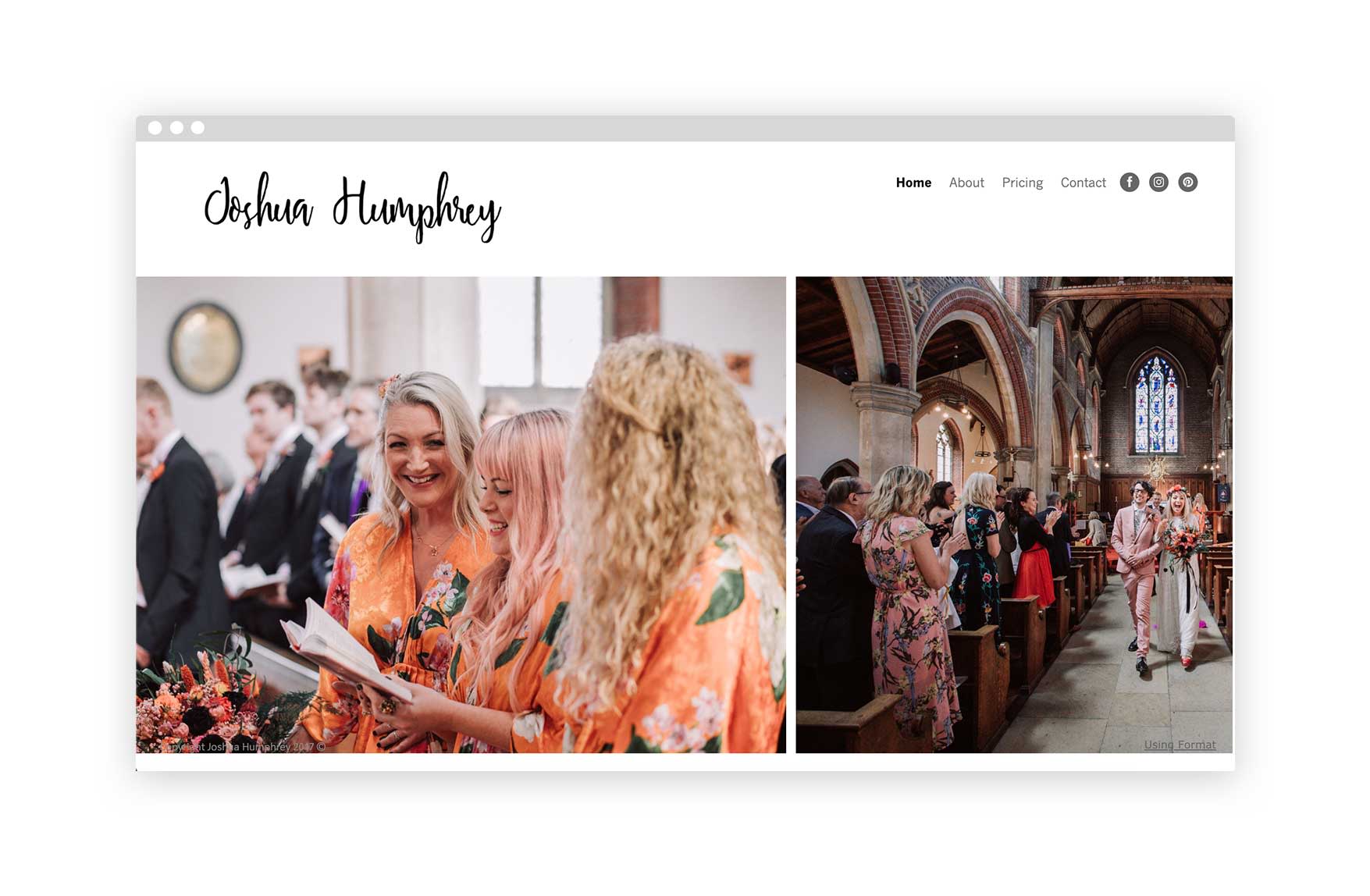 Joshua Humphrey's award-winning wedding photography has a beautiful, intimate quality that is perfectly fitting for the rustic, bohemian UK-based weddings he often shoots. We love the authentic, unpretentious quality of the images on his website since those are the photos that are the most fun to look back on with friends and family. His subjects are often celebrating in gorgeous English villages, and Joshua's wedding photos capture the magic of that corner of the world with airy and natural shots that you just can't help but smile at.
Format Theme: Horizon
Copenhagen-based Jack Davolio's wedding photography is completely unpretentious and all about the fun. Focusing on destination weddings, it's easy to see from looking at his portfolio that he does an excellent job of putting not just the couple at ease, but the whole wedding party and all the guests. His images are full of people cutting loose and enjoying a very special day, and it's easy to see why couples all over Europe keep choosing this top wedding photographer to capture their weddings.
Format Theme: Mica
Chloe May is one of the best wedding photographers out there if you're looking to strike the perfect balance between a beautiful editorial feel and authentic, heartfelt moments. Her images would be right at home in a glossy contemporary wedding magazine, and her subjects look totally natural, at ease, and joyful throughout. Being able to capture special moments in an unobtrusive way is a superpower that all the best wedding photographers in the world share; Chloe's gorgeous wedding photography portfolio is proof that she is a master of her craft!
Format Theme: Amazon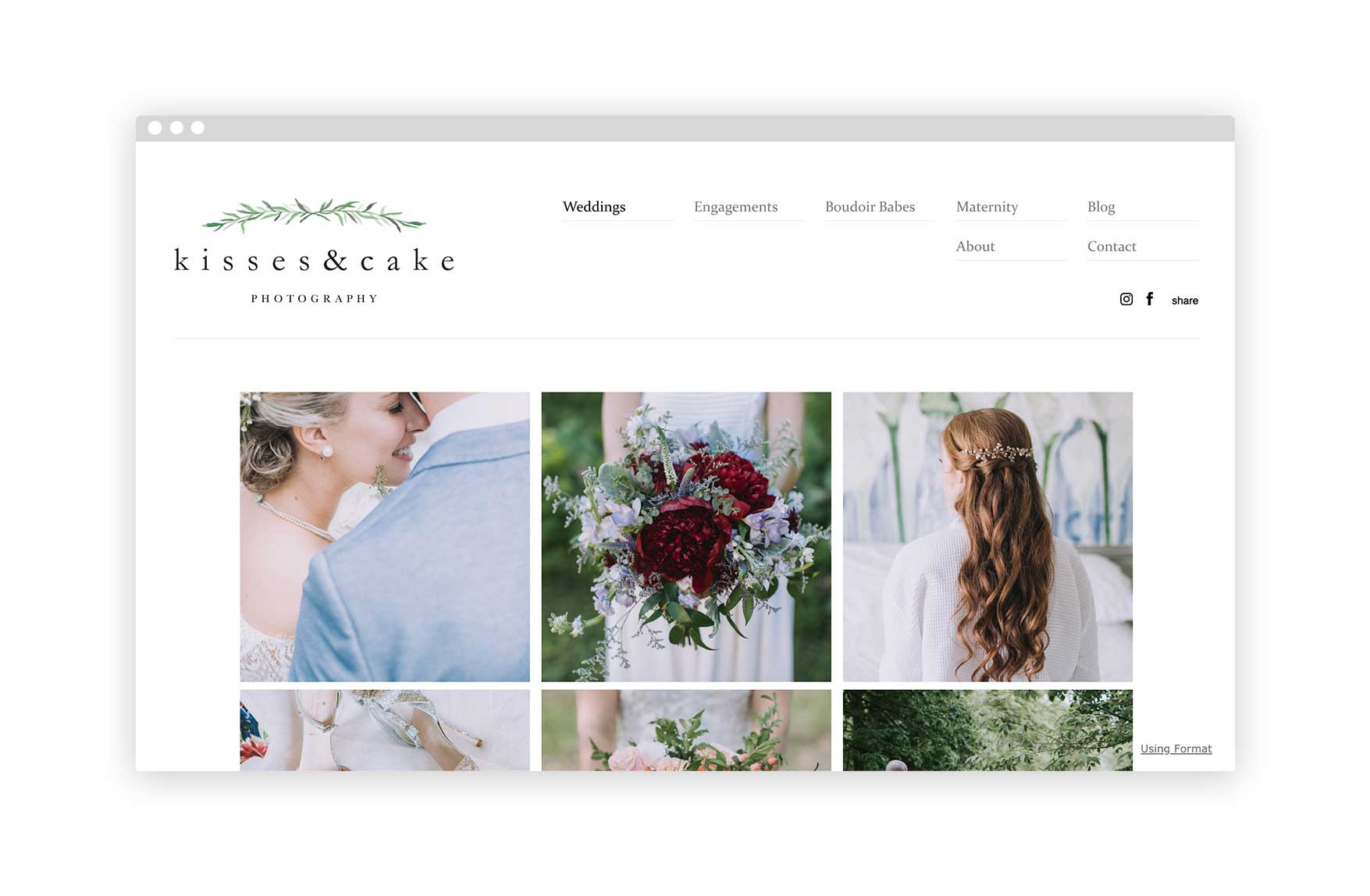 12. Kisses and Cake
Jen of Toronto-based Kisses and Cake has a distinctive style that's instantly recognizable as all her own. Her fine-art photography background comes through in her images, which are expertly composed and feature soft, romantic tones throughout. Her focus on capturing tiny details from the day is something her clients appreciate time and again. She also has a knack for taking posed photos that look fresh and flattering rather than cheesy. Jen's elegant approach to wedding photography makes for wedding photos that will definitely stand the test time.
Format Theme: Monocle
Charles Hildreth of Hildreth Weddings is a top wedding photographer in Seattle, and his gorgeous wedding photography portfolio is proof that he can capture all kinds of different ceremonies beautifully. While a lot of contemporary wedding photography has a desaturated, soft look, Charles differentiates himself by giving his photos a subtle vintage look. Even famous wedding photographers have tons of competition, so it's always a good idea to carve out an aesthetic that is all your own; Charles does just that. We love the way he makes sure to bring the beautiful surroundings of outdoor weddings into the images, while still making the couple and their friends and family the focus.
Format Theme: Horizon
Andrew at Tavers and Brown has a memorable style that couples are drawn to in droves. While most top wedding photographers shoot digital, Andrew also incorporates some film photographs that really make his wedding portfolio stand out. Analog lovers will notice this right away; as the choices for cutting-edge cameras and lenses for wedding photographers have become more and more impressive, there is still something special about film that just can't be replicated digitally. Andrew has a unique ability to capture the mood and ambiance of the weddings in the Cornwall area weddings he shoots, so if you love photos that are high on emotion, this portfolio is full of inspiration.
Format Theme: Horizon
Kara Riley comes from the fashion photography world, and it definitely shows in her approach to wedding photography. Her photos would be right at home in the feed of any Instagram influencer of the moment: they make you wish you could jump right into the scene to take in all the gorgeous colors. By shooting a ton of film alongside digital, her work has a dreamy feel that's perfect for the beautiful outdoor summer weddings she often shoots in Southern Australia. The joy of the day shines through in all of her photos—probably a good wedding photographer's most important job!
Format Theme: Kiln
Time to Create Your Own Wedding Website Masterpiece!
Going through the portfolios of the top wedding photographers in the world should make it clear that, no matter what your style as a wedding photographer is, it's important to own your look. Getting a little inspired by the best wedding photographers in the world that you've seen here? It's important to create an amazing website of your own if you're trying to promote your wedding photography business. Who knows, maybe you can even get on this list someday!
The key is to find a website builder that you like and that has the functionality you want to include in your site. For example, client proofing is an awesome feature that every wedding photographer should offer. It allows your clients to see proofs of images in a private gallery, where you can communicate with them and make sure you're delivering exactly what they want. If you travel for your wedding photography business, an online portfolio with a blog built right in will make it easy for you to share your stories and create content that will boost your SEO.
Ready to build an online wedding photography portfolio that will kickstart your wedding photography career? We've got you covered. Start your free trial with Format today!
Now that you're armed with tons of inspiration, we can't wait to see what you create!
Want more tips for your wedding photography business?
Why Portrait and Wedding Photography Websites Need a Pricing Page
The Ultimate Wedding Photography Contract Guide
Ace Your Client Relations With These 17 Easy Tricks