The best landscape photography websites tend to achieve the perfect balance of panoramic, far-off vistas and close-up shots of details like colorful leaves and textured rocks. As with any type of photography, curation is the key to a great landscape photography portfolio. Landscape photographers often have huge collections of incredible images stored on their hard drives, but building a memorable website means selecting just the best work to be shared.
We chose these eighteen outstanding photography websites not just for the incredible landscape and outdoor imagery they feature, but also for their carefully considered designs and layouts. Whether these photographers specialize in lifestyle shoots or fine art photography, the curation of their online portfolios makes them stand above the rest.
Get inspired by the dreamy locations featured in these portfolios, from northern Canada to the Swiss Alps—maybe even if landscape photography isn't usually your thing, you'll find yourself wanting to get out there and shoot some outdoor scenes of your own.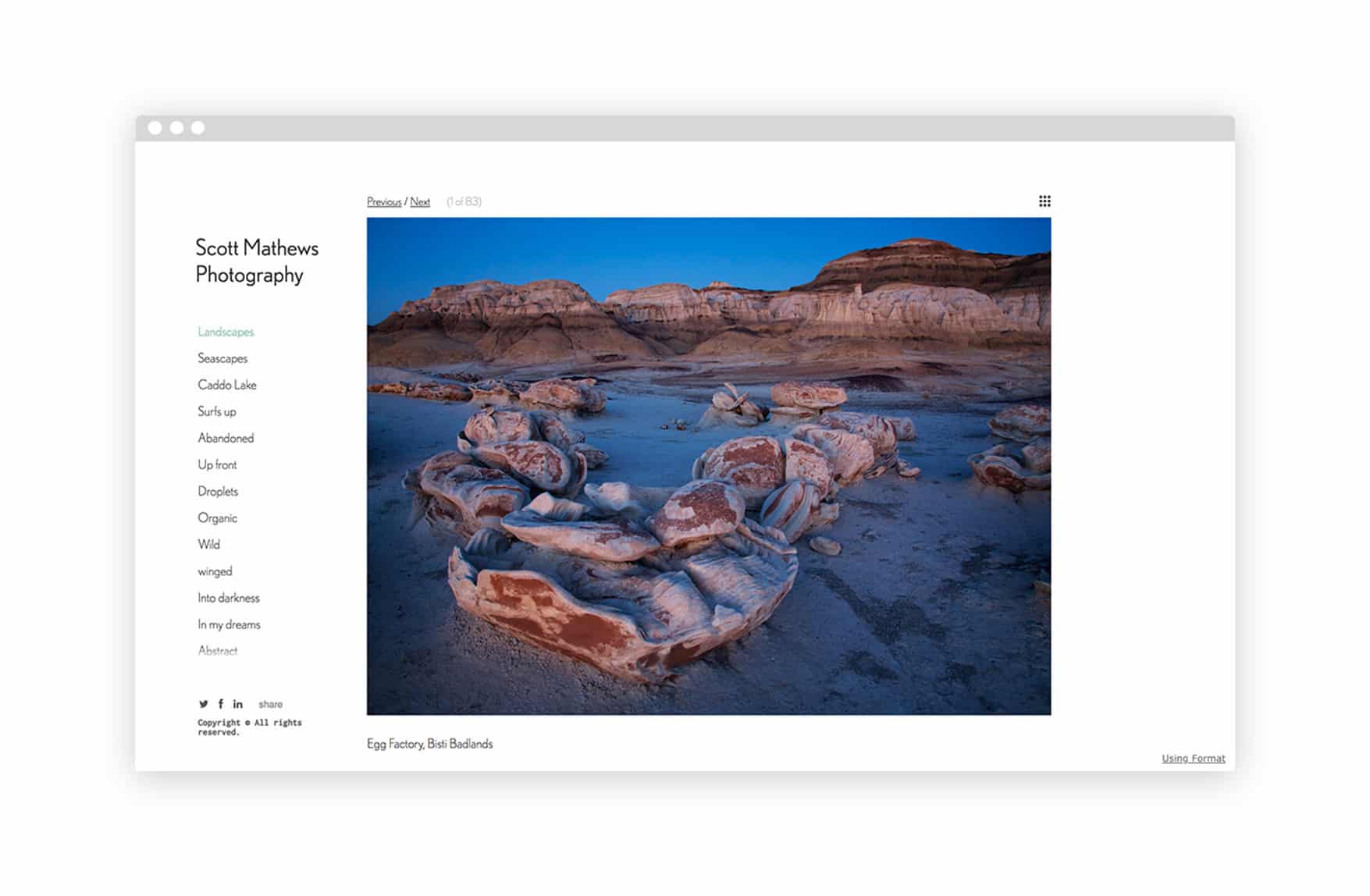 Scott Matthews
Based in scenic Orange County, California, Scott Matthews is a fine art and commercial photographer. Landscape photography is a focus of Matthews' portfolio, ranging from stunning forest, mountain, and lake scenes to close-ups of wildlife and details of natural settings. A refined sans serif font adds a classic feeling to Matthews' simple, classic website design.
www.scottmathewsphotography.com
Format Theme: Offset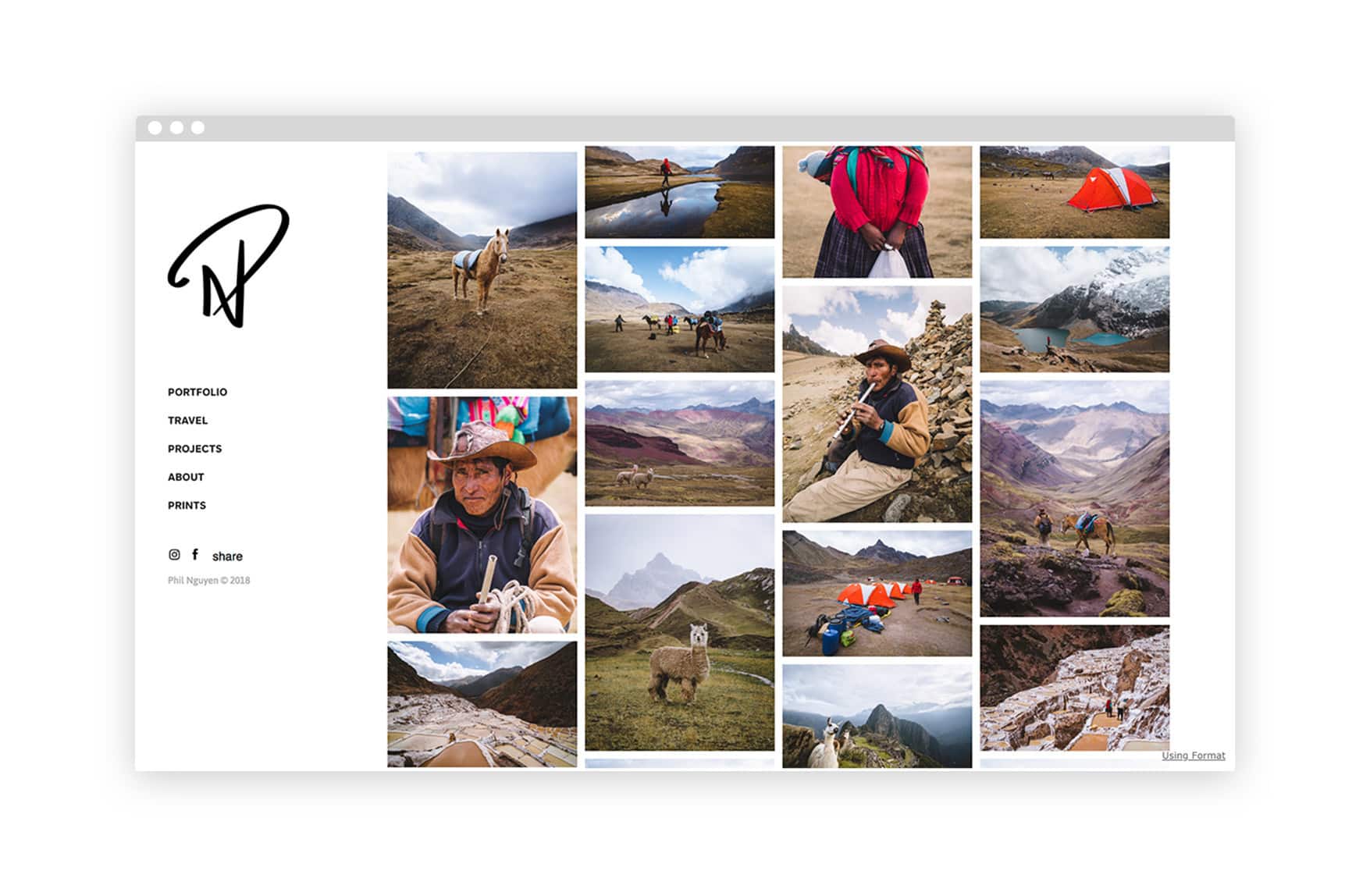 Phil Nguyen
Specializing in lifestyle, travel, and brand photography, Phil Nguyen has worked on photographic projects across the globe. A member of the Sony Alpha Imaging Collective, Nguyen has also worked with brands including Ford, Toyota, and Superdry. His online portfolio features incredible landscape photography from trips to the Faroe Islands, Japan, and Peru; the curated selection of imagery allows Nguyen's best work to stand out.
www.philnguyen.co
Format Theme: Peak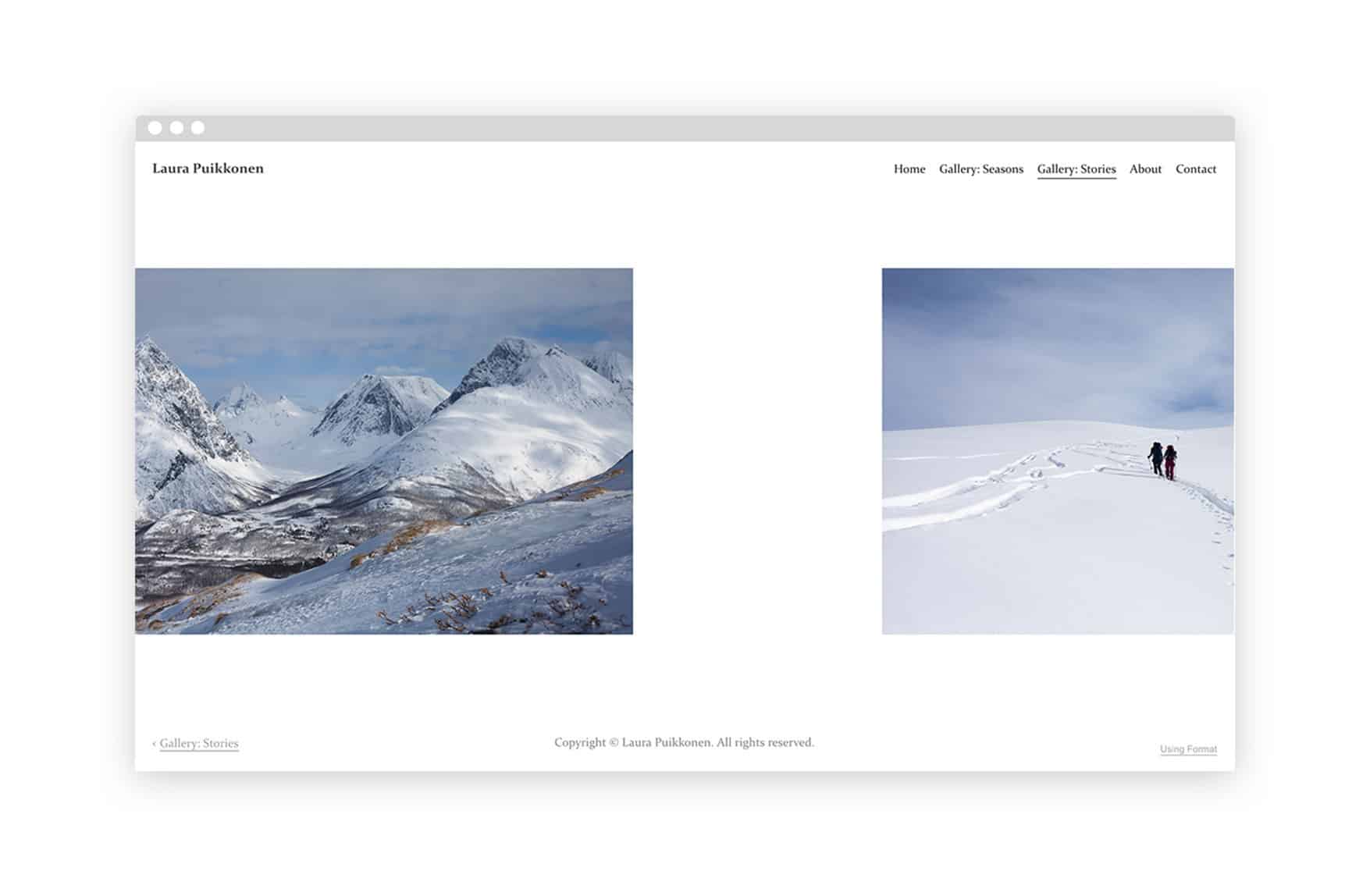 Laura Puikkonen
Hailing from Finland, photographer Laura Puikkonen is currently based in Arendal, Norway. Her landscape photography website opens with an impactful splash page featuring a snowy shot and a brief bio, making for a perfect introduction to Puikkonen's work. A longer, more personal biography on her site helps visitors feel they're getting to know the photographer behind the images, which Puikonnen has grouped into galleries based on season for an interesting browsing experience.
www.laurapuikkonen.format.com
Format Theme: Beacon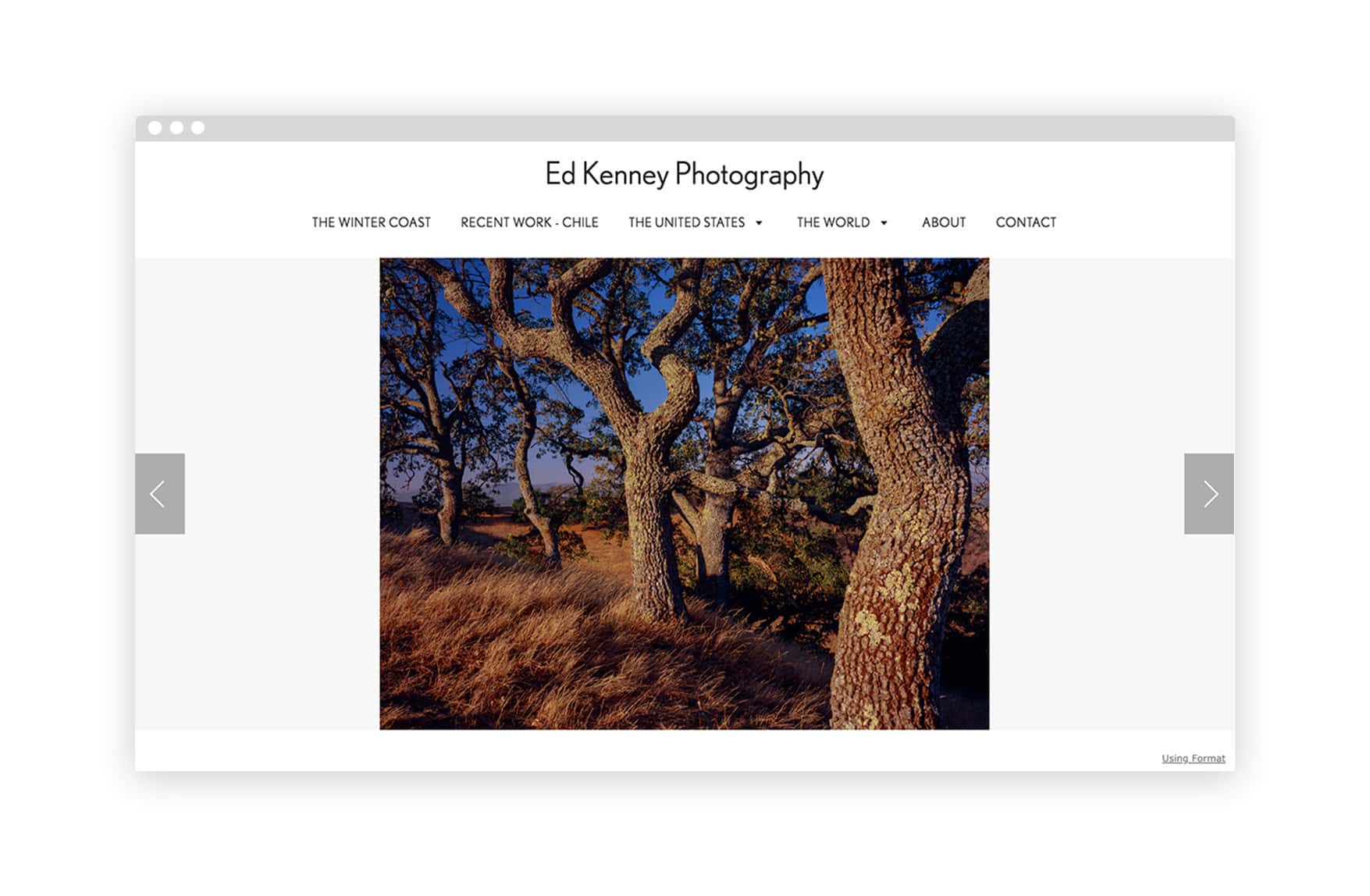 Ed Kenney
Since he picked up a Brownie camera as a child, New Englander Ed Kenney has been hooked on photography. Kenney's online portfolio shows his love of wildlife and landscape photography, with galleries showcasing work organized by location. A recent trip to Chile is highlighted in Kenney's menu—an effective way to draw visitors' attention to what the photographer has been working on lately.
www.ed-kenney.format.com
Format Theme: Foray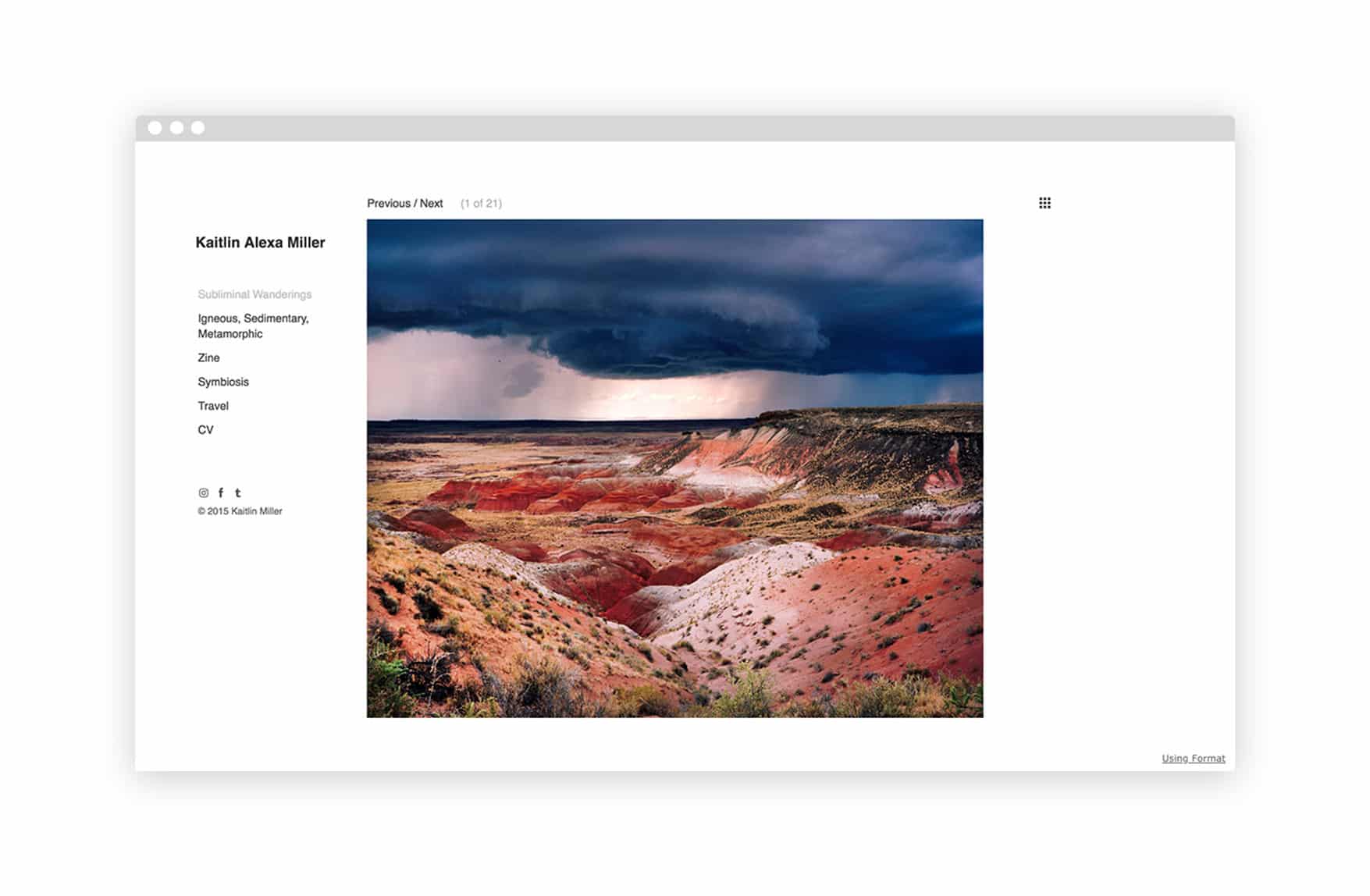 Kaitlin Alexa Miller
Photographer Kaitlin Alexa Miller, a Parsons graduate, creates work that explores the relationship between humans and the natural world. Miller showcases just four image series on her website, as well as a handmade zine, keeping her portfolio just the right length to leave visitors wanting to see more of her color-saturated scenes and detailed landscapes.
www.kaitlinalexamiller.com
Format Theme: Offset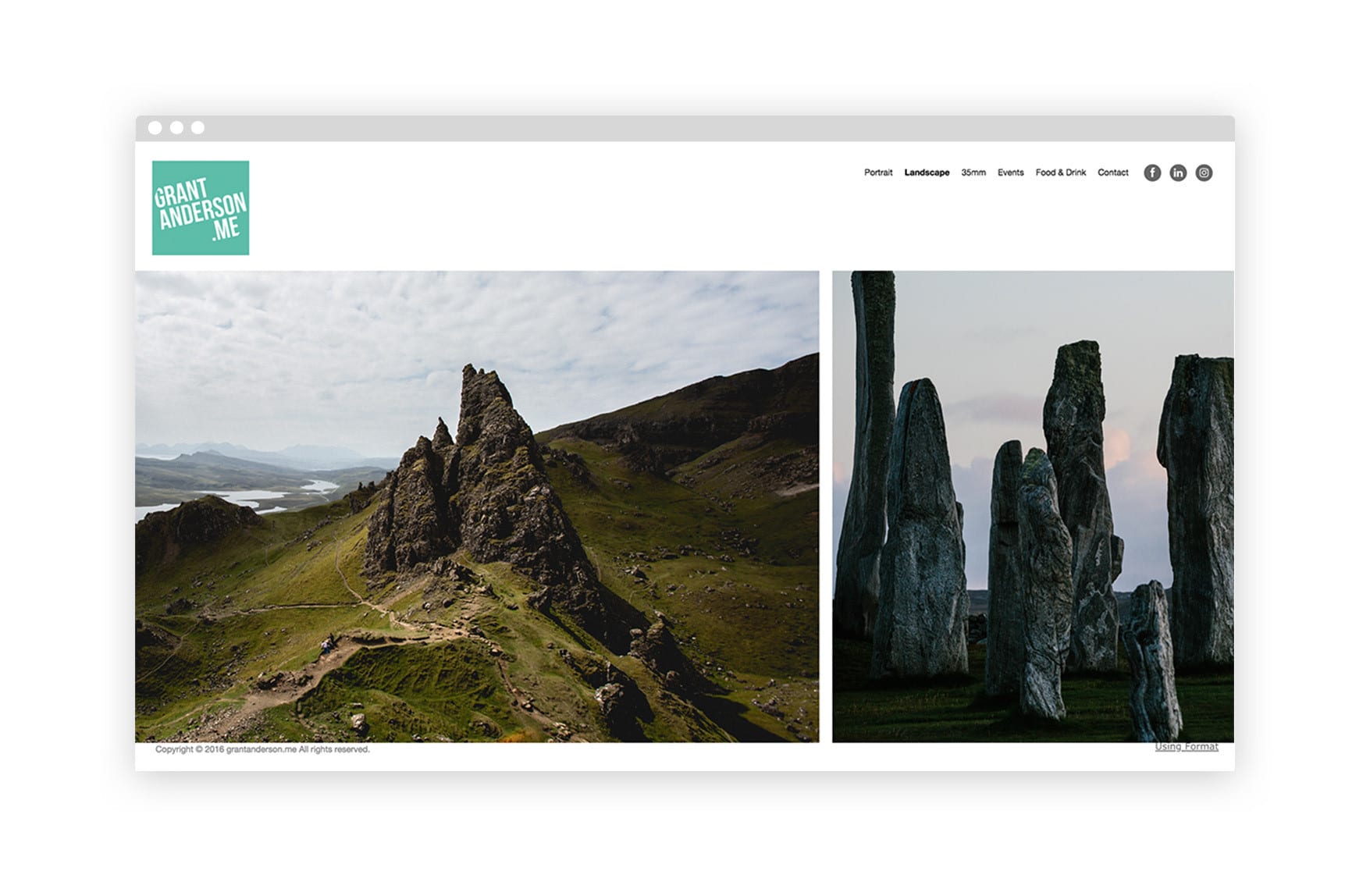 Grant Anderson
Located in Dundee, Scotland, photographer Grant Anderson makes his website stand out with a colorful, custom-made logo. In addition to his colorful landscape photography, often showcasing Scotland's picturesque vistas, Anderson's portfolio also includes event, portrait, and food photography grouped into separate galleries for easy navigation.
www.grantanderson.me
Format Theme: Horizon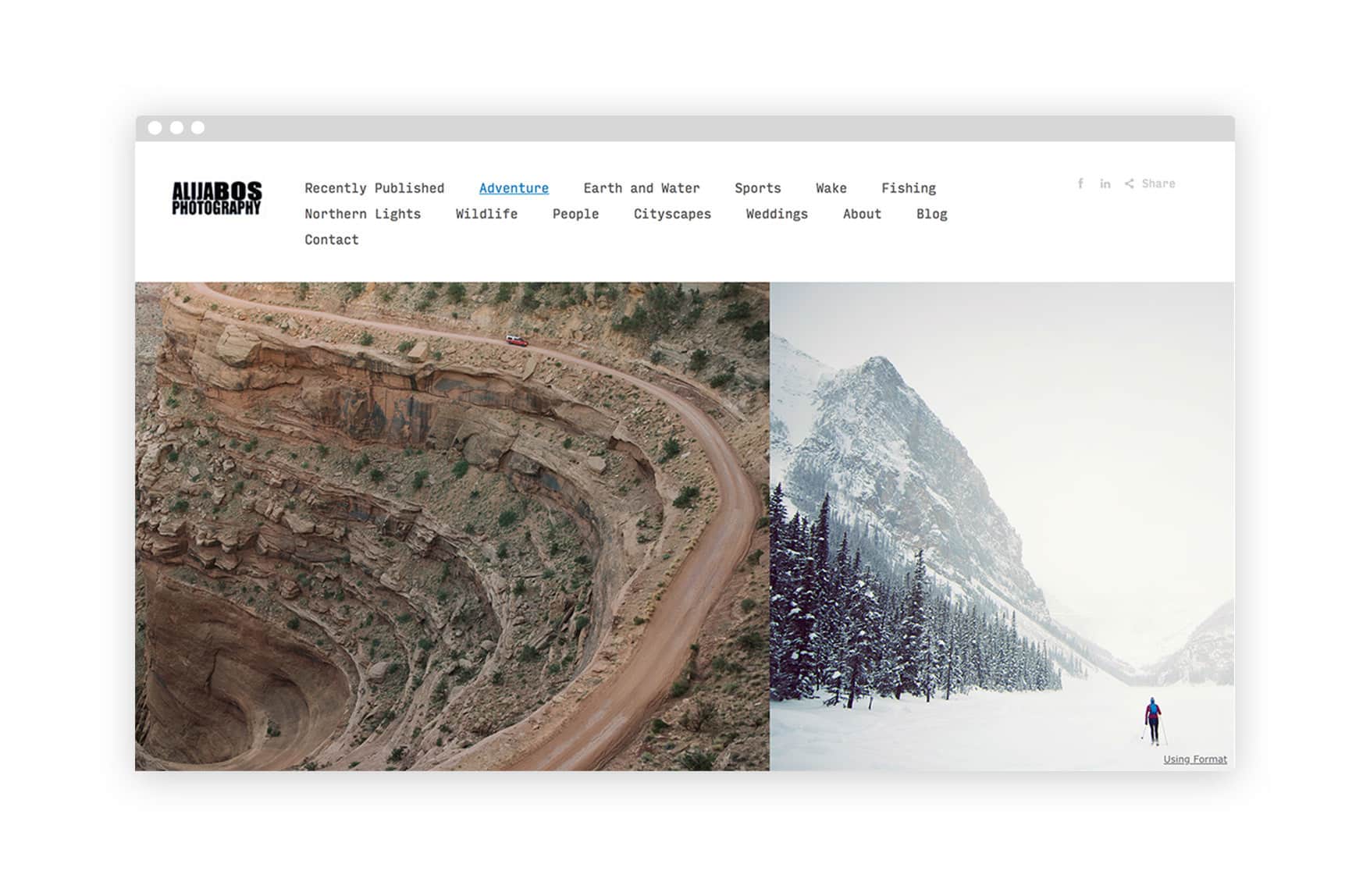 Alija Bos
Ontario photographer Alija Bos specializes in documenting the outdoors, with a portfolio full of landscape photography as well as sports, hikes, and other adventures. A horizontally-scrolling layout that allows Bos' images to take up the full page makes for a high impact photography website.
www.alija-bos.format.com
Format Theme: Panorama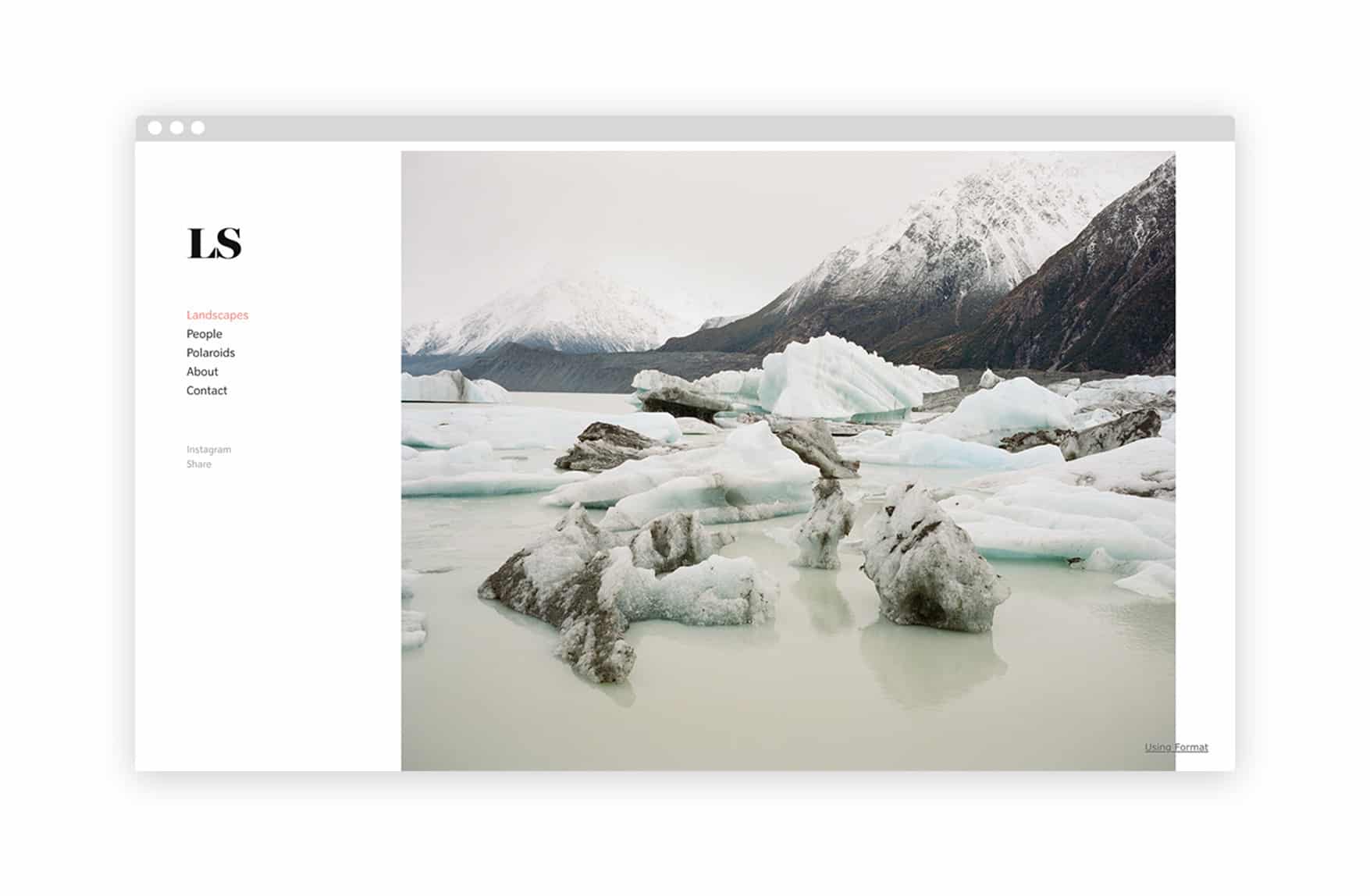 Lachlan Stumer
Australian photographer Lachlan Stumer focuses on outdoor commercial and lifestyle shoots, and recently documented a cross country road trip in a photo series. Stumer keeps the menu on his landscape photography portfolio simple, with a sidebar allowing visitors to scroll through galleries of landscapes, people, and Polaroid photos.
www.lachlanstumer.com
Format Theme: Ora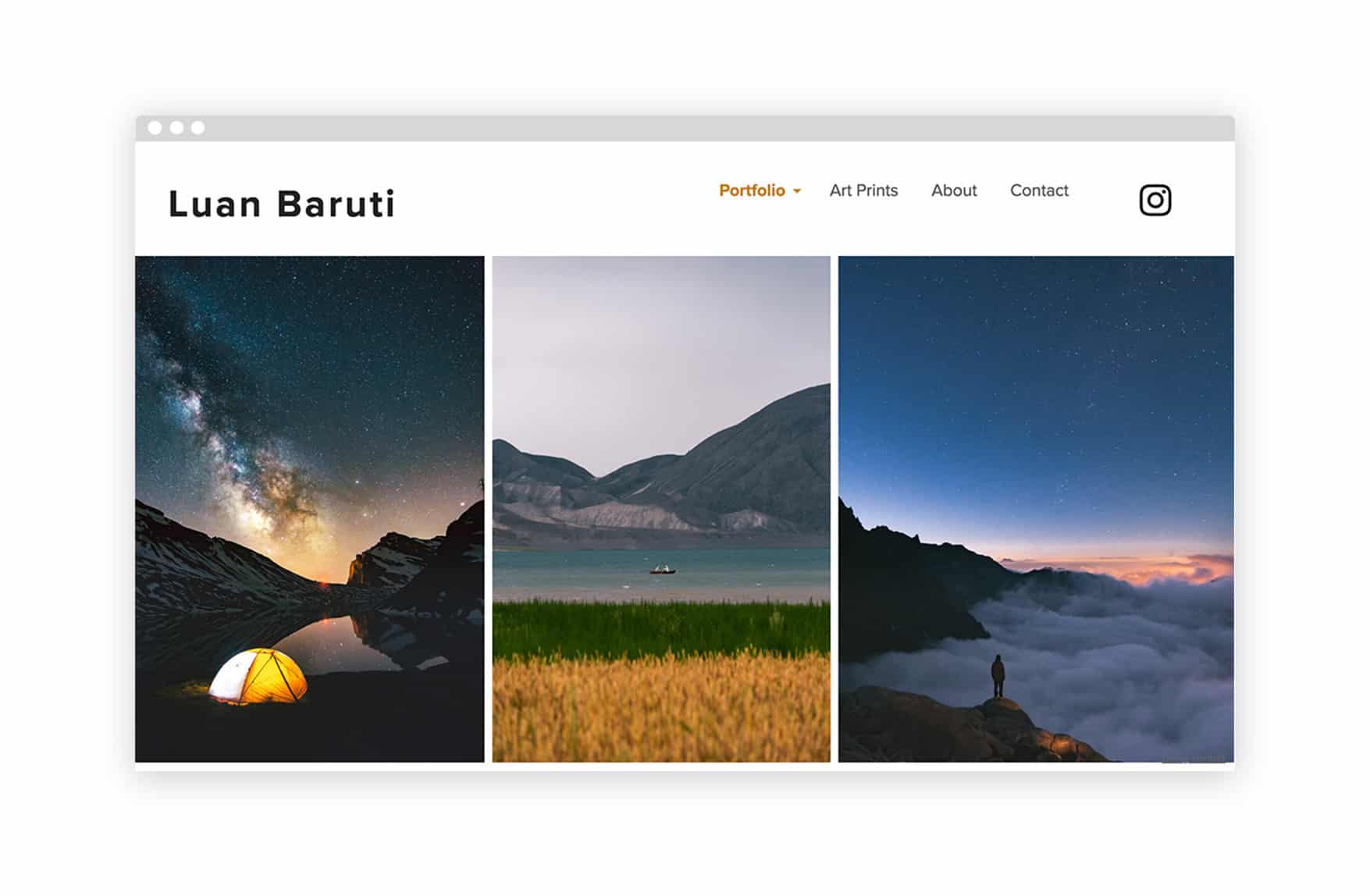 Luan Baruti
Swiss photographer Luan Baruti's portfolio focuses on the picturesque Alps, where he lives. Baruti keeps his landscape photography website clean and simple, with a bold font and colorful imagery that fills up the page.
www.luanbaruti.ch
Format Theme: Panorama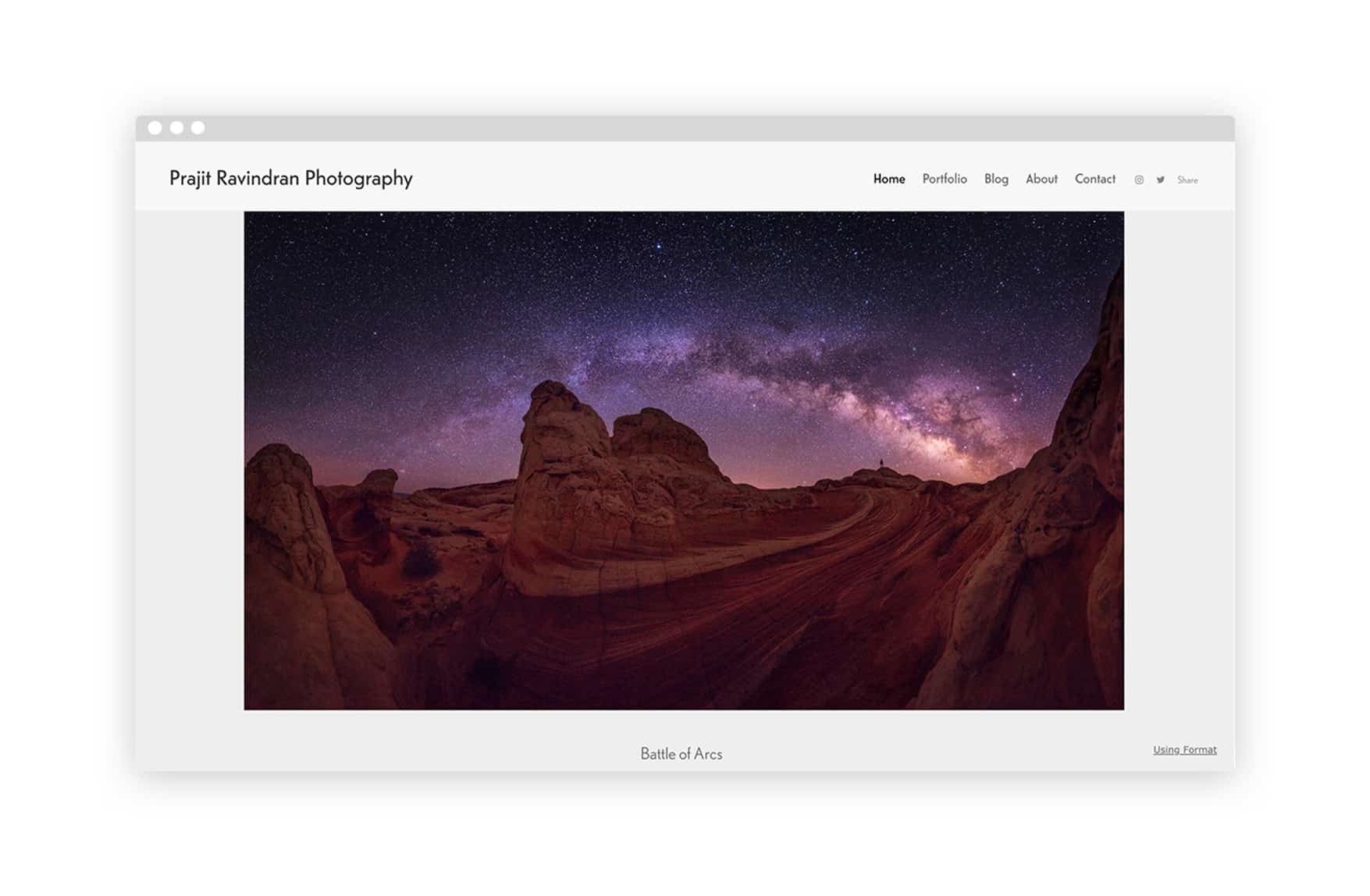 Prajit Ravindran
Currently based in Salt Lake City, Utah, photographer Prajit Ravindran has travelled all over the United States to document natural landscapes with his camera. Nighttime photography has recently become his focus, and Ravindran's landscape photography website is full of spectacular images of starry skies set against Utah's deserts.
www.lightcameramagic.com
Format Theme: Slate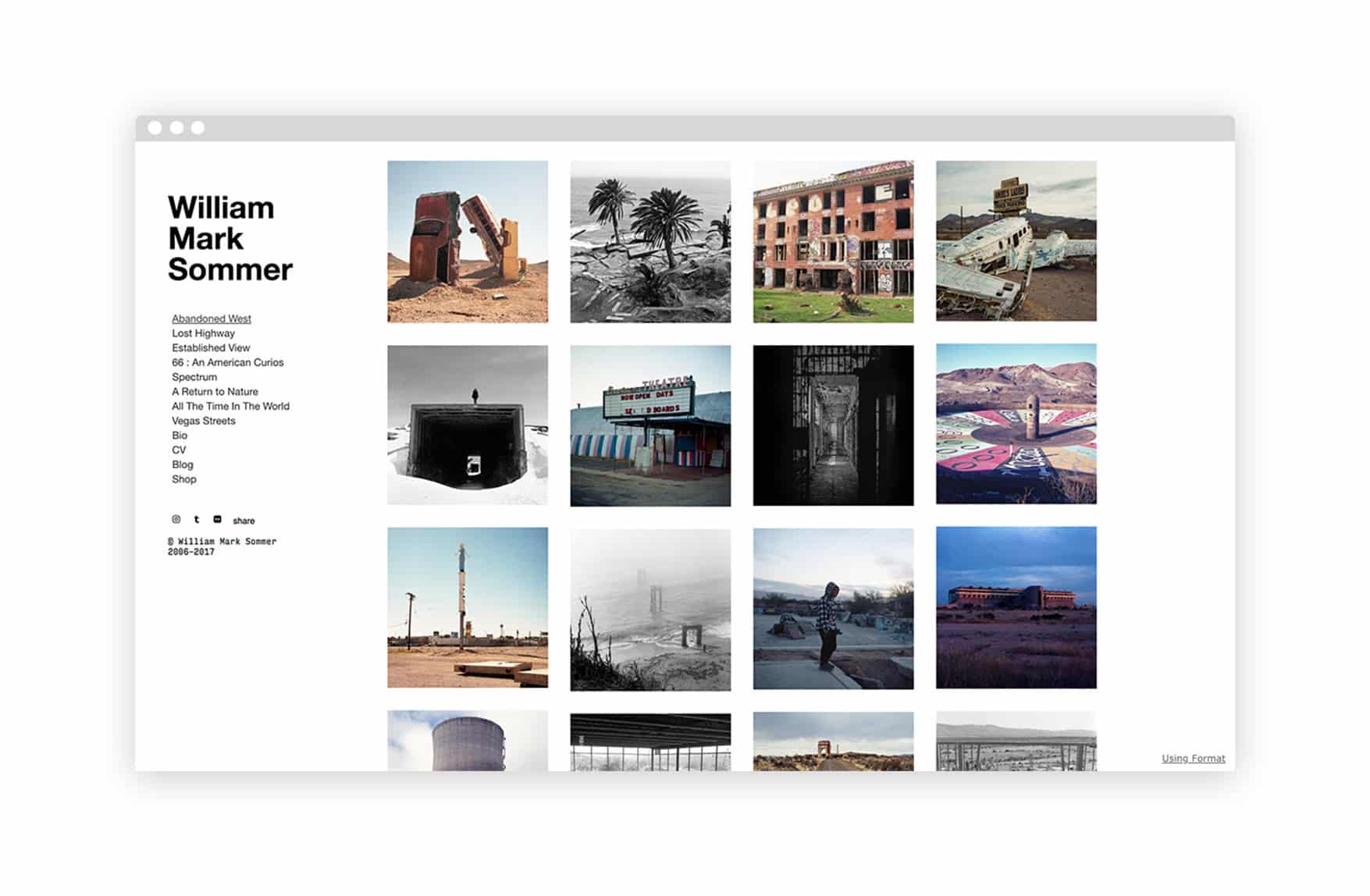 William Mark Sommer
Currently earning a BFA from Arizona State University, photographer William Mark Sommer specializes in documenting American landscapes. Sommer's portfolio captures the strange beauty of roadside signs in the American west, making use of a grid layout to showcase the full imagery of each series at a glance.
www.williammarksommer.com
Format Theme: Peak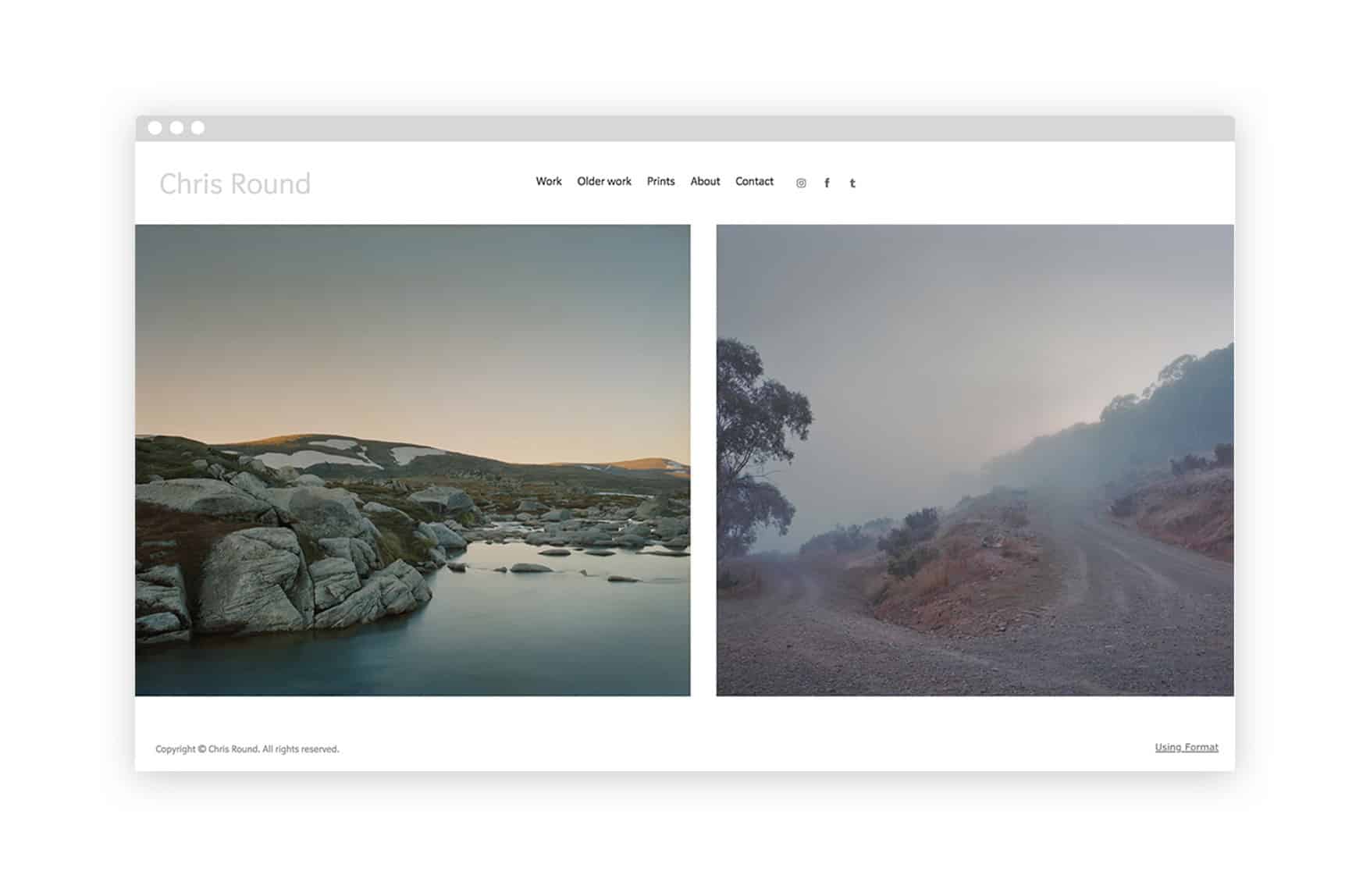 Chris Round
Sydney photographer Chris Round has an advertising background, but fine art photography has become his focus. Winner of several prestigious photography awards, Round's work focuses on documenting the way human intervention impacts natural landscapes, often resulting in surreal imagery that highlights the strangeness of manmade environments.
www.chris-round.format.com
Format Theme: Horizon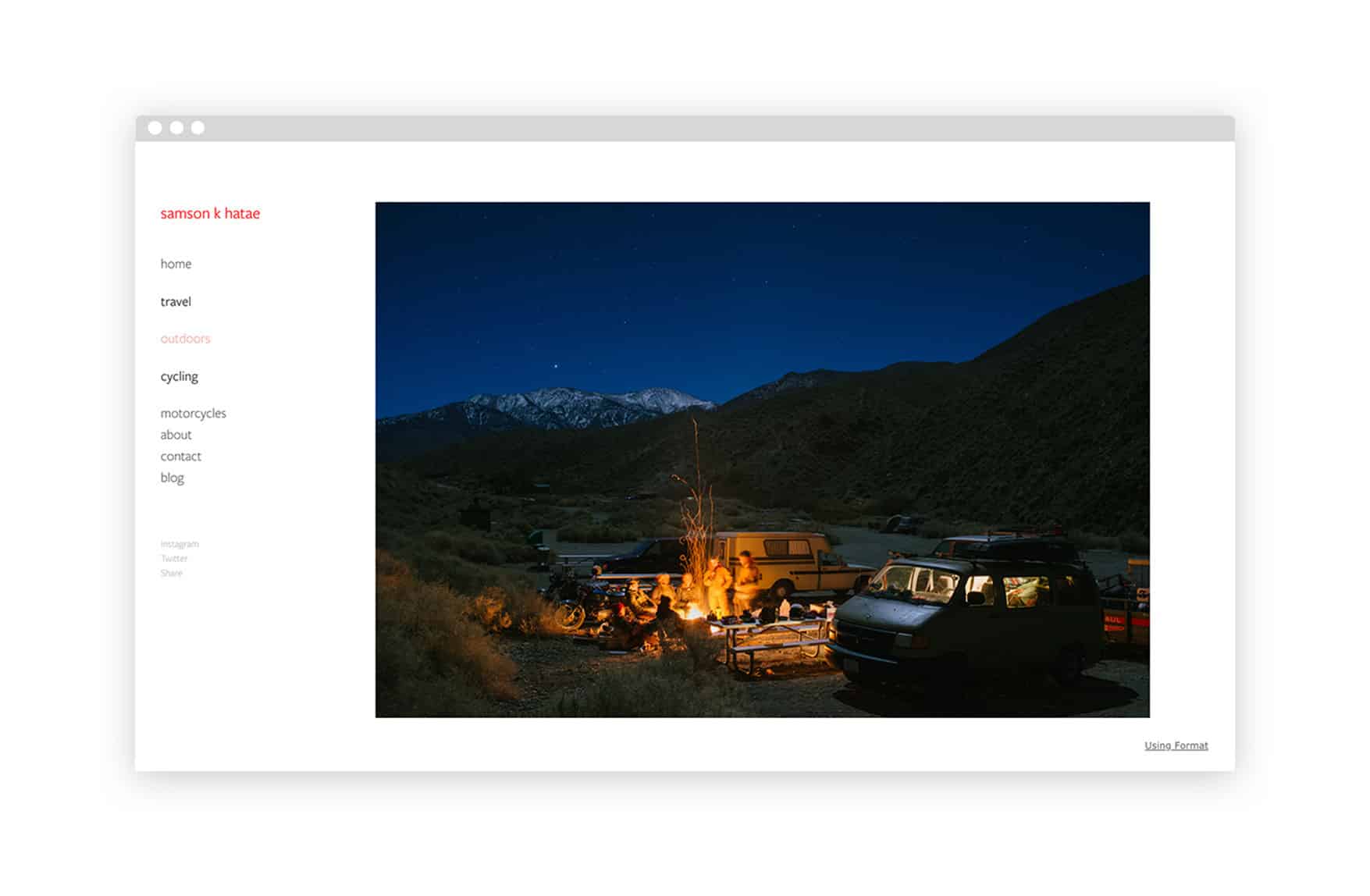 Samson K. Hatae
Samson K. Hatae's photography portfolio shows his passion for travel. Capturing landscapes is only part of his photography work, as Hatae's website also features a cycling gallery full of high-speed biking shots. Hatae keeps his work well-organized with a selection of galleries divided based on subject and accessible through a neat sidebar menu.
Format Theme: Ora
www.samsonkhatae.com
Krista Zerbin
Krista Zerbin is currently based in Alberta, Canada, where she makes the most of the natural landscape with her photography. Zerbin goes the extra mile with her about page, including a detailed intro and explaining what kind of work she likes to do, making sure that prospective clients know what she's about.
www.kristazerbin.com
Format Theme: Mica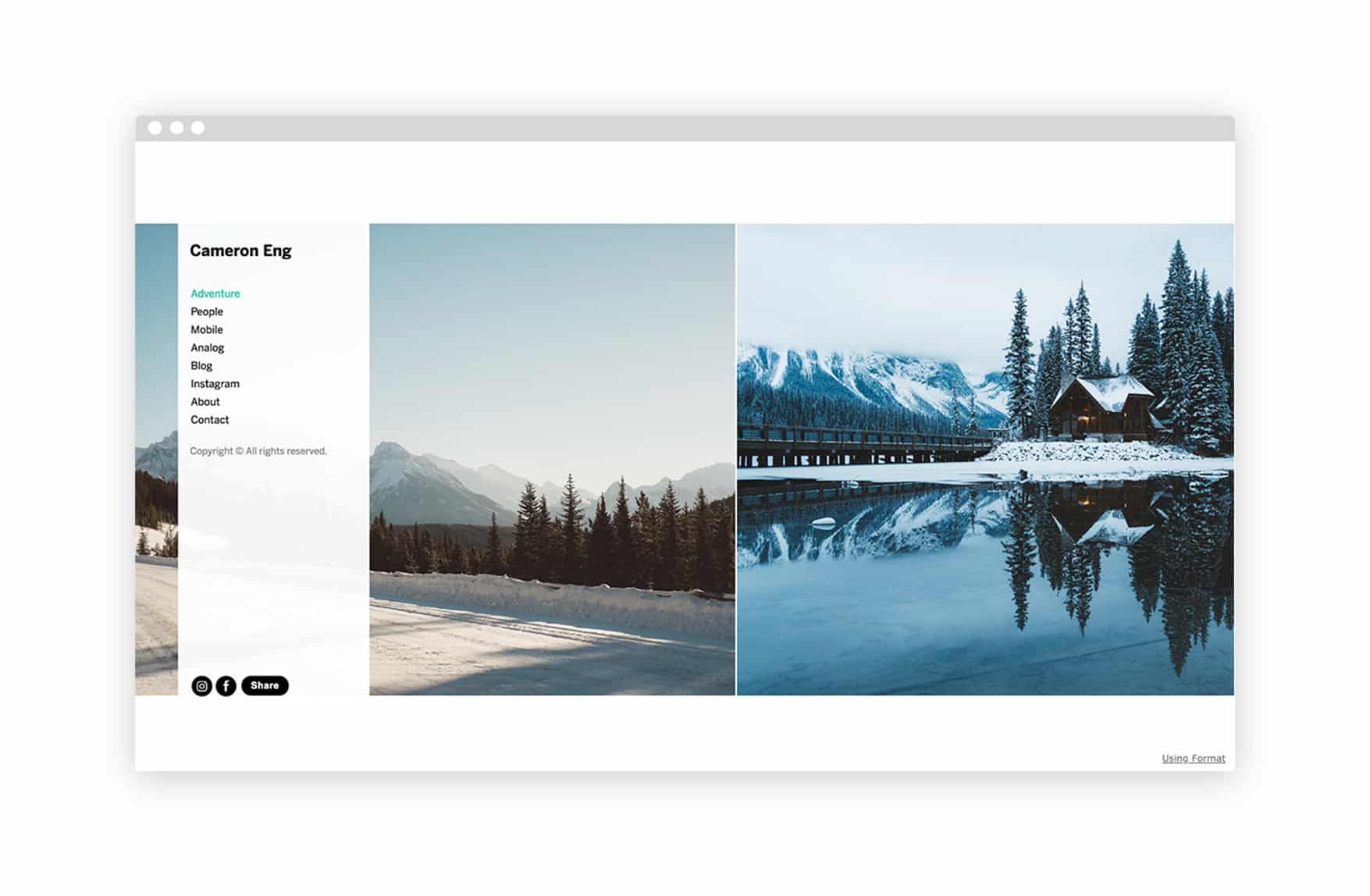 Cameron Eng
Calgary, Alberta-based photographer Cameron Eng offsets his landscape photography with outdoor portraits, adding variety to the work on his photography portfolio. Eng also showcases mobile and analog photography in separate galleries, giving visitors to his website a feel for the different types of shoots he likes to do.
www.cameroneng.ca
Format Theme: Horizon Left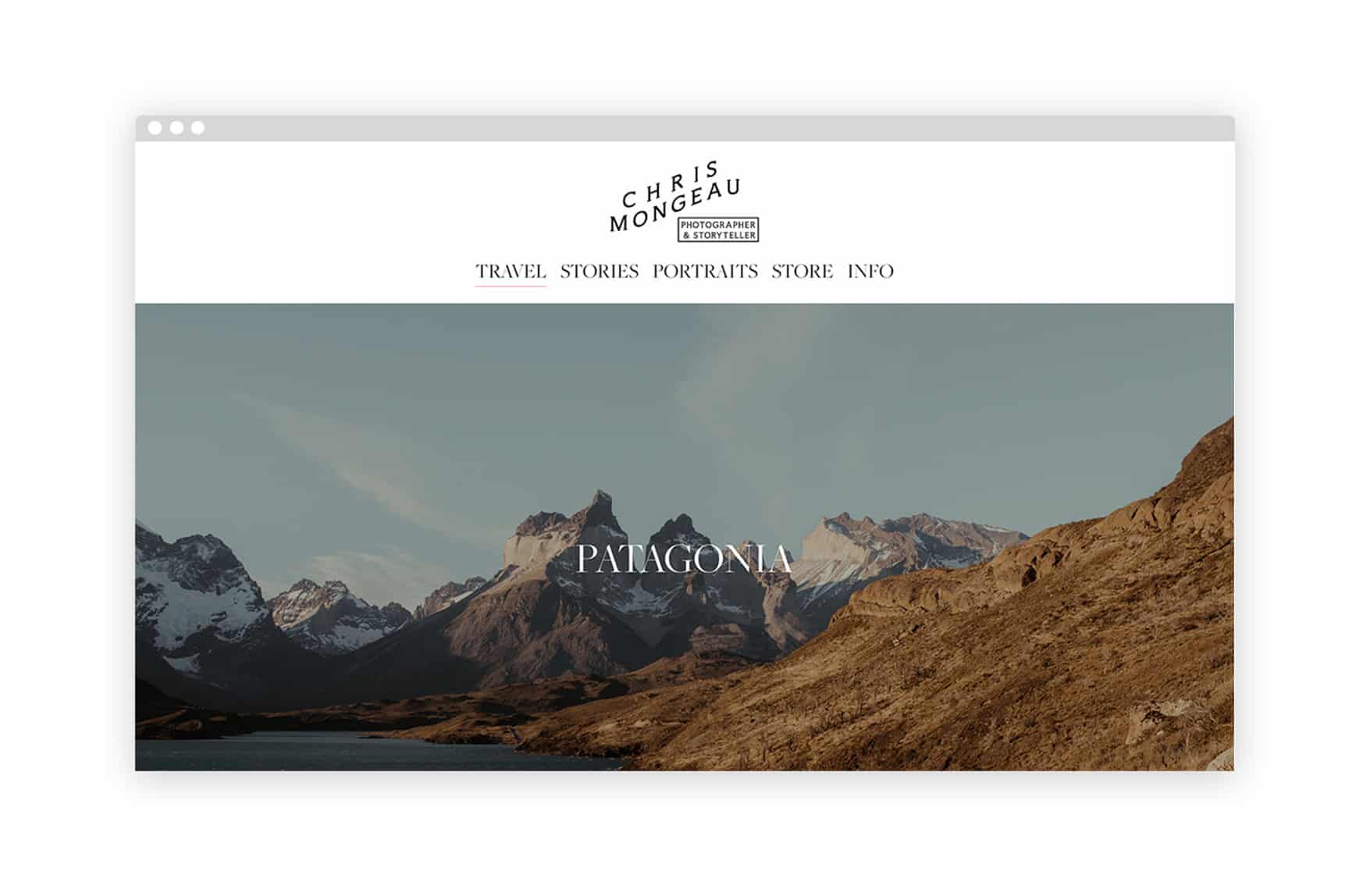 Chris Mongeau
Located in Providence, Rhode Island, Chris Mongeau shoots weddings as well as landscapes. He keeps his photography portfolio neatly organized with separate galleries for portrait work, travel, and stories. Mongeau's playful logo ensures that his personality shines through on his website, and the addition of text helps ensure visitors know right away what kind of work he does.
www.chrismongeauphoto.com
Format Theme: Albers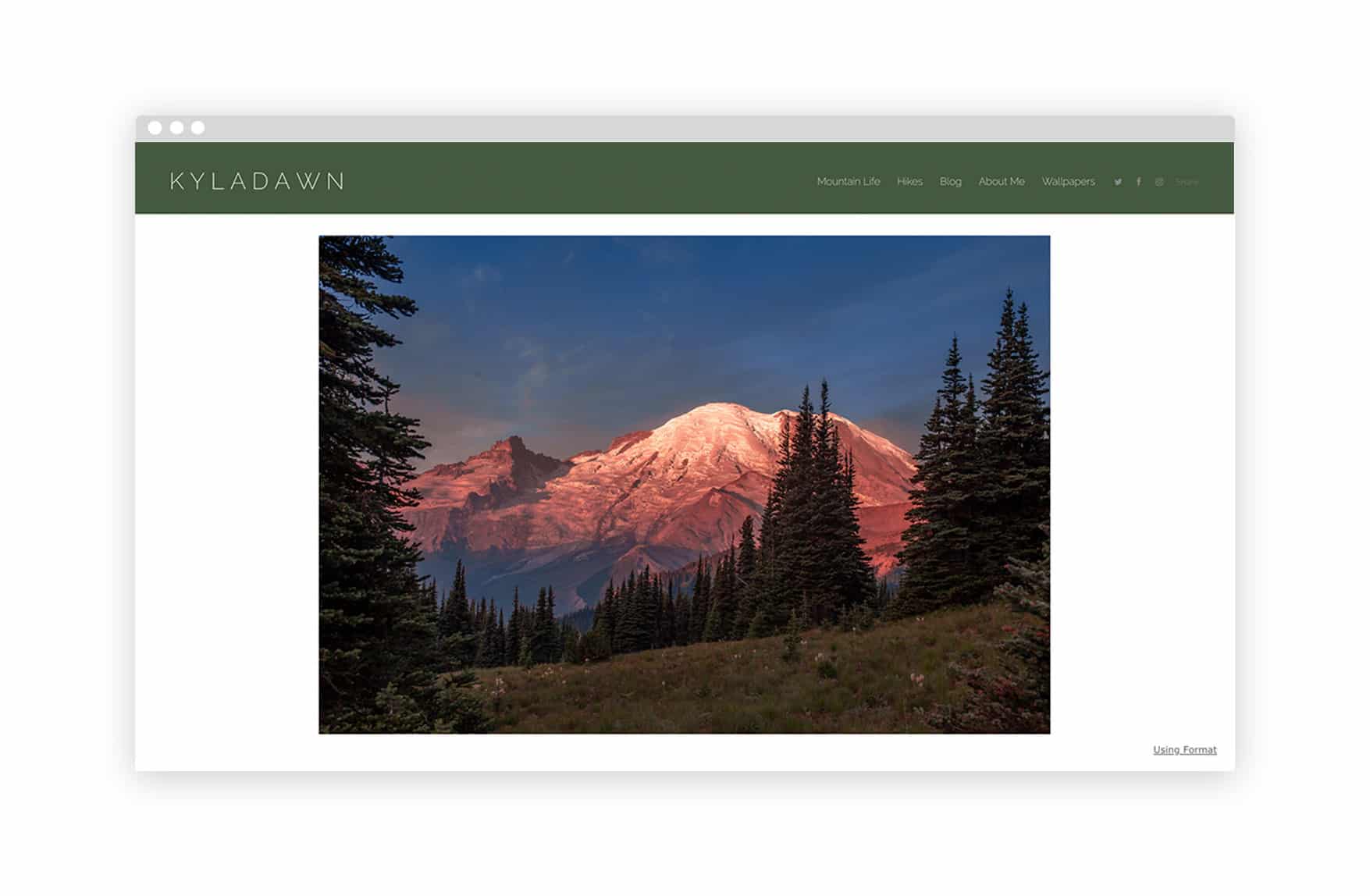 Kyla Dawn
On her landscape photography website, Kyla Dawn includes the backstory behind the hikes and journeys that inspire her work. Originally from North Carolina, Dawn recently moved to Washington, where she can frequently be found documenting the natural landscape. Her photography portfolio is anchored by a forest green header menu which echoes the color palette of her imagery.
www.kyladawn.format.com
Format Theme: Slate
Eric Batty
Canadian Eric Batty is an arborist and an endurance athlete as well as a photographer with a focus on outdoor photography. On his website, Batty uses a grid-based theme to showcase his adventure and landscape photography, often featuring breathtaking snowy scenes and mountain climbs.
www.ericbatty.com
Format Theme: Mica
More photography portfolio ideas:
20 Travel Photography Portfolios From Around the World
20 Mesmerizing Portrait Photography Websites
These Food Photography Portfolios Will Make You Very Hungry
Cover image by Krista Zerbin.