Is it just us, or do the holidays seem to creep up before you expect them every year? Before you know it, it's time to start thinking about decor, gifts, and holiday cards. If you're a portrait or family photographer, it's also time to book those family holiday photos. This is a great time of year to create tons of new content for your online portfolio, make money, and land clients that can become lifelong returning customers and a great source of new referrals to your photography business. In fact, these types of themed photography sessions have been a popular photography trend for families, friends, and just about anyone to partake in.
When it comes to making sure each holiday photoshoot goes as smoothly as possible, having a catalog of Christmas picture ideas in mind that you can share with your clients in advance of the shoot is helpful. It's also handy to have a list of picture and pose ideas on set, since you can prompt your subjects in different ways and give them tons of different image styles to choose from.
We've done the heavy lifting for photographers with this list of Christmas picture ideas. Whether you're shooting couples, friends and family, kids, or anyone else, these Christmas photo ideas will help make your next holiday photoshoot a success.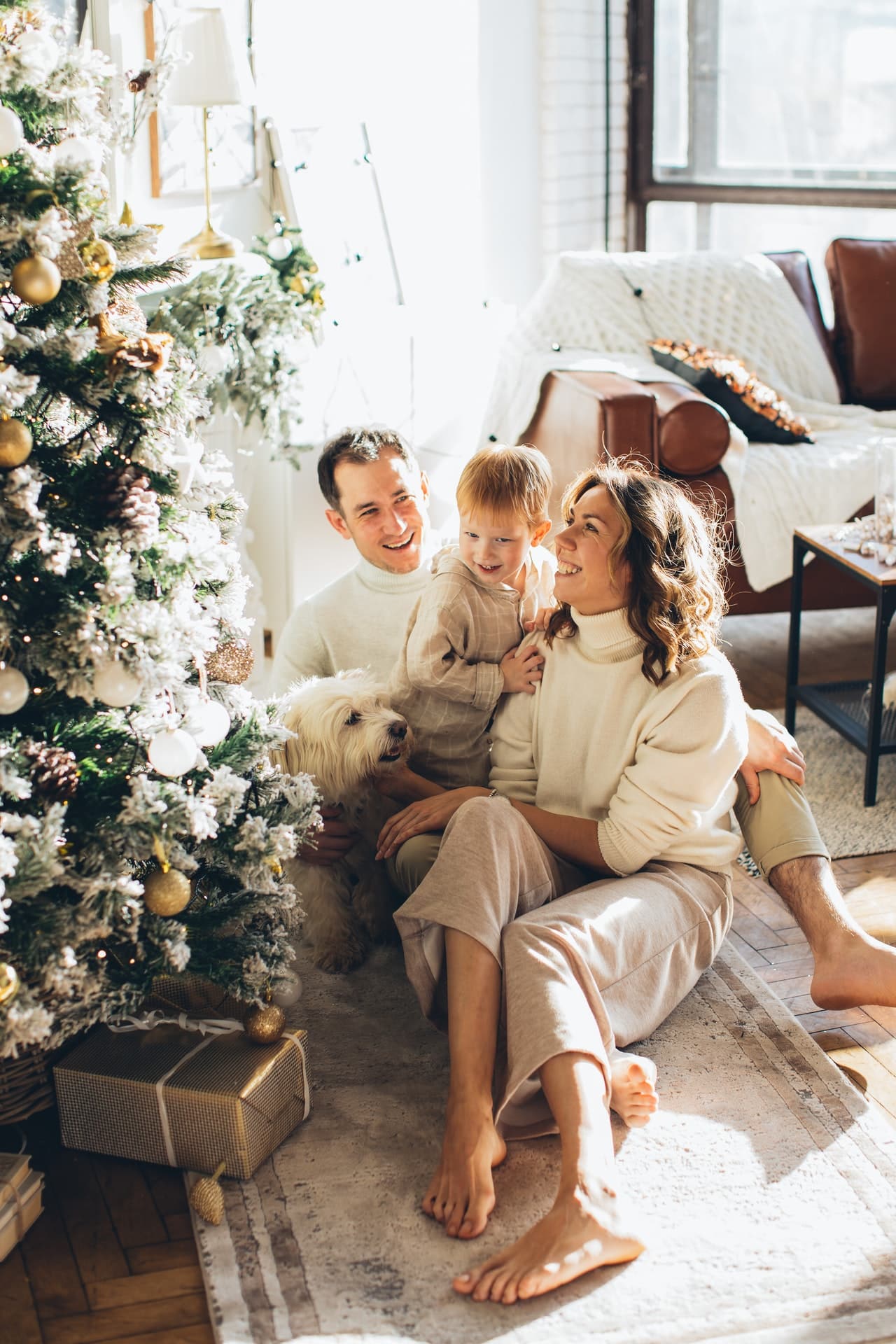 Family Holiday Picture Ideas
Christmas photo #1: Bring in the pets
If your clients have pets, include them in a few holiday pictures. It adds a major cuteness factor to your Christmas photo and helps put everyone at ease. You can include the family pooch in the first few shots, to help everyone feel more relaxed for the rest of the photoshoot, so you can get some of those genuine smiles.
Christmas photo #2: Make the most of the weather
Wherever you are in the world, you can make the most of the weather to capture the perfect seasonal family Christmas photo. If you live in a winter wonderland, lucky you! You've got the perfect outdoor conditions to explore outdoor Christmas picture ideas this holiday season. Ask your subjects to dress warmly, and choose a location with fresh snow and a nice background, whether that be a forested area or some nice buildings.
If the weather is more autumnal in your area at the time for your holiday shoot, somewhere with lots of nice fallen leaves can be the ideal place to get your subjects feeling relaxed and in the holiday spirit. Even if you live somewhere with a sunny Christmas season, a holiday prop or two can transform a regular family photo into a Christmas family photo.
If you're dealing with lots of rain, shooting outside may not be ideal. However, this can be the perfect weather for capturing a cozy indoor scene, or you can get creative with covered areas or big umbrellas!
Christmas photo #3: Say it with a banner
If you're looking for family Christmas photoshoot ideas that allow your clients to share a custom message, considering using a banner. If they're crafty they can DIY a letter banner, or you can buy sets and make them yourself—just make sure you include this in your invoice. Common messages like "Merry Christmas" or "Happy Holidays" can be found ready-made, or you can go for a custom message.
The banner can be placed on a wall behind your subjects, or they can be held up by your subjects. This can be a nice choice because having something to hold can put camera-shy people at ease.
Christmas photo #4: Strolling snapshot
Not everyone feels comfortable posing for the camera, but luckily there are family Christmas picture ideas out there that will make even the shiest family member feel comfortable. If the weather permits, try heading out for a couple or family walk and turn that into an opportunity for family holiday photos. Walking not only eases the mind and helps people feel less worried about whether they're posing awkwardly, but it also gets endorphins going which makes for family pictures that are all smiles.
If you're shooting kids who can't sit still, planning a walking holiday photo can help keep them engaged.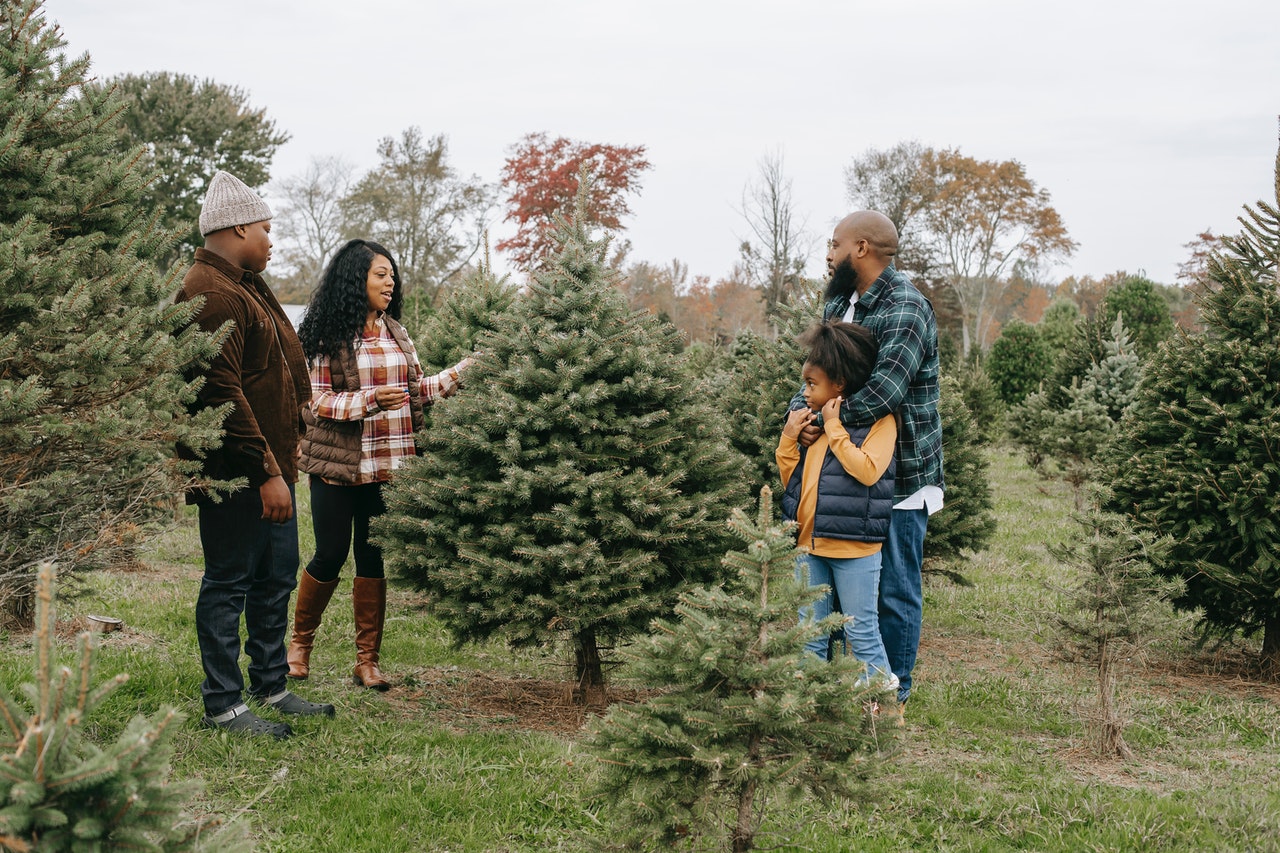 Christmas photo #5: Choosing the tree
This is one of the classic Christmas card ideas for a reason: there's definitely something special about going out to choose the perfect tree. Research places to buy trees in your area, and if it's possible then go for a more rustic location. With the right lens and composition, you can get those magical family photos in a department store's outdoor tree lot, but you'll probably have an easier time shooting around a farm or in a less commercial setting.
Christmas photo #6: Decorating the tree
What list of holiday picture ideas for families would be complete without the classic Christmas tree image? You really can't go wrong with this perfect family shot, since decorating the Christmas tree with loved ones is such a fun activity every year, and you'll get tons of great, natural facial expressions. If there are small kids in the family, having one of the parents hold them up as they place a Christmas ornament on the tree is one of those poses your clients are sure to love when they see the result.
Christmas photo #7: Photoshop fun
If your clients are planning to send out a playful family Christmas card, little Photoshop touches to their Christmas pictures can make all the difference. For example, you can have each family member with a thought bubble thinking of something funny, or if you're really skilled you can get more imaginative with the funny Christmas photo ideas. You can also use photoshop overlays to elevate your shots.
Christmas photo #8: Movie night
There's nothing like doing a fun activity together to make for the perfect Christmas family photoshoot. Watching holiday movies together is one of the best Christmas activities, so having your subjects play their favorite holiday flick and shooting them either from behind or from another creative angle will result in some unique and joyful Christmas cards.
Christmas photo #9: Get playful
For some authentic laughs in a family picture, especially with kids, ditch the posed Christmas card photo ideas and instead get some action shots with everyone at play. Whether it's tossing snowballs or just goofing off, you're bound to capture a memorable Christmas card.
Couples Holiday Season Photos
Christmas photo #10: Show off the ring
The holidays are also known as engagement season for a reason. Many people pop the question around this time of year, so you might find yourself looking for Christmas photo ideas for newly engaged couples. If the goal of the photo is to share the big news with friends and family, go for a Christmas photo idea that has the ring in view.
Christmas photo #11: Featuring the bump
If you're shooting a Christmas card with a subject who's expecting, try some Christmas picture ideas that feature the bump. For example, having the pregnant mama backlist and silhouetted against a lit-up Christmas tree can make for a family picture they'll treasure forever. Or, focus on the bump and put a gift bow on it, showing that the ultimate Christmas gift is on the way.
Christmas photo #12: Under the mistletoe
One of the best Christmas card photo ideas for couples is the mistletoe shot. Have them stand under some mistletoe and share a kiss, or if they have a little one they can hold on their shoulders you can have the kid hold up the mistletoe. This is a great Christmas card idea for newly engaged couples, too.
Christmas photo #13: A little romance
If your task is to capture some romantic Christmas card ideas, you can't go wrong with the glow of the Christmas tree. Have your subjects curled up next to it or rocking some couples poses, and make use of that beautiful light to capture them.
Siblings And Kids Christmas Pictures
Christmas photo #14: In the kitchen
The best Christmas cards are often the ones that capture a genuine moment of joy. Anything you can do to make the family you're shooting feel happy and at ease will help you capture that essence. If you're looking for family Christmas photoshoot ideas that will make capturing authentically joyful family photos a breeze, head to the kitchen!
Have your subjects prepare a simple festive treat, and get snapping. This is a great family photo idea if kids are in the mix, since having them get their hands dirty in the kitchen can be fun and entertaining for everyone involved. It also puts the family in a mindset of togetherness and collaboration, which is sure to shine through in your Christmas pictures.
Christmas photo #15: Pajama party
This is a classic choice for Christmas cards for good reason! People often struggle with choosing their Christmas picture outfit ideas, and going for a matching pajama look is a foolproof approach to avoid that problem. These pictures make for a great, funny Christmas card, and throwing on a silly pair of PJs will instantly put the family you're shooting in a lighthearted mood which makes your job that much easier. It's a great choice for kids, but awesome for the whole family too.
Christmas photo #16: Under the blanket
If you're looking for Christmas picture ideas for siblings, especially if they're on the younger side, a cozy portrait with them tucked under a blanket can be a great way to capture them. You can opt to have everyone snuggled up on the couch with a hot chocolate for a cozy look, or peeking out from under a blanket for more playful family Christmas photo ideas. The best part is, just about every family has a favorite winter blanket lying around so no one needs to shop for props.
Christmas photo #17: Surprise gift
If you're lucky enough to be shooting a family with a small baby, there's really no shortage of adorable Christmas picture ideas to explore. A cute Christmas favorite is to put the little one in a gift box or put a Christmas gift bow on top because they really are the cutest Christmas gift.
Christmas photo #18: Whimsical tent shot
Another cute Christmas card shot for little ones is the tent shot. If your clients don't have one of these, you can find them online and add one to your photo prop collection—just make sure to add prop rental to your invoice. Kids will be excited to get to be inside a fun tent, and you can fill it up with some string lights and any other Christmas props they might like. You can play around with how you shoot them: your subjects can be looking at the camera, playing together for an action shot, or any other great ideas you may come up with together.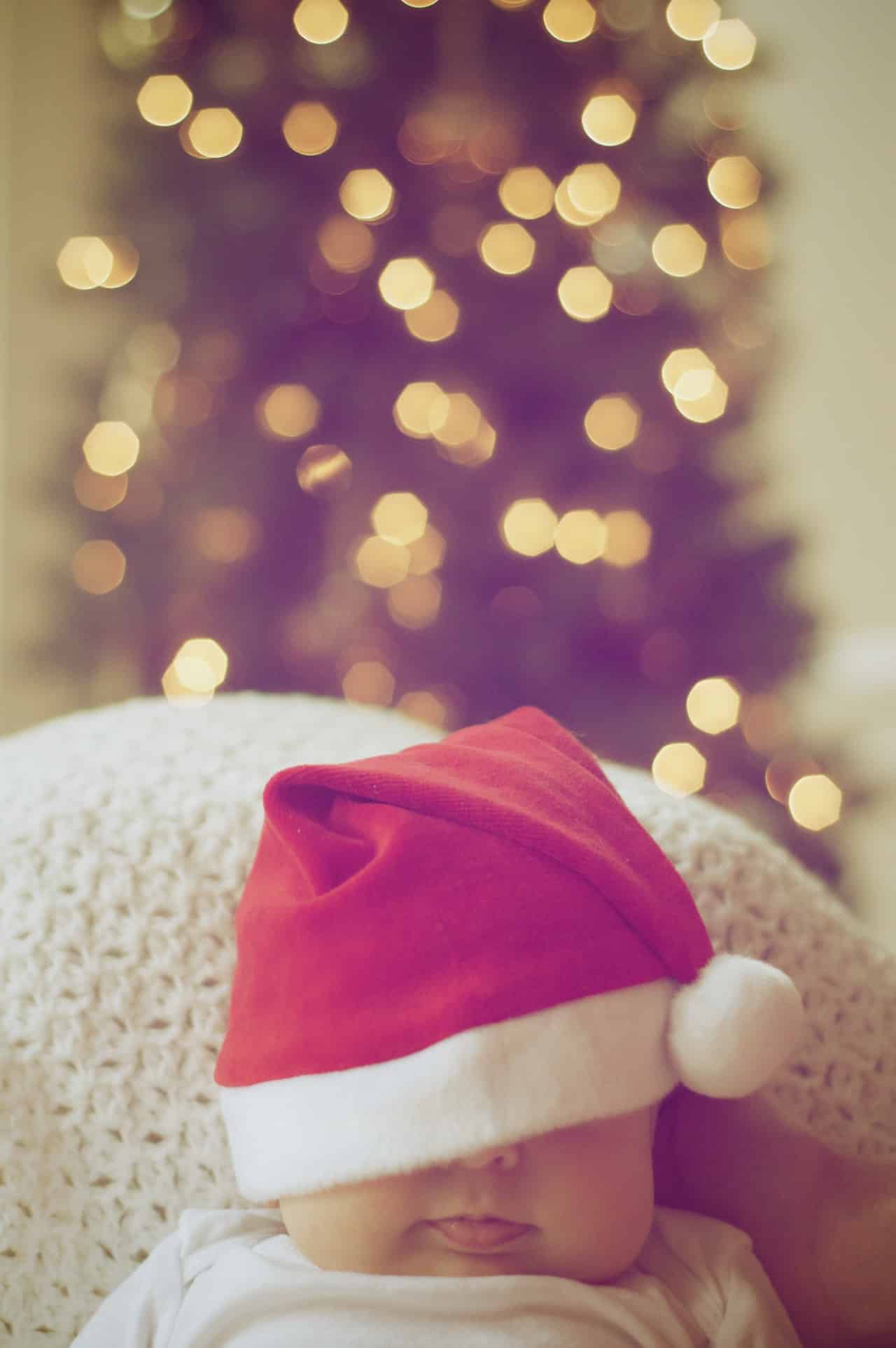 Christmas photo #19: Sleeping baby
For baby's first Christmas, you may be dealing with a subject who just wants to nap. No problem! There are so many adorable shots you can take with that sleeping baby. For example, why not have them curled up on an open Christmas book, as if they fell asleep reading? Or next to a gift box as big as them? A little elf costume can also make for an absolutely adorable Christmas card, whether the elf is awake or not.
Christmas photo #20: Chalkboard note
A fun way to share a Christmas card message is to write it out in some nice lettering on a chalkboard. This adds a personal and crafty touch to the photo, which some families will love. It can be a seasonal message, a Christmas kids gift wish list, or any other creative idea.
Christmas photo #21: Note to Santa Claus
Another way to use a chalkboard, or even good old fashioned paper, is to write a cute note to Santa on it and have kids pose with it. The littlest family members that are too small to hold up a note can be placed next to it for some seriously adorable Christmas card photo ideas.
Christmas photo #22: Favorite toy
If you want to get a genuine smile from your younger subjects, let them pose with their most beloved toy. Trust us, the result Christmas card will be a keeper.
Christmas Photos For Everyone
Christmas photo #23: Twinkling lights
Twinkling string lights are a foolproof way to make your family Christmas photos look instantly festive. If you want a fun family Christmas pose, wrap up the kids or the whole family in Christmas lights. If they want to send out a more elegant holiday card this year, place the string lights in the background and use a lens with a fast aperture of at least f/2.8 to create a beautiful bokeh effect with the Christmas lights. Keep in mind that the color temperature of string lights can be all over the place, so if you have a specific look you're going for, you may want to bring your own. For example, you may want a nice warm bokeh, but the lights available on set may only have a cool, white color temperature.
Christmas photo #24: Play with perspective
One way to get unique family Christmas pictures is to be unconventional with how you frame the shot. For example, if you've got a beautiful outdoor path you can shoot on, why not get behind your subjects and take a snapshot of them walking through a wintery scene?
Christmas photo #25: Modern and simple
While there are a lot of irresistible funny family Christmas photo ideas to choose from, some families are more inclined to send out an elegant, simple Christmas card. If that sounds more like your client's Christmas card ideas, then ditch the Christmas props and keep the shot simple, fresh and minimal. Have them tell your family Christmas photo outfit ideas, and choose a location based on that. For example, if they're planning on wearing a lot of white, you may not want to shoot against an all white background. A simple living room or even the kitchen can be a great place to capture your subjects, or you can look for nice locations in your community such as heritage buildings with a nice patina on the walls.
Women in beautiful party dress in front of christmas tree
Christmas photo #26: All dressed up
Wondering about holiday picture outfit ideas? Let your clients know this is their chance to get dressed for a special occasion and to put their best outfit on. Wearing their best Christmas or New Year outfits, you won't even need much in the way of props to capture the perfect family Christmas picture.
Christmas photo #27: Natural light
There are lots of family picture ideas you can explore in natural light. Shoot at midday if they're going for a bright, poppy look, or at golden hour if they prefer warm, glowing Christmas card ideas.
Christmas photo #28: Playful props
You really can't go wrong with a box full of Christmas props. Put together a collection of some favorites, and you'll have a mobile photo booth you can take to any location. This is great to have if you want to fill up your schedule with Christmas mini sessions, since your subjects can grab what they like and you'll find yourself capturing that perfect playful Christmas card shot in no time. Going through a bunch of props instantly brings out the kid in all of us, which makes your job capturing family photos that much easier. Include things like gift boxes, gift bows, antlers, and Santa hats.
Christmas photo #29: Atmospheric
If you live in a misty area, you'll be able to create some beautiful, atmospheric Christmas cards by making the most of the weather and illuminating the mist. Even indoors, you can create an atmospheric vibe with Christmas lights or candlelight.
Christmas photo #30: Cozy hot drinks
Not only will holding a hot drink in their favorite mug put your subjects in a good mood, but this Christmas card idea can also let you capture some cool steam effects if you're shooting up close and in a colder environment, like the outdoors.
Christmas mini sessions are a great way to earn some extra money during the holiday. You can price your Christmas mini sessions based on photos or even hours.
Once your shoots are complete, make sure you upload them to your photography portfolio. If you don't have one yet, no worries. It's easier than ever to create one using an online website builder. Just make sure to choose one with beautiful templates to choose from, so you can find something that matches your branding. Another good feature to look for is client proofing galleries since it'll make it easy for your clients to choose their favorites from your photoshoot.
A great portfolio will make it even easier to land those clients next year. Time to get shooting!
Looking for more family portrait tips? Read on!
The Photographer With New Family Portrait Ideas
33 Absolutely Charming Family Portrait Ideas
Meet The Photographer Using Portraiture To Explore Parent-Child Relationships