Rated the best portfolio solution by creatives.
The online portfolio platform with everything you need to showcase your work and uncover new opportunities. Try it for free.
No credit card required.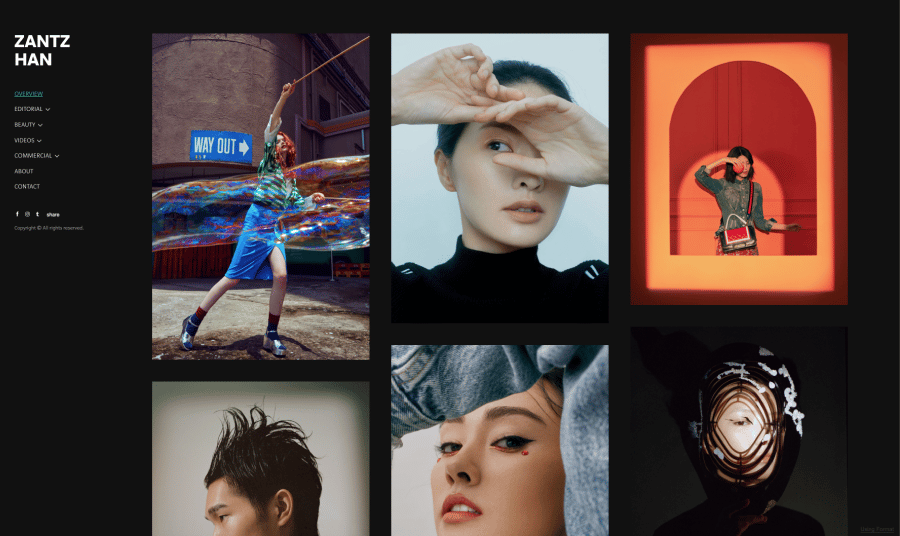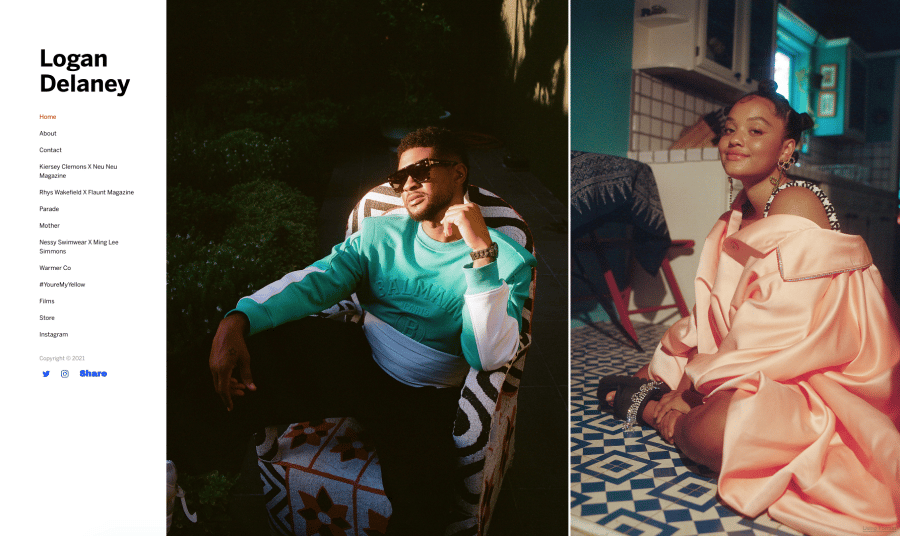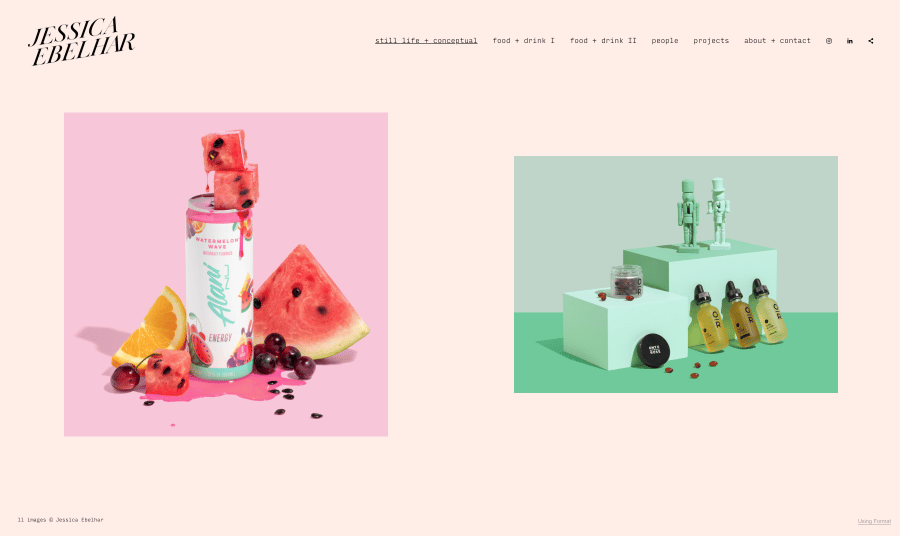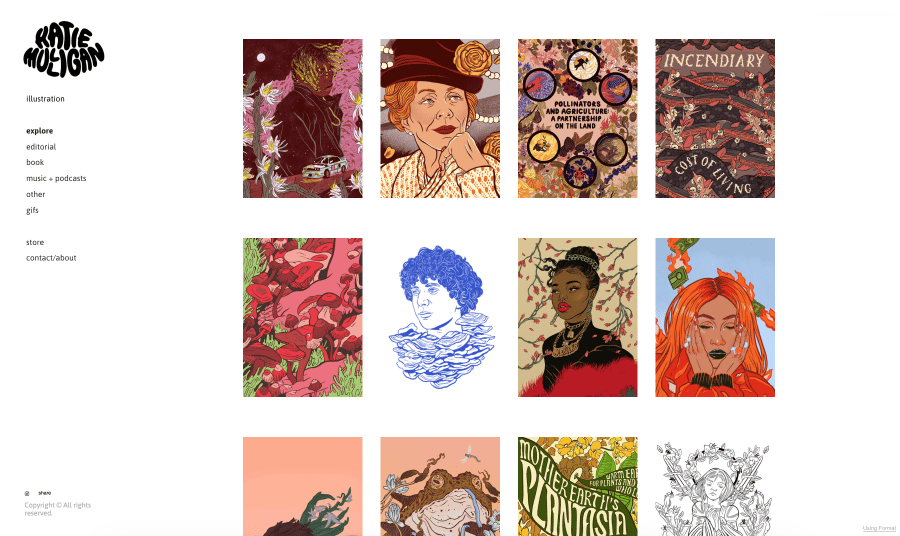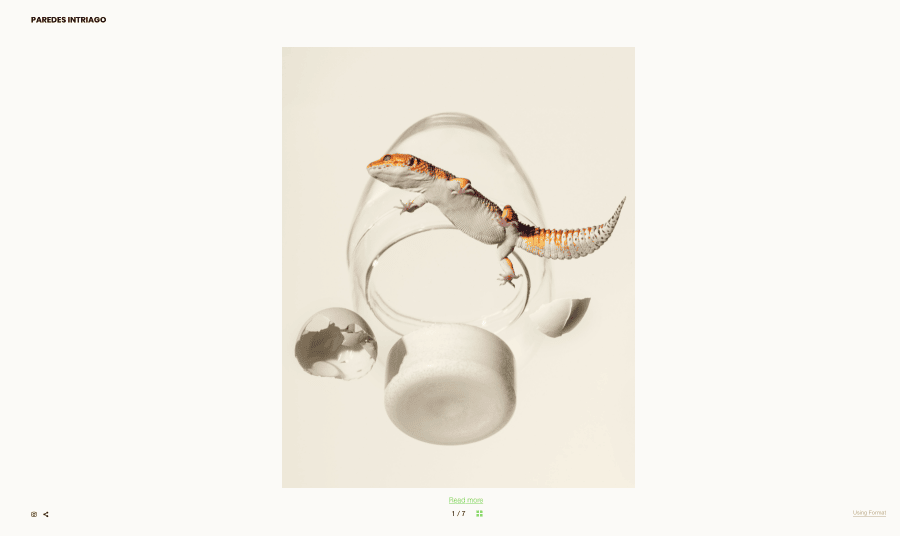 Sonia Szóstak is now on Format

Caitlin Cronenberg is now on Format

Matt Holyoak is now on Format

David Uzochukwu is now on Format

Pierre Dal Corso is now on Format

Rebecca Miller is now on Format

Rozette Rago is now on Format

Paulina Von Lackner is now on Format

Monica Lazar is now on Format

Simone Lezzi is now on Format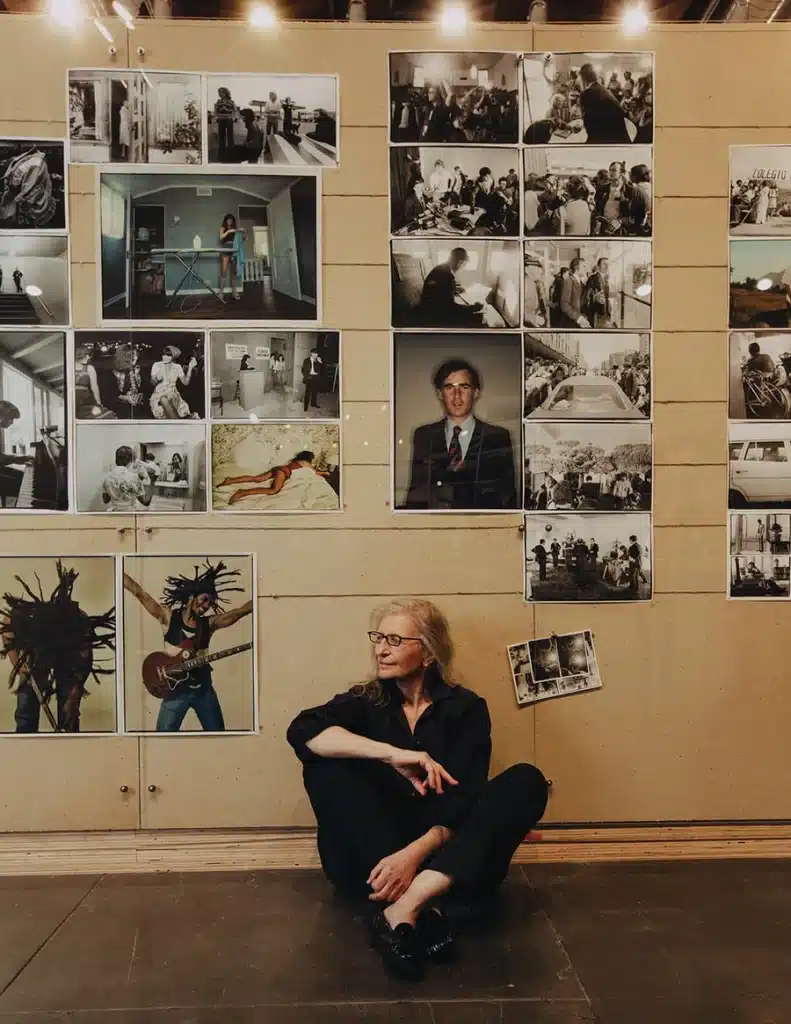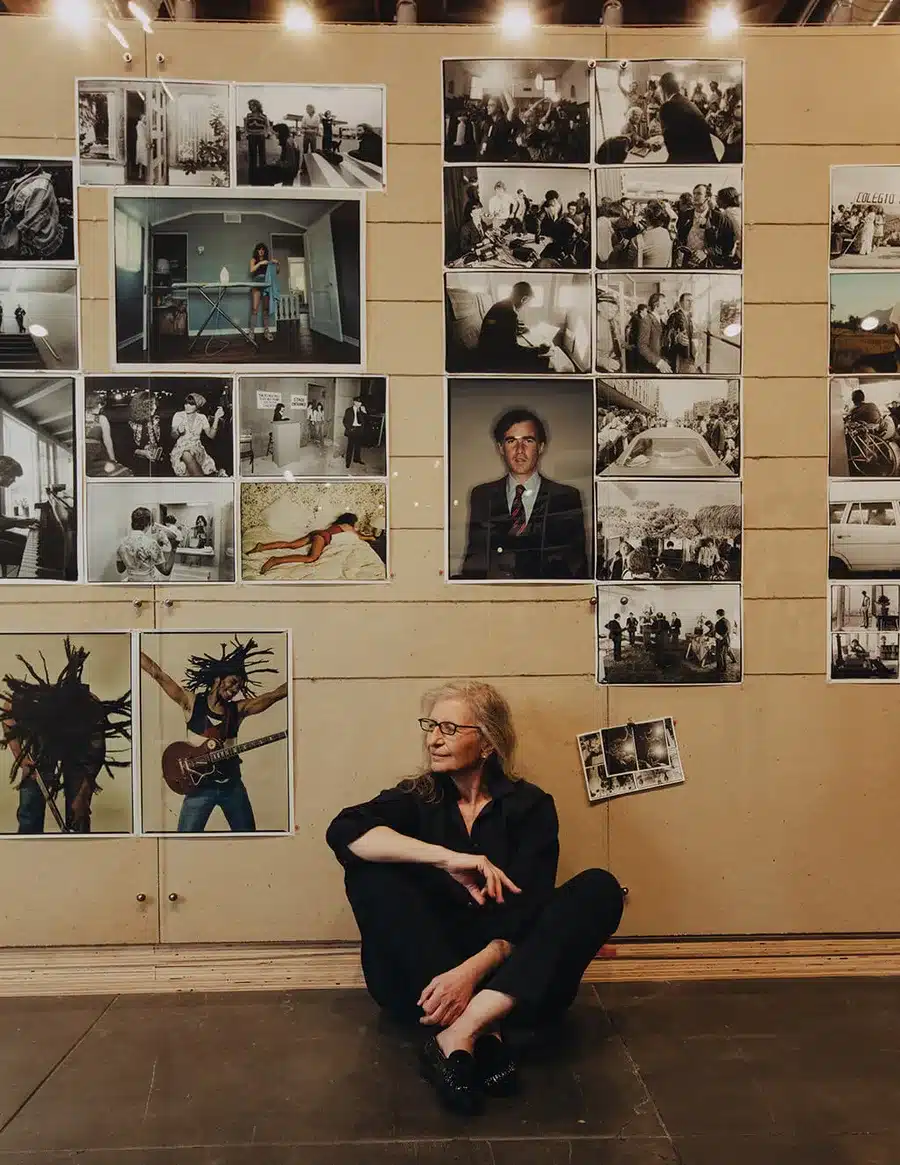 Rozette Rago
Based in Los Angeles, Rozette Rago is the current photo editor for Wirecutter at the New York Times and former photo editor of Time Out Los Angeles.



Our cutting-edge website platform allows Photographers and Artists to focus on their work and leave the rest to our experts.
photography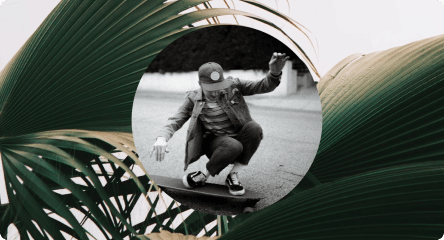 art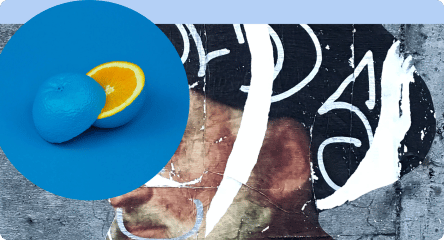 design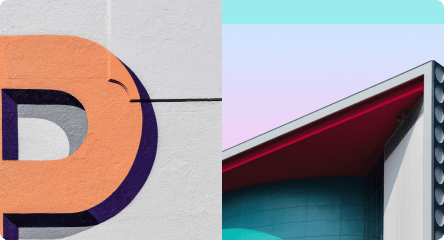 illustration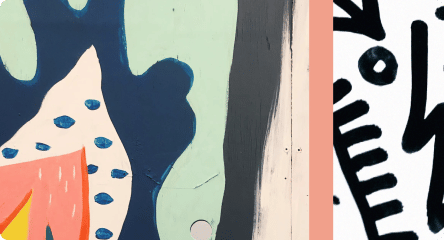 fashion
Award winning design in minutes — no coding required
Professionally designed templates that make your work truly shine with complete customization and thousands of design variations. Create a unique website with our intuitive design editor —no coding required.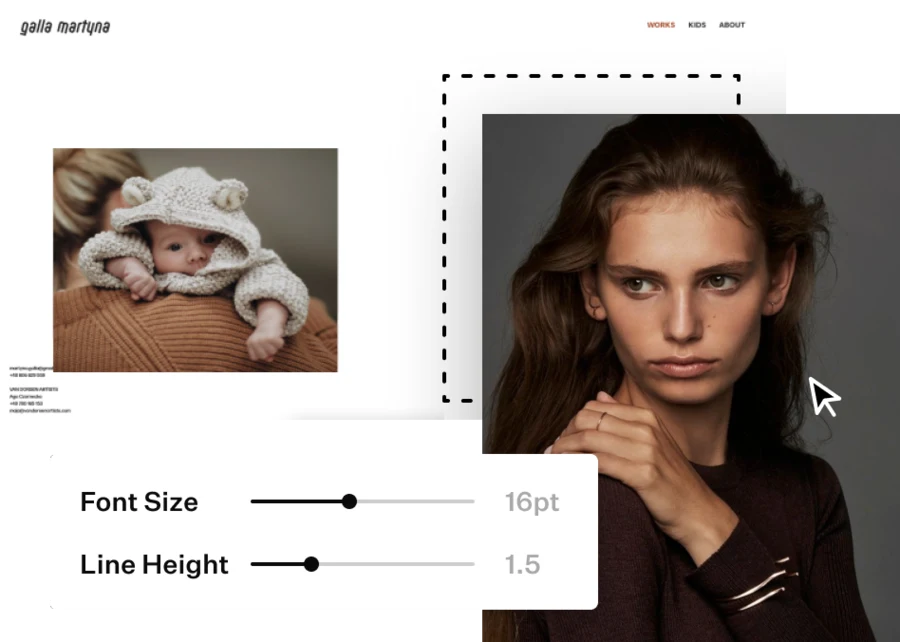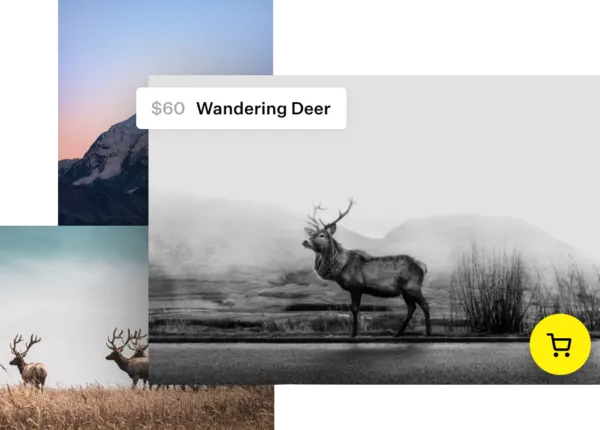 Sell and fulfill globally with ecommerce shops for photographers & artists
Sell all kinds of products, prints, packages, Lightroom presets, and digital products in your store. Our trusted print labs will handle the production and shipping directly to your customers.
Video hosting included, only found at Format.
Stop depending on Youtube and Vimeo to host your videos. Upload videos directly to Format and showcase your work the way it's meant to be seen.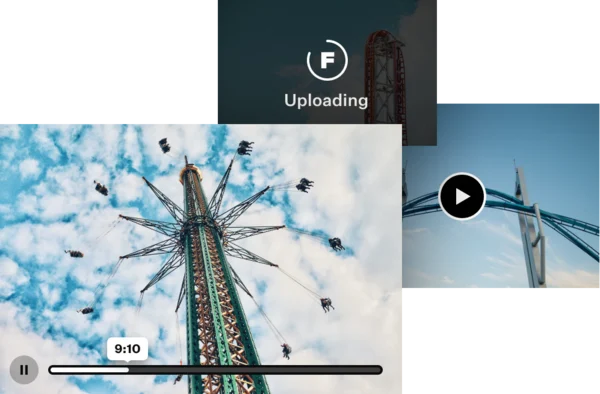 Constantly evolving powerful features that set you up for success
No setup fees or hidden costs
Free 24/7 customer support
Site building services, free on select plans
High-quality image rendering without slow load speeds
Switch between website designs in seconds
Capture new clients with SEO tools
Seamlessly serving your high resolution images to ensure fast loading speeds
Mobile-first templates and layouts are designed for a mobile-first experience
Blog platform built in
Fully customizable contact and input forms
Professional email address powered by Google Workspace
Easily register, transfer and connect a custom domain
Protect your images from unauthorized distribution
High speed servers located around the world serving your website quickly to your international audience
Lightroom & Capture One integration
FAQ about Format
You absolutely do not need to know how to code to create a professional online portfolio. Your Format site comes with intuitive tools and 24/7 help from Format Experts that make it easy to customize your site exactly the way you want. Of course, if you want to personalize your website even more, our Pro and Unlimited plans offer access to CSS and HTML editing.
Of course! If you already have a custom domain, you can connect it to your Format website. Our Customer Support team connects user domains to make the process easier. If you're more hands-on we have support articles to get you started, and our Format Experts are available any time you need help.
All Format plans automatically include hosting so you don't need to purchase hosting services through a third party.
Absolutely! You can get actionable feedback and help with Format Experts. Schedule a one-on-one consultation with our experienced team members to make the most of your portfolio. Format Experts can help you build and optimize a new website or review and make recommendations for your current site—advising on curation, themes and design, SEO, gallery and custom page creation, setting up and selling with your online store, and much more.
Absolutely! All our themes are optimized to be viewed across all devices and platforms: from high-res desktops to laptops and smartphones.
Absolutely! We would be sad to see you go, but we want you to find the right solution for you. You can reach out to our Customer Success team at any time if something isn't working and we'll do our best to solve the issue together. For a full refund, cancellations for a yearly plan must take place within the first 30 days.
FAQ about Photography
Photography Definition
We've talked about the lofty position photography has as part of our collective visual understanding of the world, but the on-the-ground reality of being a photographer involves a lot more than just pressing a shutter release button for your clients.
There are a ton of different specializations that fit under the broad umbrella of photography, and we'll get into a lot of these later, but most of them share a few key stages in a typical photographer's workflow.
First, there's the pre-production stage of photography. Most people who don't work as photographers don't realize just how much of the work of photography takes place before a photo is even taken. The actual complexity of the pre-production stage can vary a lot.
For example, a professional food photographer may have quite a lengthy pre-production process, planning out their studio lighting, understanding the type of image their client wants to create, and collaborating with a food stylist to make sure everything looks just right before they even pick up their camera. Conversely, a photojournalist traveling to document a major news story may not have to prepare in the same way but they'll still need to do some pre-production research to know what the political climate is, where to best situate themselves to get the best shots possible, and anticipate how a story might evolve.
When it comes to the technical part of photography, the tools and techniques can also vary a great deal between photographers. A wedding photographer will need different lenses and a different shooting plan than, say, an astrophotographer. The best photographers have a deep understanding of how their equipment choices will affect the final images.
Finally, there's the post-production stage, in which images are edited in Lightroom, Photoshop, or another similar software and delivered to the client, prepared for print, or uploaded to media outlets. In addition to these stages, working photographers also have to be savvy businesspeople, booking clients, managing client relations and ensuring they get paid and grow their business.
The reality of working as a photographer involves some art, some science, and some business savvy. This makes it anything but boring.
Photography Meaning
In the most basic terms, photography is the art of capturing images by recording light onto a light-sensitive surface, (like film or a digital sensor) to produce a likeness of what the camera is pointed at. Although the technology may have evolved since the earliest experiments in photography in the 19th century, the fundamentals remain basically the same. Photography is essentially the art of painting with light. The word itself is made of the Greek root words "photos", meaning light, and "graphe", meaning drawing.
All cameras, from the most simple to the most high-end, perform this same basic function. However, there are countless ways that photographic technology is used today. Photography has become so ingrained in our day to day lives that it can be difficult to imagine a world without it.
Photography plays a key role in how we create memories and capture important moments (as well as mundane ones), is essential to the way we shop and do business, has taken on a significant role in the worlds of art and entertainment, is a critical component of journalism, and is an important part of how we experience the world more broadly. Photography plays a role in most industries in one way or another.
In the time since photography was invented, we've become increasingly visual as a society. We used to have to rely on words, paintings and illustrations for the bulk of our communication, but especially in the digital and social media age, images have taken over a lot of that function. Even as digitally rendered imagery becomes cheaper and easier to produce, the importance of photography hasn't been diminished, because there is so much value in being able to share things as they actually are. Photography is the perfect technology for doing so.
Like more and more careers these days, there isn't necessarily a single path towards a professional career as a photographer. There is a lot to learn in terms of the technical aspects of photography, lighting, and editing, but there are plenty of resources available to you if you want to take the self-taught photographer approach. Having said that, studying photography in a formal program can have its perks too, as you'll typically have access to lots of studio and photography gear as well as faculty and peers with a broad range of knowledge, interests, and styles.
Studying Photography in School
If you have the time and resources, going to art school and completing a 4 year degree in photography can be a really effective way to master your craft both technically and in terms of learning the business skills you need to succeed.
First, there's the luxury of getting to dedicate so much of your time to photography. Between class time, spending time on your own assignments, and building your portfolio, all that time behind the camera will help you improve.
You'll also get to learn the technical aspects from pros who can teach you how to do things the right way, so you don't have to waste your time trying to teach yourself things and maybe missing some key tricks that can make your job easier.
There's also the benefit of having some pressure: between assignments with deadlines and grades to worry about and being immersed in a peer group that is also working on their photography skills, there's more pressure on you to keep working at it and improving. If you're not in a school environment, you have to harness your own internal motivation a bit more to avoid procrastinating.
Learning Photography On Your Own
Photography is one of those things where there really are tons of amazing resources for free or cheap online that can get you to a professional skill level. The truth is that even if you were to go to school, to really become a pro you have to actually get out there and shoot.
No amount of class time is worth real world experience with your camera in hand. If you can offer to assist working photographers on some of their shoots or offer to do some gigs for free, you'll get exposure to the pressures and challenges of a real photoshoot. Each time you do this, you'll learn a little something and get better.
Plus, there's the significant benefit of saving a ton of money. Art schools can be expensive, and four years is a lot of time. If you're a self-starter and you're motivated to learn on your own, you can accomplish a lot in that amount of time, and put some of that tuition money towards equipment instead.
Build A Portfolio
Whether you choose to learn photography in a degree program or you go the DIY route, a portfolio is essential to getting started in the field professionally. No matter what kind of photography you do, clients will expect to be able to see your best work online. A social media profile is good, but doesn't cut it. A portfolio website lends a degree of credibility and trustworthiness to your business, even if you're just starting out.
Building your portfolio is something you can start doing no matter where you are in your journey, because it's an ongoing process of refinement. Your images two years from now might be a lot better than the ones you're taking now, but you can progressively refine your portfolio with time as you develop your style.
Your portfolio website can also help you grow your business by showcasing your work but there's so much more to running your business. With Format you can use beautiful, flexible templates to show off your word and also use workflow tools that support you such as client proofing galleries, managing contracts and the ability to generate invoices. Having a hub for your business simplifies the process and makes things more professional not just for your clients, but for yourself too.
When creating your portfolio, consider your dream client. What kind of portfolio would resonate with them? Let that guide your image curation process, since you don't want to include every image you've ever taken. You want to showcase the very best of what you're capable of, and communicate it in a way that will draw in your target customer. You can also share a bit about yourself in a blog, with behind the scenes insights or a peek into your process. This kind of content can be fun to share with your audience, builds a personal connection, and further emphasizes your commitment to your craft.
It would go beyond the scope of this guide to go into detail about every single type of photography that's out there, but this list covers the major kinds you'll encounter. Within each type there are specializations, and as a photographer you can decide how specialized you want to get. As a general rule, it's helpful to be known for a certain kind of photography and to develop a personal style. This makes it easier for your work to stand out in the minds of potential clients.
Portrait Photography
Portrait photography is a style of photography that captures a person or group of people, typically posing, and aims to document them while also conveying the subject's personality and character. For example, professional workplace portraiture will try to evoke a sense of professionalism and trustworthiness through the portrait, while celebrity portraiture may aim to create a sense of glamor or style.
It's also frequently used to document people and groups as they look at a given point in time. For example, families may book an annual family portrait session in order to have memories to look back on and a record of the family over the years.
Wedding Photography
This is one of the types of photography that most people think of when they hear the term "professional photographer". That's because almost everyone has some kind of experience being photographed by a wedding photographer at some point in their lives, whether it's on their wedding day or when they're a guest at another wedding.
Wedding photography is highly in demand, particularly during the wedding season from early summer to fall. Wedding photographers typically book most of their work during those months, and then may work on different kinds of photography for the rest of the year.
Event Photography
Events frequently need to be documented by a photographer. From private parties to corporate conferences and public festivals to concerts, event organizers are often looking for professional photographers to document the day.
Even in our age of ubiquitous phone cameras, event photographers can create images that aren't really possible to capture on a phone. Event photographers can make use of lenses that allow them to capture scenes from a distance and make it appear as though they were right by the subject, and they can also creatively use flash in a way that makes their subjects look their best.
Lifestyle Photography
Lifestyle photographers aim to capture real situations with an artistic eye. For example, a profile of someone in a magazine may include a spread of lifestyle photos of them doing something they ordinarily do, like making their morning coffee.
Sometimes, this kind of photography can also refer to staged images that look as though they are candid and spontaneous. For example, a brand might get lifestyle photographs taken of models using their product. These images typically look less staged and polished than corporate advertising photography.
Editorial Photography
Editorial photography refers to the images that go alongside text that help to tell the story by establishing a look or mood. It typically implies people as the primary subject, although still life images can also be part of editorial photography. Unlike lifestyle photography, editorial photography can be a lot more staged, stylized, and conceptual.
Sometimes, editorial photo series can be published without necessarily accompanying text. Although the traditional meaning of editorial photography implies a written story being supported by images, photographers often explore telling a story with images alone.
Fashion Photography
Fashion photography is a field within photography that showcases fashion items such as clothing, shoes and accessories, as worn by models. There is a huge range of styles and approaches in this field, and fashion photography can get very creative and conceptual. It can overlap significantly with editorial photography as well.
Beauty Photography
Beauty photography can be considered a type of portraiture, but with more focus on the styling of the model. Makeup and skincare campaigns are one of the most common types of beauty photography. It is often used for editorial or commercial purposes, but can also be shot as art photography. This genre of photography is usually characterized by close up shots that emphasize the models features.
Commercial Photography
Commercial photography is a broad category that encompasses all the photography taken with the purpose of selling a product or service. It is typically characterized by a polished, crisp look typically associated with advertisements, although there is a lot of creativity and experimentation in this field as well, as more brands explore different approaches to marketing their products online. It's a lucrative field for photographers and there isn't really any seasonality to this type of work.
Product Photography
Product photography can range from the simple product images on a white background that are often encountered on ecommerce sites, to more creative, stylized photos that might be used in ads or on social media. There are subcategories of product photography, like food photography, that are big enough to focus on full time.
Travel Photography
Travel photography can encompass anything from people and buildings to nature and events. The aim of travel photography is to capture the essence of a place, and it's often used in travel blogs, editorials, and advertisements, as well as by tourism boards around the globe.
Architectural Photography
Architectural photography is a specialized type of photography that captures building interiors and exteriors. The aim may be to capture the whole structure, or take a more artistic approach capturing specific details of the building. It is also widely used in the real estate industry.
Nature Photography
Nature photography is all about capturing the wonders of the natural world. It is often associated with animal photography, although nature photos don't necessarily have to have animals in them.
Landscape Photography
Landscape photography is considered to be a genre separate from nature photography since it aims to capture a broad, expansive scene, giving an overall impression of the view from somewhere rather than the details of its natural world.
Urban Photography
Urban photography can include street photography, which captures the essence of a place through its people, storefronts, and other details, but can also include more expansive urban scenes that capture the overall look of a neighborhood or city.
Photojournalism
Photojournalism, or documentary photography, tells stories of events through photography. Often, images can convey a scene in a more powerful way than words can. Photojournalism is a powerful component of relaying news and of documenting a moment.
Photojournalists are often thrown into the thick of a situation to document what is happening during a developing news story. Photojournalists need to have an inquisitive eye and a strong storytelling vision.
Sports Photography
Sports photography is a specialized kind of event photography, since the demands of capturing sports are unique. Photographers need to be well equipped to capture fleeting moments with crisp, well-focused shots.
Sports photography requires photographers to always be ready to capture a decisive moment at any given time. Typically sports publications and news outlets also require a very fast turnaround on delivery so having an agile workflow is very important.
Photography is a very common hobby, but if you're considering making money as a photographer you've probably wondered who would actually hire you for your services. Since camera phones have become so good, do people still hire photographers as much as they used to? The good news is there are tons of photography jobs out there, and your skills will be in demand across a wide range of industries.
Your list of potential clients as a photographer will depend on the type of photography you specialize in, your experience and skill level, the type of equipment you invest in, and more. Some common photography niches you can specialize in include:
Portrait Photography
As a professional photographer specializing in portraiture, your clients may include companies looking to get professional headshots of their team, actors, and other artists who require headshots, professionals who want a high-quality Linkedin portrait, families who want to book professional photo sessions, and more.
Wedding Photography
The types of gigs you'd be hired for as a wedding photographer are pretty self-explanatory, but within this category, you can still specialize depending on what types of weddings you most enjoy shooting. If the chaotic, three hundred guest type of event isn't exactly your thing, you can choose to specialize in elopements or destination weddings.
Architectural Photography
From shooting real estate to capturing interiors and exteriors for architecture blogs and magazines, the list of people who can hire you in the architecture industry is lengthy.
Travel Photography
You don't necessarily have to go far to find work as a travel photographer. You can even shoot content for travel blogs and magazines in your own area, depending on where you live.
Product Photography
There's no denying the fact that social media has become extremely important for companies selling products, and e-commerce keeps growing year after year. All of that online selling means a lot of possible clients for a professional photographer specializing in product photography.
Product photography is a very worthwhile investment since a high-quality photograph can be the difference between someone scrolling on to something new or adding a product to their shopping cart. Shooting products can be really fun and creative since creative styling is often a big component of the gig.
Food photography
Just as people are spending more time shopping online, they're also deciding on what and where to eat online. Restaurants and food companies need high-quality photographs of their dishes to entice customers, food bloggers benefit from having high-quality images on their blogs and social channels, and cookbook writers also require the skills of a food photographer to make sure their recipes come to life on the page.
Fashion Photography
Clothing brands large and small rely on the skills of fashion photographers to grow their business. Whether you're shooting content for their newsletters and other media channels, or you're capturing styled fashion images for magazines and blogs, the fashion industry offers an exciting array of people you can potentially work with.
Stock Photography
By taking pictures for stock websites, you can earn money off a single image, again and again, each time it gets licensed. The best part is, you can probably get started in your own home by shooting images around the house that may be frequently searched for on stock websites.
This is by no means an exhaustive list, but it should give you a good idea of the wide range of potential gigs you can get as a professional photographer.
Photographers need to wear many hats to be successful. Knowing your way around a camera is a great start, but there are additional skills you can work to develop if you want to be competitive. Some of the top skills to help your photography career take off include:
Like many creative professions, being able to earn a living with photography likely won't happen overnight. It takes time to develop your skills and a recognizable style. It also takes a while to develop a client base that can sustain your career. However, all of these are achievable goals, and there are many aspects of working as a professional photographer that make it a fantastic career. Some of the benefits of a career in photography include:
Every Day as a Photographer Is Different
Unlike many other jobs in which the days bleed together and all seem the same, as a photographer you're always working on a new project with its own unique challenges. You might be shooting corporate headshots one day, and product the next. Even if you specialize and tend to shoot for the same type of client for every project, your days will still be split up between pitching clients, conceptualizing shoots, shooting, and editing, among other tasks that will come up.
This variation from one day to the next keeps life exciting and makes photography a great business for people who want to break away from the monotony of other types of jobs.
You Set Your Own Schedule
Don't get us wrong, starting a photography business will likely result in a lot of long days and busy stretches. However, as your own boss, you'll also be the person ultimately setting your schedule and deciding when you'll be on and off the clock.
You Can Increase Your Rates as Your Skills Improve
In many jobs, even as you gain more experience, your pay grade won't necessarily increase along with your skills. Photographers can charge whatever they want as long as their industry and clients accept it, so as your photography portfolio improves and you get more well-known clients under your belt, or you become in demand, you'll be able to get away with charging a higher rate as well.
There Are Lots of Niches Within Photography
Maybe you're a portrait photographer with great people skills who can really bring out their best in an image, but you're getting a little tired of taking the same types of photos all the time and you want to level up your online portfolio with some fresh content. Since your portrait photography skills are transferable to other types of photography, you can apply those same skills to travel photography, and enjoy a brand new challenge and schedule while still using those photography skills, capturing people, and improving your portfolio website.
You Get To Be Creative
As a photographer, you'll quickly discover that you really do have to apply your creativity to many aspects of your job, making it a perfect profession for born creatives. Not only does it take developing your creative eye to create portfolio-worthy images on your shoot days, but it also takes ingenuity to develop your brand as a photographer, to identify potential clients, edit photos, and market yourself.
There's Always Something New To Learn
Photography technology is constantly evolving, and if you want your photography portfolio to really stand out, part of the job is staying on top of what's new. Don't worry, this doesn't mean you have to constantly be buying the latest camera running into the thousands of dollars! However, staying on top of new tools and techniques when it comes to editing software such as Photoshop will keep you challenged and help you create images that measure up to what other pros are producing.
You Have a Wide Range of Potential Clients
There's no denying that we live in an increasingly visual culture, and that's great news for someone who's thinking of becoming a photographer! High quality images have become important for everything from selling products and telling stories to help people get hired. This means there are a ton of potential photography clients out there for all kinds of photo gigs.
Of course, no profession is without its difficult parts. Some challenges you may encounter in your photography career include:
There's No Regular Paycheck
When you're just starting out, it may be difficult to forecast how much you'll earn. You might earn a living from a lot of smaller gigs, or you may have a few big, high-paying jobs that make your year. Photographers learn to get comfortable with this uncertainty, always keeping lots of irons in the fire in terms of potential jobs, since you never know which ones will end up being paying gigs.
You also don't have the perks of a regular job, like benefits, so you'll have to consider the impact that may have on your finances.
There Are Some Repetitive, Tedious Aspects
Like running any kind of business, as a photographer, you'll likely be self-employed and therefore be responsible for staying on top of tasks such as bookkeeping. There are also parts of photography that can be a bit tedious. For example, you may find yourself having to edit a large batch of photos for a client on a tight deadline, meaning many hours staring at a computer screen doing tiresome little tasks.
You Can Get Stuck Shooting One Type of Gig Again and Again
Depending on the photography niche that you choose, you may find yourself getting hired for the same type of gig repeatedly. If you love doing it, then there's nothing wrong with that! But if your online portfolio shows only one particular type of photography (say, pet portraits), you might get pigeonholed as only shooting that thing, and it can take some work to build a more varied client base.
If you do find yourself in this situation, focus on creating a photography portfolio website featuring the type of work you'd like to be hired for. In time, you'll land more clients in your preferred niche or style.
We've mentioned photography niches a few times, so at this point, you might be wondering which niche is the most lucrative. While there will be a great deal of variation within each niche, with the top earners likely earning much more than the median photographer working in that field, there are a few reliably in demand niches you can tailor your photography portfolio towards.
According to the Institute of Photography, the photography genre that is most in demand is wedding photography. That shouldn't come as too much of a surprise—after all, no matter where you live, whether you're in a big city or a rural area, every year there are reliably going to be couples in your area looking to tie the knot. For people specializing in this niche, this means a steady stream of photography work!
Architectural photography also makes the list, as many businesses require interior and exterior photos of their buildings for a wide range of uses, including websites and brochures.
Portraiture is another niche in which you can make money reliably. Your photography portfolio in this genre can be broad, or you can really focus on just newborn photography, baby photography, family portraiture, or some other niche that you enjoy.
How much you can charge will vary depending on things like your skill level, experience, geographic location, and the type of photograph you do. There are so many variables that it's impossible to provide a simple answer to the question of what you can charge, however, there are a few tips you can implement when setting your rates.
Firstly, consider what other photographers who work in your niche and your area are making. Is your photography portfolio on par with the top photographers in your area, or does it need some work before you get there? Use this as a guide when setting your rate
Another important consideration is the complexity of the shoot. If it requires a lot of preparation, such as food photography, for example, that time should be factored into your rate.
Finally, in addition to your day rate, including any other relevant line items when invoicing your clients. You may include a rental fee for your equipment (even if you own it, as use causes wear and tear and you'll eventually have to replace it), and any relevant licensing fees depending on how they plan to use the images.
Photography is such a broad term, with a huge variety of different types of photographers working professionally in the field and capturing different kinds of subject matter. Whatever genre of photography you're interested in, these are some of our favorite photography portfolios and they're sure to get your creative juices flowing.
Kate Lionis is a fine art and editorial photographer. She specializes in feminine, ethereal imagery that displays a sense of inner strength and resilience, and endeavors to display women and the beauty of their strength in a sensitive yet unapologetic way. Kate sees a society that is out of touch with its feminine self in its never ending quest to reach its unattainable potential. Her dreamy, ethereal portfolio provides the viewer with an immediate sense of her personal style as a fine art photographer.
Format theme used: Peak
New York-based photographer Henry Cobbs shoots his various subjects in a style heavily inspired by legendary American photographer Slim Aarons. Like his inspiration, Henry tries to capture scenes that evoke glamor and charisma. Henry is fascinated by travel, transportation, and the movement of people, and this comes through in his portfolio. Whether shooting cityscapes or people, there is a vivacious energy in every shot.
Format theme used: Mica
If you're a fan of capturing the great outdoors, you'll love the stunning portfolio of Peruvian-born, Australia-based Giancarlo Gassinelli. His lifelong love of photography, traveling, and the outdoors come together to create a landscape photography portfolio that transports the viewer into new worlds.
Format theme used: Amazon
Senegalese portrait photographer Sidy Mohamed Kandji is committed to capturing the uniqueness of each of his subjects. He is deeply connected to community and culture and his ability to connect with his subjects comes through in his stunning portraits.
Format theme used: Horizon Left
The good news for aspiring photo pros is that nowadays you can find a really great camera for your money, no matter what your budget is. Sure, if you pay top dollar you can get extra bells and whistles and a boost in image quality, but the camera isn't necessarily what makes or breaks an image. Some of the best photography is produced by affordable cameras, so a top of the line model is not a prerequisite to start building a photography website you can be proud of.
Some favorites across a range of price points include:
If you're looking for a beginner-friendly DSLR at an accessible price point, look no further than the highly rated Nikon D3500. This fast, sturdy, 24.2 MP camera takes gorgeous photos even in auto mode, and if you're learning your way around a DSLR it has a guide mode that will teach you how to manually adjust the settings. Even if you're already familiar with DSLR cameras, you'll love the images this Nikon body produces, making it a great budget DSLR choice.
Mirrorless bodies tend to be lighter and more compact than DSLR, and this option from Olympus is no different. Its size, weight, and superb image stabilization make it the perfect choice for travel photographers who need something portable and reliable that produces memorable photos.
Another mirrorless option, this full-frame camera from Sony has become a beloved staple for many, even though it is no longer Sony's newest model. The best part is, since there are newer offerings, this excellent camera is now more affordable making it an excellent choice for someone getting into photography.
If you have more of a budget to spend on your camera body, consider the Canon EOS R6. It has the best autofocus in the business, and thanks to its top notch image stabilization and burst capabilities it's an excellent choice for shooting sports, events, or wildlife.
In addition to the camera body, you'll likely need some additional equipment in order to start shooting photos for your photography portfolio. While you certainly don't need everything listed here, start with some basics and then build as you see what you actually need:
A tripod
A remote shutter release
A camera strap and camera bag
SD cards
Reflectors
If shooting in studio, softboxes or other lighting equipment
If shooting in studio, backdrops

With these basics, you should be able to get started snapping photos no matter what photography niche you choose.
While the average salary for a photographer in the U.S. is about $35,000, this number isn't necessarily very indicative of your potential earnings on its own. Many variables go into pricing your photography, and there is such a broad range of photography jobs that an average like this won't necessarily be representative of the average in every industry and geographical region.
When it comes to pricing your photography, there are a few key variables that can impact your end of year earnings:
Your location. Photographers in big cities will be able to charge more than those in small towns, as a general rule, because there is typically higher demand and varied expectation of the kind of work from clients.
The type of photography you specialize in. Some types are very seasonal, such as wedding photography, while others may be more spread out throughout the year, such as event photography. If you shoot commercial images for big corporate clients, your average invoice will likely be higher than if you shoot family portrait sessions.
How many gigs you book. If you can get into a workflow where you can plan, shoot, and edit a job fairly quickly, you'll be able to free up more time to book more jobs. Many people don't realize how much work is involved in each shoot, beyond the actual day of shooting. Part of the limit on how much you can scale your business is how many jobs you can actually fit into your calendar.
Booking mini sessions. This makes sense mostly if you shoot some kind of portraiture, but offering mini sessions—short sessions that are affordable and provide something like 1-3 images for the client—can be an effective way to fill in downtime and increase your revenue, especially if you try to fill a day per month with mini sessions.
Your level of experience. It can be frustrating to have to justify your rates when you're brand new, but as you get more clients under your belt and develop both the experience and the confidence to justify charging more, your bottom line will increase too. People are willing to spend a bit more if they're totally confident they'll be happy with the final result.
Your additional income streams. As a photographer, you can get creative with the income streams you generate in addition to the actual shoots you book. For example, you could create and sell an online photography course. An online course is scalable in a way that just booking photography jobs isn't. Afterall, you can only be in one place at once, and there are only so many days in the year. Teaching at a local college or other institution can be another way to round out your earnings. Selling prints can also be effective, depending on the kind of photography you do.
While working as a freelance photographer may come with some of the challenges that all freelancers face, it also comes with amazing freedom and potential for creativity. You're not tied to doing the same thing all the time; you can always switch up your approach, the types of clients you target, and any other aspect of your business.
Despite all of the changes that photography, and the rest of the creative community has faced in recent years, there seems to be more demand than ever for high quality professional images. Nothing can quite replace the authenticity of photography, and as a photographer, you get to be a part of helping your clients vision come to life.
As your career gets going and you start shooting more and more photos, you may find that organizing all your work starts to get a bit stressful. It's best to get ahead of the problem by taking these steps:
Back up your work on external hard drives or the cloud—the more backups you have, the better.
Have backup memory cards whenever you're shooting, since they fill up fast and you don't want to have to go back and delete shots without getting a chance to take a good look at them.
Use editing software like Lightroom to organize and tag your images.
Use a website builder with built-in client proofing galleries so that they can quickly and easily make their selections, and you can choose to get rid of images that your client didn't select.
When you're starting your photography business, Instagram is a great place to get your work out there in front of people who may potentially hire you. Since it's free and easy to set up, and just about everyone has an Instagram account these days, it would be crazy not to post your photos there.
As handy as Instagram is, it's not quite enough on its own. It's a great way to get your name and images in front of people, but if you want your skills to be taken seriously, it's important to have a portfolio website as well.
Having a portfolio online lets you showcase your professionalism and helps clients feel more confident to hire you. It also allows you to upload your photographs at much higher resolution and better quality than Instagram. In short, if you want your work to be taken seriously and you don't want to be taken for an amateur, having a portfolio website that you link to from your social media profiles is a no-brainer.
If setting up a photography portfolio website sounds daunting, rest assured that you don't need any high-level computer skills or design mastery to make a website that truly stands out. You also don't need to hire an expensive web designer to do it for you. By using a website builder, you can get professional results and showcase your business in the best light possible in no time.
Choose a website builder with lots of beautiful templates and customizable fonts, so that you can ensure the site matches your business branding. It's also a good idea to opt for a website builder that has a built-in online store capability since this will make it easy for you to monetize some of your photographs right away by offering them as prints.
When you're setting up your website for the first time you might feel tempted to throw every image you've ever taken up so that it looks like you've done a ton of work. However, as tempting as that might be, too many images can be overwhelming for visitors.
Instead, it's best to be strategic and intentional, carefully curating your work selecting only those images that are truly exceptional. It's also important that each photograph serves the overall image that you want people to have of your business. If you want to specialize in professional actor portraits, it may not make sense to put up the corporate headshots that you've taken. That's because your target customers, actors, won't be particularly interested in those images.
Once you've decided on your photography niche and you have some images to share, the most important step in getting your career started is building a photography portfolio site. Clients are most likely to come across your content on an online platform such as Instagram, and having a website presence they can click on is essential to establishing yourself as a serious pro.
Consider your photography portfolio as being like an online business card and gallery in one, providing visitors with contact information and some information about your background, what services you offer, and maybe even a pricing page. It should also, of course, include a portfolio of your best photos to inspire them to hire you.
If the thought of building a photography site from scratch sounds daunting, no worries. Use a website builder to create your photography portfolio website, and you'll be up and running in no time. Look for one with a range of themes that you can choose from so that you can find something that really matches your brand, without the need for web design skills. Other features to look for are built-in e-commerce capability so that you can sell prints to generate passive income, and client proofing galleries, which make it easier than ever to collaborate with your clients as you go through the post-production process.
Finally, remember that one of the best parts of this business is that you are always evolving. You can always check out other photography portfolios and photography websites for inspiration, and use that to keep improving your work. We can't wait to see what you create!