If you're ready to set up an online portfolio website for your creative business, congrats! As your digital studio and storefront, creating the perfect site to represent your work and your services is an important step in taking your career to the next level and landing those clients you've always dreamed of.
The thought of building a website from scratch or paying a website designer to build one for you might not sound particularly appealing. These options can be costly, time-consuming, and buggy, requiring lots of regular upkeep. That's why cheap website templates for website builders are a great way to go about setting up your page. With the right theme, you can create a truly custom feeling site and have it up and running in minutes. That means more time for the creative work you love doing, and for interacting with your clients.
Why Do I Need a Portfolio Website?
Even though we all spend a great deal of time on social media, and it can be a powerful tool for marketing your business and landing new clients, chances are an Instagram portfolio isn't quite enough if you want to be taken seriously as a photographer, artist, designer, or creative of any kind.
There's a level of professionalism that comes along with having an online portfolio that just doesn't come across on Instagram. It communicates to your potential clients that you're the real deal and that they can trust you. It also helps you justify your prices since most people will feel more comfortable parting with their money if they feel confident they are working with a serious pro who takes pride in their business.
Whether you opt for a website builder with a range of website templates and themes, many of these website builders allow you to customize it yourself or have someone to customize it for you. A portfolio website can give your potential clients a place to see your work, learn more about who you are, get in touch with you, shop from you, and more.
Can I Use Free Templates for My Website?
If your budget is limited, you might be wondering if you can create your website for free using a free website template. The answer is, absolutely! Both paid and free website templates offer amazing and high-quality features. However, premium templates are often more expensive as they have advanced plug-ins and features, which may not be needed when you are first creating a website. Premium templates are great when you're looking to have more features to take your photography portfolio up a notch.
When you're first building a website for your photography portfolio, a free website template is enough to get you started. Website builders like Format offer easy to use templates that allow you to customize the website to your liking. With contact forms, about pages, and galleries to help kick start your photography. And when your photography business grows, Format makes it easy for you to upgrade to Pro plans and migrate to a premium website template.
Benefits of Using a Cheap Website Template on a Portfolio Builder Website
With portfolio website builders, the platform you use will take care of any updates, ensuring your website will stay live and functioning without you having to monitor it. You can also make sure you choose one with built-in e-commerce functionality, so you don't have to pay extra to integrate with a separate e-commerce platform.
When using one of these builders you'll also save money by avoiding the cost of hosting, since it's typically included in the price. Instead of arriving at a high monthly or annual cost by adding up lots of little individual fees, you can see your price upfront. Your risk of your site being hacked or corrupted is also reduced since you won't be responsible for installing your own security plugins.
You'll be able to choose different website templates at a variety of price levels, but since the templates available today are so customizable you'll be surprised to see just how much you can make them feel like they were designed just for you. You don't have to sacrifice web design or a custom feel. Even web designers often use these types of templates when setting up their portfolio websites, since they save a great deal of time and effort.
Perks of Choosing a Basic Website Template
Portfolio websites are unique in that while they should reflect your brand identity, the pages themselves shouldn't distract from the content. It's important that the design of your portfolio doesn't take away from your photography, graphic design, or any other creative work you're displaying. That's why considering more basic website templates is a good idea. You can always switch to a fancier theme if you feel you need it later, but you might find that a clean, basic, and fully customized template checks all of your requirements.
Another reason to prioritize a basic design over a theme with lots of bells and whistles is that your visitor might actually find it easier to navigate. It's always helpful to put yourself in the shoes of the person you want visiting your portfolio, and considering what will give them the best experience. Most of the time, what they'll want to see includes your content beautifully and clearly displayed, easy menu navigation that takes them to pages with pricing tables or any other information you typically share, and an easy way to get in touch.
A basic theme can give you all of this functionality, with a clean and uncomplicated web design and all the features you could want out of a cheap website builder.
Our Favorite Basic and Cheap Website Templates
There are a lot of website builders out there, with many well-designed themes. Here are some of our favorite cheap and basic Format themes. Don't be fooled by the basic web design: all of these themes are packed with features like built-in SEO tools and blogging to drive traffic to your page, client proofing galleries for collaborating with clients, Lightroom and Capture One integration, mobile optimization, high-quality image rendering, tons of ways to customize things like type, colors, and logos, and much more.
Consider them well-built web templates that you can make all your own. The best part is, without extra plugins to worry about, all of these features are included in the cost of the theme.
If you're looking for a simple slideshow website template that puts your content in the spotlight, the classic design of this theme will help you achieve that look. You can easily create additional pages that appear in the header for things like an about page and a contact form, so you can keep it simple without sacrificing the quality of your portfolio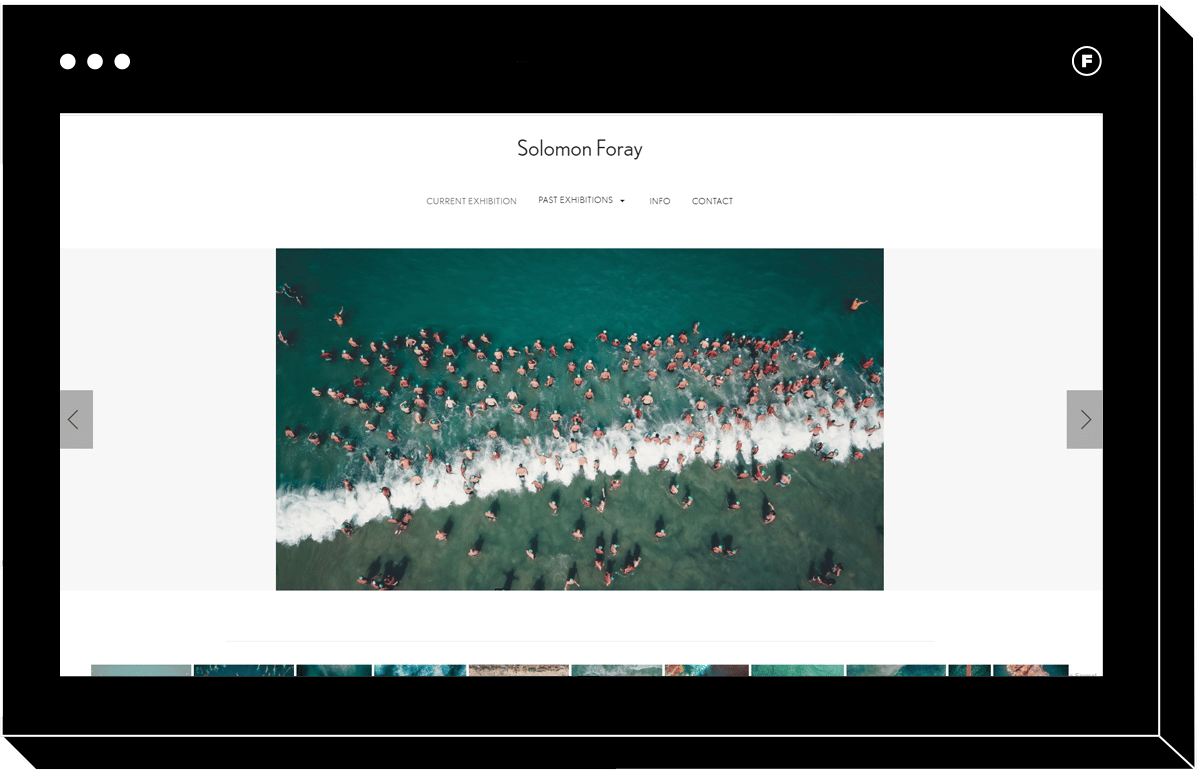 Those looking for an easy to use website templates that they can use to set up a high end, elegant looking portfolio will enjoy Foray. While it's fully customizable like all of the themes in this list, one of the best features of Foray is the availability of different header styles. On a simple website like this, just changing the menu style can make a big difference in the overall look of the page, so you can play around with this and see which style suits your business best. What more could you want from a cheap website builder?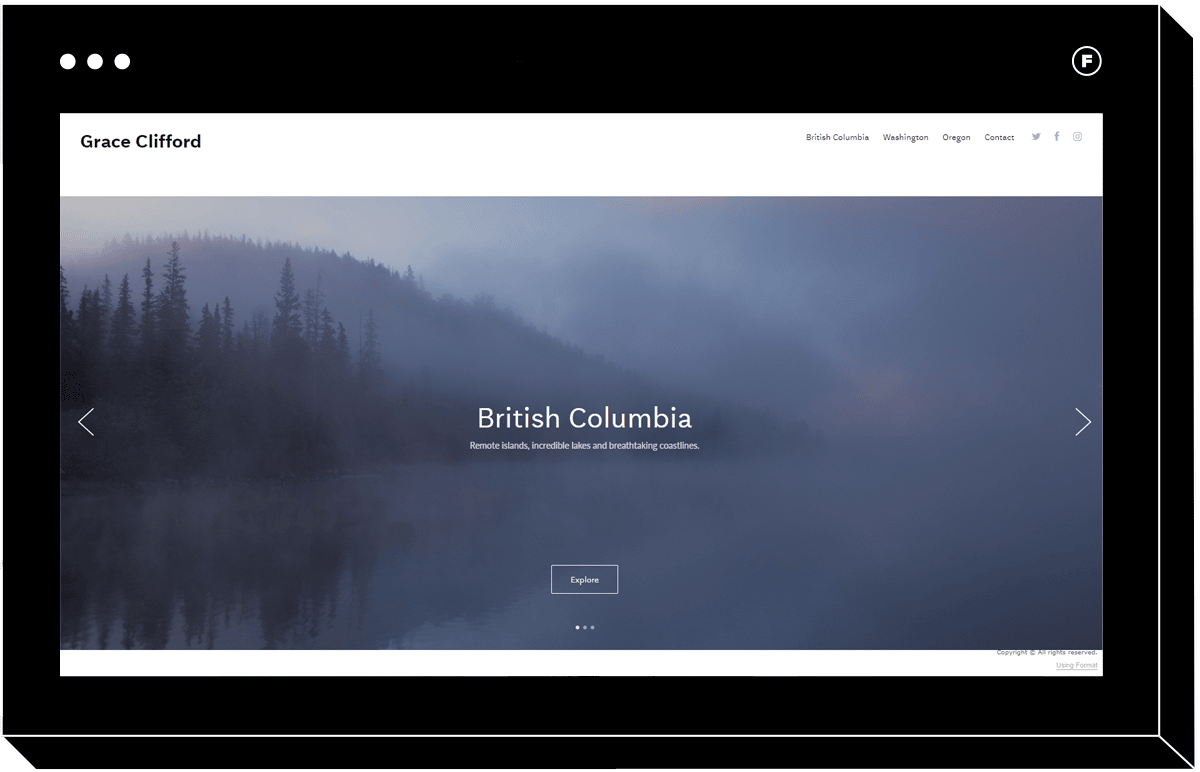 Landscape photographers and travel photographers, this just might be the right theme for you! Websites built with Grace beautifully showcase wide, full-bleed images, making sure none of the detail and drama of your photos gets lost. Visitors to your portfolio can shuffle through the various full size cover images, and click on the content to see the rest of the photos in their respective categories. This theme is easy to use and produces a quality, premium feeling website.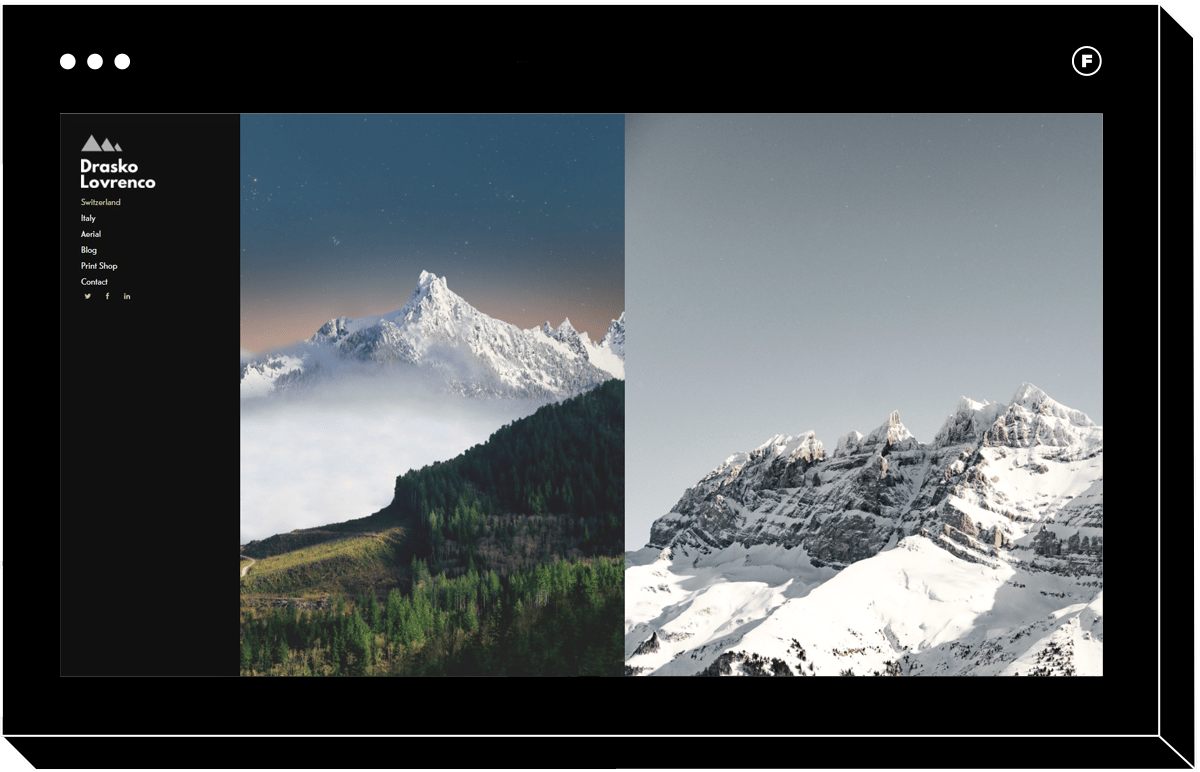 Horizontal scrolling, when done right, is one of the best ways to make your portfolio stand out in a crowd. This unique navigation style allows visitors to your site to see your images displayed in a unique and memorable way, while the edge to edge layout of the images fills the screen with your work. One nice thing about this theme is that even if your photos have different aspect ratios, this design creates a cohesive look.
When it comes to navigation, this theme gets top marks as well. The foolproof left-hand menu never disappears, it just becomes more transparent as your visitors scroll through your images, so that the focus is always on your content.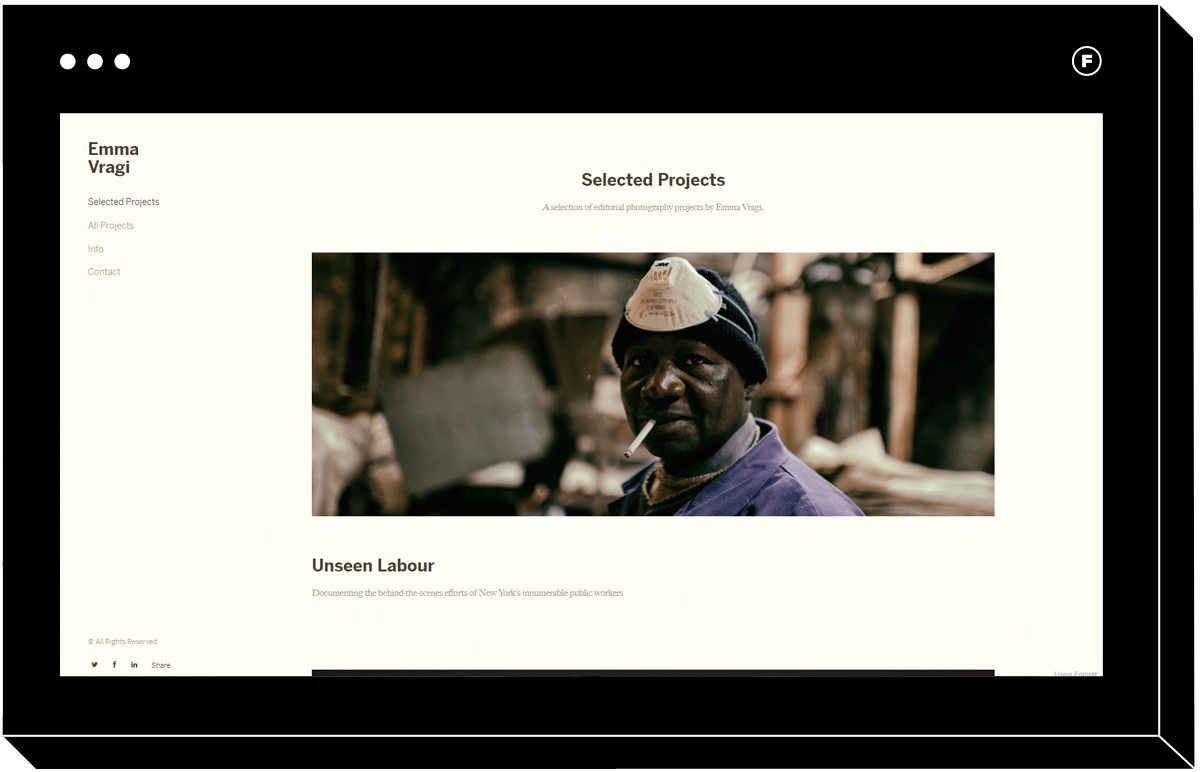 Each photography business is unique, and what works for one creative won't necessarily work for everyone. This theme caters to those who want to share a bit more content along with their images. It would be a great choice for a photojournalist, editorial photographer, or art photographer who wishes to include captions and text with each photo set.
Home pages built with this cheap website theme feature a block for each project which can be clicked to take the visitor to a horizontally scrolling gallery. Each gallery in this theme begins with a section of text where you can share the process behind your work, an artist statement, and any other information you might want to include for that collection.
Make your editorial photography portfolio pop with this traditional, image-focused theme. Showcase your projects on your homepage and do a deeper dive into individual, horizontal-scrolling galleries with optional captions for added context. Visitors can quickly scroll through your images on any device.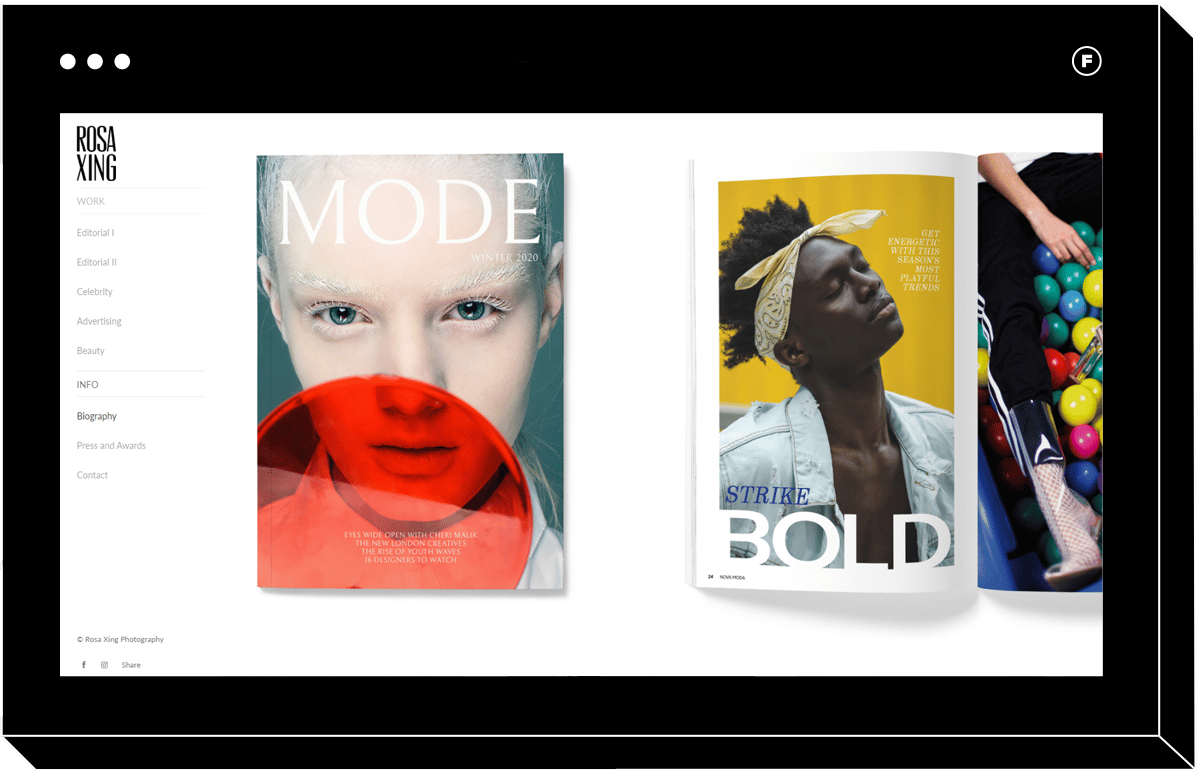 Fashion photographers wanting to make beautiful, basic, and chic websites will love this theme. The clean design evokes flicking through a glossy fashion magazine, and the easy to navigate left-menu means your visitors don't have to waste any time trying to sort through various pages to find what they're looking for.
To stay in touch with your visitors and potential clients, this theme makes it easy to set up a field where your potential clients can leave their email address to subscribe to your newsletter or a contact form that allows them to reach you directly.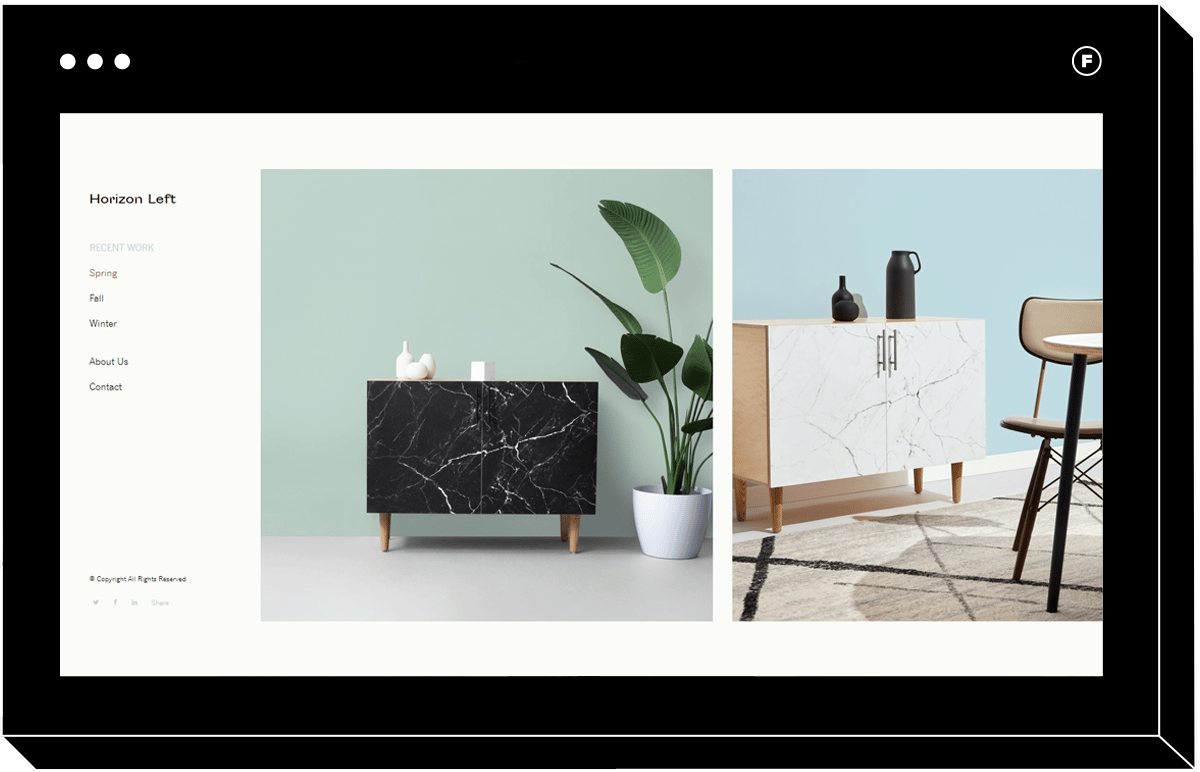 This theme is super popular, and with good reason. It has all the features you would want from your basic website templates, delivered beautifully and simply. The horizontal scrolling is perfect for showcasing a few of your absolute favorite images on the home page, and different categories are easy to access from the left-hand menu.
While this theme may be basic, it doesn't mean you can't make it your own with customized elements to match your branding.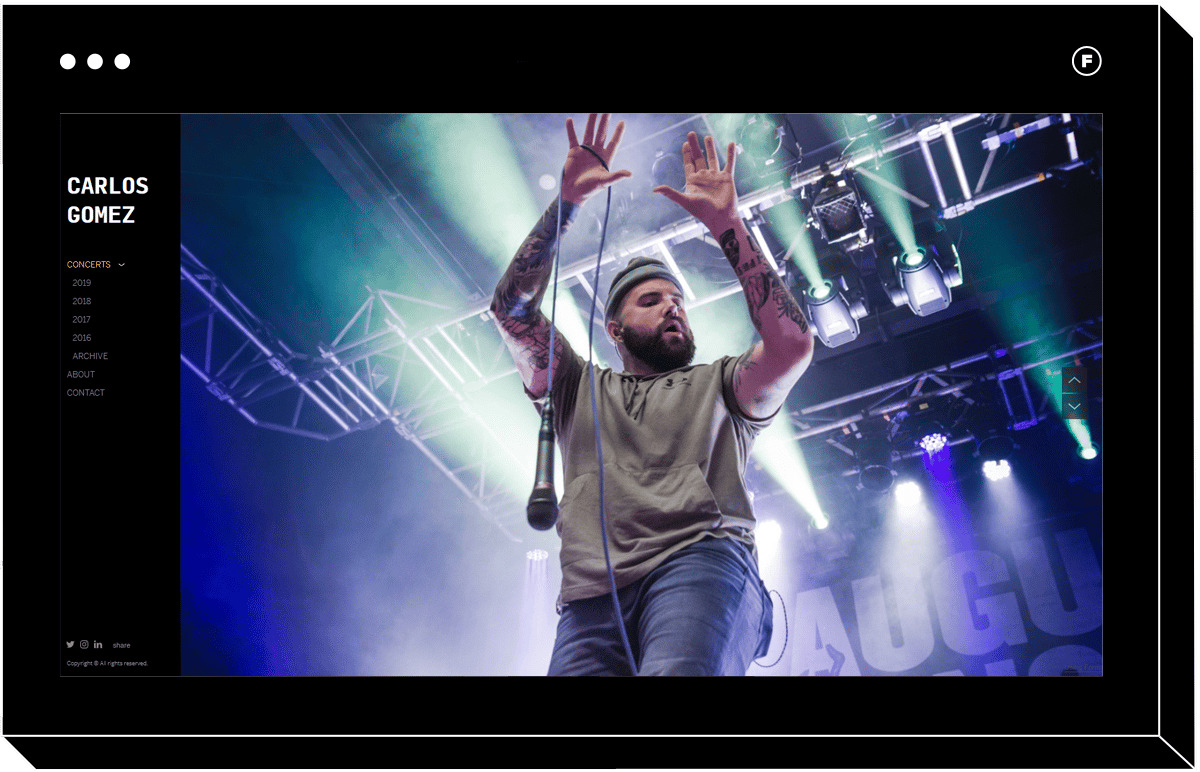 You won't regret skipping hiring a web designer or using a page builder with a fantastic cheap theme like this. Perfect for event photographers or anyone who shoots primarily in landscape mode, Slide has fun, poppy transitions between images that feel contemporary, youthful, and anything but generic.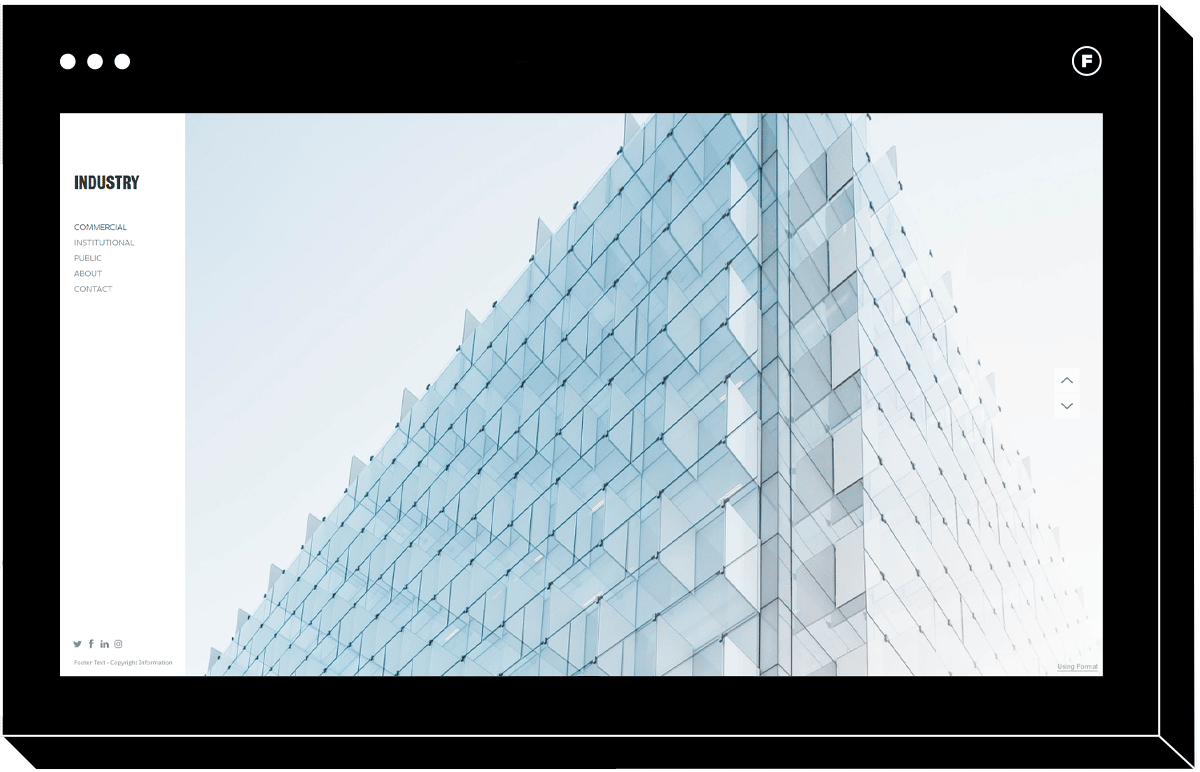 Your architectural photography business will shine with this sleek, modern theme. Perfect for those capturing real estate, interiors, or architecture, Industry displays your image at a beautiful, large scale. Even if you have a large number of images to display, you can keep each collection small and include a wide range of collections in the left-hand menu of this stylish, cheap website design. This way, visitors can go through them one page at a time, without feeling overwhelmed.
If you think cheap website design templates all look the same, this theme will change your mind. While it has a basic layout, the little details of Offset make it feel fresh and memorable. Images are displayed slightly off center — as the name implies — so as you click through a gallery the white space changes. This gives this theme a bit of an analog feel, evoking the feeling of looking through photos that have been collaged together. It's a great choice for someone with a more artistic photography business.
Visual storytellers will love this cheap website template that allows you to organize your photos, designs, or creative work of any kind into easily identified categories on the home page. Each banner can be clicked to see the images from that collection beautifully rendered in high-res. This theme is simple and uncomplicated, but that doesn't mean you can't customize it with your logo and brand elements, and the additional pages you may want to include.
A nice menu feature with this theme is that you can have some menu items appear in larger font and others in smaller font. This is a great, subtle way to emphasize certain pages. For example, you might want the link to the shop page of your e-commerce website to be bold and large, while the links to your privacy policy, terms of use, and other legal stuff to be smaller since most visitors won't be as interested in these.
Even though the cost of this theme won't break the bank, the design communicates high quality. It has an adaptive tiled layout which would be a great choice for a commercial photography business. Each image can be clicked so it appears as a large pop out on the screen, meaning visitors can check out their favorite images in detail.
With so many theme designs to choose from, each built specifically with portfolio websites in mind, portfolio website builders are a great, low-cost way to create the ideal home base on the internet for your business. No matter what your style is, you'll find a theme that showcases your work in the best light possible.
The easy setup process, 24/7 support, built-in SEO tools, great prices, and a wide range of theme designs all make using basic website templates through a website builder an excellent choice for creating dreamy portfolio websites that convert clients. You'll be up and running in no time!
Once your portfolio website is up and running, try these tips to grow your business:
How To Create Photography Packages That Sell
The 5 Best Tools You're Not Using to Grow Your Photography Business