Are you considering becoming a freelance photographer but don't know where to start? We'll break down everything you need to be a freelance photographer.
A freelance photographer could be the perfect solution if you want to transition your photography side hustle into a full-time job or you're just looking for something creative to do in your free time.
Being able to develop your artistic style and express yourself creatively, all while getting paid, is part of the perks of being a freelance photographer. However, it is much more involved than taking a few smartphone photographs and then adding a filter.
That is why we prepared this thorough step-by-step guide to assist you with everything from finding clients to getting paid.
What is a Freelance Photographer?
Being a freelance photographer means that you work for yourself, taking on clients for photoshoots or creating and selling your fine art photography.
Pretty much every business or entrepreneur out there is going to need photos at some point, whether it's a professional headshot or product photos for their online store. As a freelance photographer, you get to choose what types of work you take on and turn down work that doesn't align with your style or interests.
However, with the pros to becoming a freelance photographer come the cons of any freelance job, like dealing with filing freelance taxes, finding clients, and making sure to properly insure your camera gear and photography studio.
Using the resources we've gathered, you'll be ready to start your freelance photography business in no time.
Choose Your Equipment
Investing in the best camera equipment is an important part of professional photography. In the beginning, you don't need to spend too much money on your first camera and gear.
Many retailers may offer refurbished camera equipment that will allow you to purchase a higher quality camera for a lower cost than brand new.
If you don't have the money to buy any gear, don't worry!
With your phone, you can still learn how to be a successful photographer even if you're not using a digital SLR camera.You can still learn how to be a successful photographer with your camera phone—many smartphones are actually designed with high-quality photography in mind.
Since you're just starting out as a freelance photographer, there's no shame in using what you already have available. Not only is any level of photography equipment capable of producing stunning photos, but an inexpensive disposable camera can, too.
As you develop your photography skills and styles, you'll start to understand what kind of camera gear might enhance your freelance photography. Most professional freelance photographers recommend that new photographers start by investing in some new camera lenses, lighting, and camera lens filters. It's always a good idea to start using photo management software even before you start getting clients to keep your photoshoots organized.
Being a professional photographer means doing a fair amount of post-production photo editing and administrative work too. Since you'll want each photoshoot or project to feel consistent, it's a good idea to set up systems for yourself when editing your photos, like using Photoshop actions to speed up your workflow.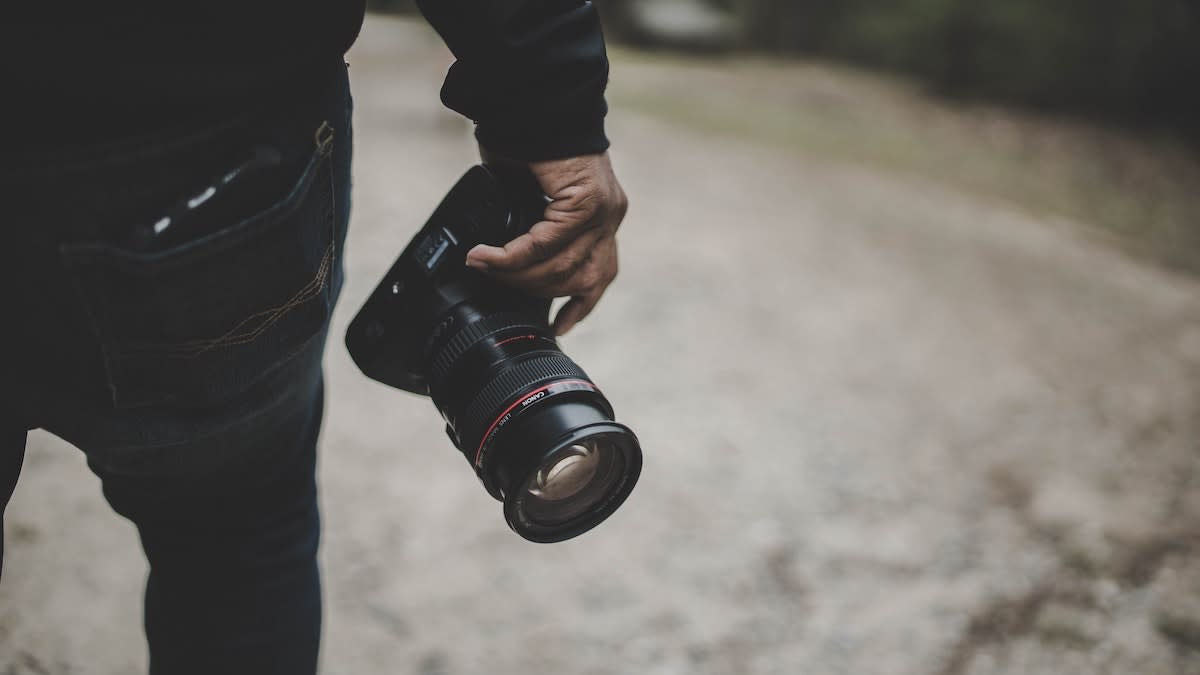 Start Taking Photos
When it comes to learning how to be a freelance photographer, the best way to do so is to simply go out and do it. Until you begin to take your own photos, you won't be any closer to finding out what kind of aesthetic you want to convey as a freelance photographer.
Learn your camera's manual settings and photography basics, which will give you a foundation in topics like aperture, shutter speed, and composition.
Take an online Harvard photography course that looks at the basics of digital photography by using histograms and exposure techniques.
Focus on what kind of subject you are drawn to, take a lot of photos, and closely examine the photos to determine what works and what doesn't. This will help you find your own path and style so that your photography stands out in the crowd.
While there's no hurry to decide which photography niche to focus on, you'll likely see that you are more interested in certain photography disciplines, such as food photography, still life photography, or even product photography. Go with your instinct on this, as you can easily become burnt out if you try to dabble in everything.
Regardless of whether you are shooting weddings or landscapes, you will often use post-production with any digital photography. Becoming a freelance photographer involves learning how to edit out any clients' imperfections and use Lightroom presets to add color vibrancy to your photos. Hence, now is a great time to get more comfortable with your photo editing skills.
Share Your Work on Your Freelance Photography Portfolio Website
Making a photography website that stands out can be a challenge, so make sure that you choose a website builder that offers a free trial before you take the leap and invest.
No matter what style of freelance photography you do, you're going to need a professional photography portfolio if you want potential clients to take you seriously.
Since freelance photography is a visual medium, you want your photography portfolio to reflect your aesthetic in every design choice you make. As you build your photography website, consider what your primary goals are in working as a freelance photographer so that you can set up your website to support them. For example, create a landing page that offers a freebie when viewers enter their email addresses if your goal is to grow your email list or use a call to action to schedule a call if you want to connect with clients and work on your sales pitch.
Just because you're a one-person business, don't forget about creating a strong and recognizable brand identity as a freelance photographer.
Make good use of portfolio design tips and website templates to make your freelance photography portfolio website represent you and your work in the best light. If you think you might want to branch out into video as well as photography, choose a website builder that can host videography.
It is also crucial for freelance photographers to have an excellent client proofing gallery in place so that clients can view and approve your work directly on your portfolio.
Pricing 101: Freelance Photographer Rates
Always have a firm pricing structure for your freelance photographer, so you can always present your rates confidently to prospective clients. Remember that freelance photography encompasses so much more than just snapping pictures, and your pricing structure needs to reflect that.
Take into consideration your cost of materials, travel, overhead, time spent editing and implementing client feedback, and pay yourself a living wage in order to set your pricing.
Research industry standards in your geographic location to determine the appropriate range to charge as a freelance photographer. Your pricing may or may not be listed on your website, depending on the type of photography you specialize in. Even so, you should have a plan to break down your freelance photographer rates for potential clients.
How to Find Photography Clients
Now that you've completed setting up your freelance photography workflow, you should start learning how to become a successful photographer by building a solid client base.
In order to be a successful photographer, you must make good use of SEO tools to help clients find your business. A few website builders go so far as to include SEO as a built-in feature.
You can also use social media to bring in photography clients. The key to getting likes, comments, and follows on Instagram is to use the appropriate Instagram photography hashtags.
Also, have a look at your Instagram bio and make sure that it accurately reflects what you do and what your brand stands for.
Remember to sort out your photography contracts before you begin working!
More Ways to Start Freelance Photography
Photoshoots for companies or individuals aren't the only methods for starting a freelance photography business. There are lots of ways that you can use the work you've already put into building a photography portfolio to make money passively so that you can focus on new projects. Here are a few ideas for how to make money as a freelance photographer.
Sell Digital Downloads
Think about it: you've already got a stockpile of high-quality photography that's just sitting there in your portfolio. Why not turn it into an income stream? You can list your photographs as digital downloads in your online photography store so that clients can support your career as a freelance photographer and get some great art for a lower cost than they can print at home.
Sell Stock Photos
You can sign up and submit your own photos to websites like Shutterstock. As each download occurs, you'll receive a portion of the revenue. While you're unlikely to earn a substantial income from selling stock photography, it's a fantastic way to promote your work and gain some supplemental income without much effort on your part.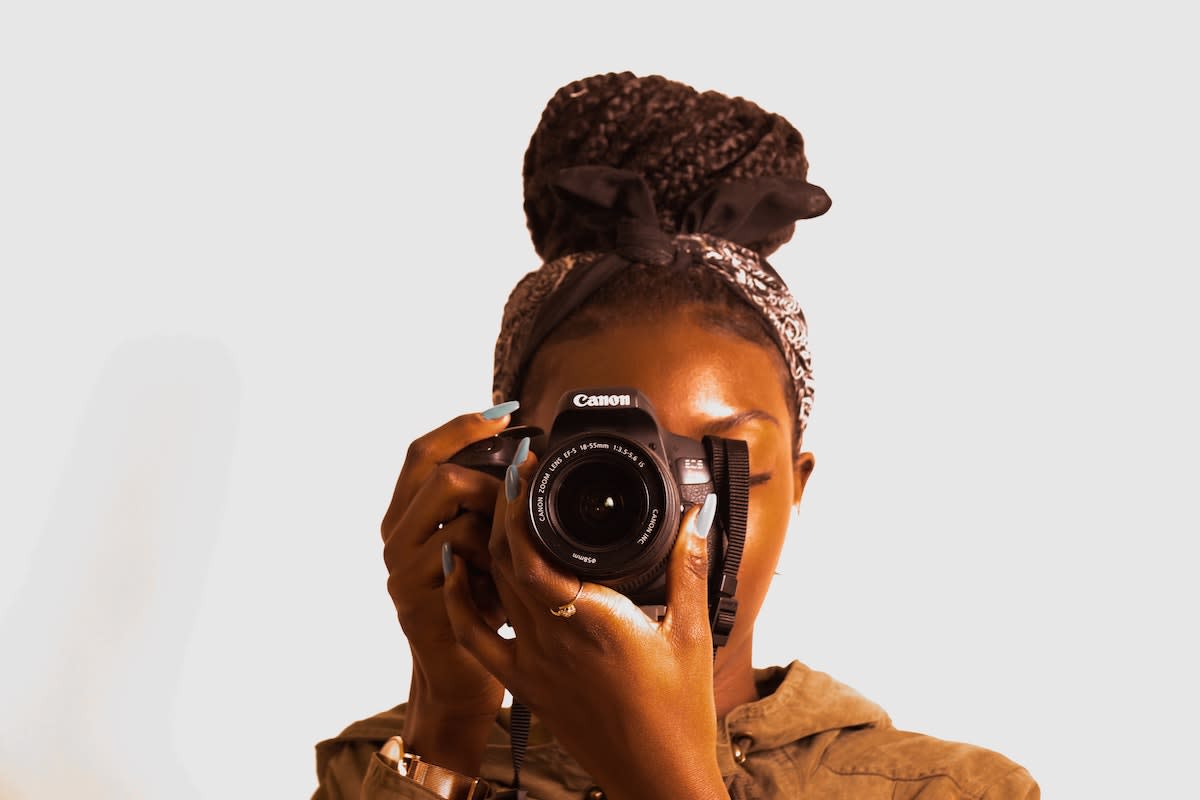 Enter Photography Contests
If you are wondering how to become a freelance photographer for magazines, photography contests are a great place to start, as magazines will often feature work from competition winners. Photography contests are also a great way to earn money; lots of companies run contests where photographers can submit their work for a chance at winning the prize money, plus the reputation that comes with it.
Print on Demand
Passive income can be gained through print-on-demand services. You can offer fine art prints, things like wall clocks, t-shirts, and bedspreads with your photography on them, and it won't cost you a penny. When you list a print in your online photography shop, you'll have to search for a printer, order a test print, and coordinate shipment. With print on demand, you simply upload your designs, and then begin receiving orders as your sales come in.
Niche Down
Becoming a successful photographer means understanding your target audience. When you've been a professional freelance photographer for a while, and you've become more comfortable with your job and its requirements, you may start wanting to niche down, meaning that you focus on a particular type of photography and client profile for marketing purposes.
The benefit of choosing to specialize in one type of portrait photography, like newborn and baby portrait photography as opposed to portrait photography in general, is that you can become clearer about exactly what type of person would be interested in your services.
Market to Your Audience
Now that you know exactly what type of photography you want to make and who your dream client is, you'll be able to address them at every opportunity, so they'll feel acknowledged and be drawn towards hiring you over your competitors. Every time you promote your art or post about being a freelance photographer on social media or your photography blog, write as if you are speaking directly to your ideal client. This will ensure that every move you make is designed to target the type of person who your work will appeal to, and who will be more likely to book you because they resonate with your brand messaging.
Further Education
Even when you've been working as a freelance photographer for years and you've got nonstop client projects, there is always so much more that you can learn when it comes to leveling up your photography skills. Many organizations offer free online photography courses, where you can pick up everything from tips on making the most of a new industry accessory to learning about the history of photography as a medium.
You might also want to look into taking a free course that will help you to improve your photography marketing for free.
With all of that information in mind, you're officially ready to start your brand new career as a freelance photographer! Congratulations, and don't forget to keep updating your online photography portfolio with all of the awesome photos you shoot.
Freelance Photography Jobs
Finding continuous freelance photography work is essential to becoming a successful photographer. Freelance photography websites, such as Format, allow you to show of your freelance photos to the world and build your client base. Alongside tools such as Workflow and Clients Galleries, Format also has magazine archives and a plethora of guides to help you learn how to find work as a photographer.
It's also important to think about who needs a photographer, such as businesses, model agencies, and magazines, to name just a few. Then identify which group best matches your skills and experience, and tailor your portfolio site to their needs. This will help ensure you convert leads into paying clients, setting you on the path to career success.
Photographer Resume
Creating a well-structured photography resume is also vital if you wish to apply for freelance photography work. To give potential clients the best impression of you, be sure to include a cover letter that is tailored to the freelance photography description stated in the job advertisement. This will help clients understand how your skills and experience relate to their needs.
Things to Consider When Becoming A Freelance Photographer
Becoming a freelance photographer can be an exciting and creative career avenue, as photographers get to explore diverse settings, work their own hours and meet people from all walks of life. Freelance photography also allows you to have complete control over your work and set the creative direction you wish to take.
However, freelance photography is also a demanding profession, as learning how to become a freelance photographer requires substantial technical expertise and a willingness to be responsible for finding clients. In addition, freelance photography takes many forms, such photojournalism, social media photography, wedding photography, and much more! Therefore, it is worth considering your goals and working preferences before deciding whether you want to become a freelance photographer.
Freelance Photojournalist
Photojournalism is a beautiful form of creative storytelling that helps capture the public's attention. If you want to kickstart your career and learn how to become a freelance photojournalist, drawing inspiration from existing photojournalism portfolio sites can help get your creative juices flowing. Format's online portfolio also has templates to help you set up the perfect photojournalism site.
Freelance Photographers Websites That Will Help Put You On the Map
If you are looking to take your photography career to the next level, freelance photography websites are a great way to get the word out about you as a photographer. Nothing says 'I want to be a freelance photographer' like a well-designed, professional portfolio website. While there are many drag and drop website builders out there, Format is the only freelance photographer website that is designed by photographers for photographers. Format allows you to express yourself and showcase your work in the best way possible with a range of carefully crafted and industry-specific templates to choose from.
Want more tips on making a living as a professional freelance photographer?
Photography Portfolios 101: How to Build an Amazing Photo Portfolio
28 Freelance Work Websites for Finding New Clients and Better Jobs
How to Boost Your Photography Income Using Mini Sessions